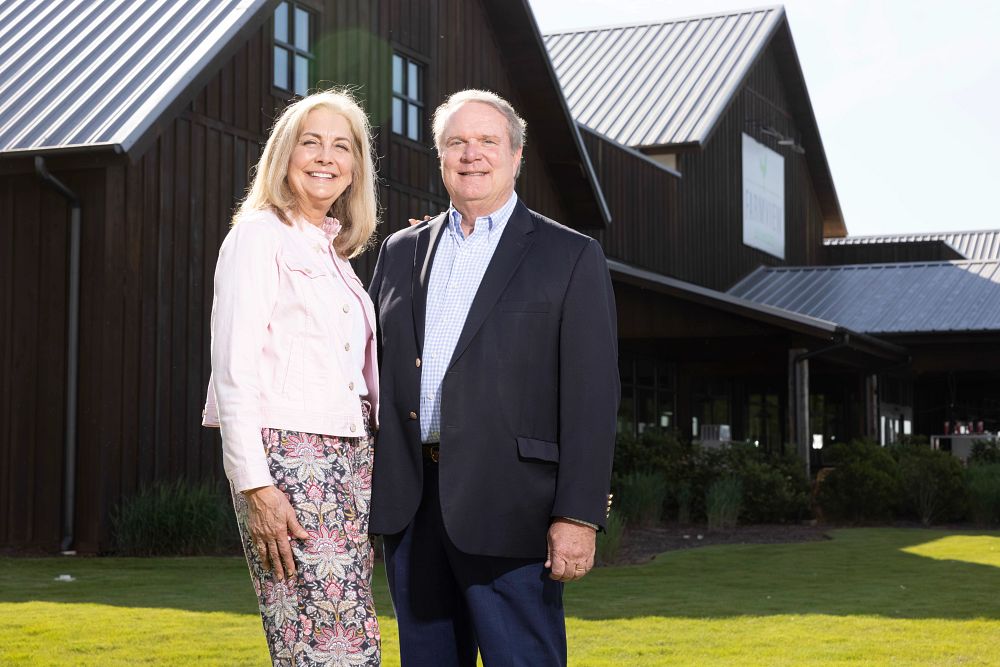 In the decades since Keith Kelly graduated from the University of Georgia's College of Agricultural and Environmental Sciences (CAES) with a degree in agricultural economics, he has built a diversified slate of agricultural businesses encompassing 17 distinct brands.
Now Kelly is applying his agricultural knowledge and Kelly Products Inc. to a new initiative to combine leading-edge technology with the expertise of UGA's Department of Animal and Dairy Science (ADS). The goal of the partnership is to unlock the potential of the animal microbiome to improve overall animal health and efficiency while making a positive environmental impact.
Kelly has maintained close ties with UGA and CAES, serving as a member of the UGA Foundation Board of Trustees and helping found the CAES Rural Scholars Program with his wife, Pam Kelly, and fellow CAES alumnus Robert Varnadoe and his wife, Layne Varnadoe.
It was through those ties that Kelly had the opportunity to meet with ADS researchers Professor Dean Pringle, Associate Professor Todd Callaway and Assistant Professor Jeferson Lourenco, who introduced him to some of the research being done in the department. When the conversation turned to the microbiome, Kelly was interested in hearing more.
Reducing emissions through microbiome research
Driven by advances in technology and reductions in the cost of analysis, microbiome research has expanded in recent years. Callaway, who joined ADS in 2017, leads the animal microbiology team. Lourenco joins him on the team, bringing expertise in data analysis, animal medicine and commercial farm management.
Pringle, a meat scientist with a beef cattle background, has been working in production efficiency since 2012 when he began developing a herd of Angus cattle with differences in feed efficiency at the Northwest Georgia Research and Education Center. The herd was developed as a model to study the biological mechanisms associated with feed efficiency, including methane production.
Building on this research, methane reduction is a primary focus of this partnership, aimed at improving efficiency of production for cattle and other ruminants. Produced as a by-product by specific microorganisms in the rumen (first stomach) of cattle as they digest cellulose and fiber, methane is then released into the environment through eructation — also known as burping.
"Methane is estimated to be from 22 to 24 times more potent than carbon dioxide as a greenhouse gas," said Lourenco. "The detrimental effect of methane gas is of great concern environmentally, and it is estimated that 6% to 12% of all of the energy a cow ingests is eructated as methane."
This methane production represents both an environmental concern and a loss of carbon and energy for the animal.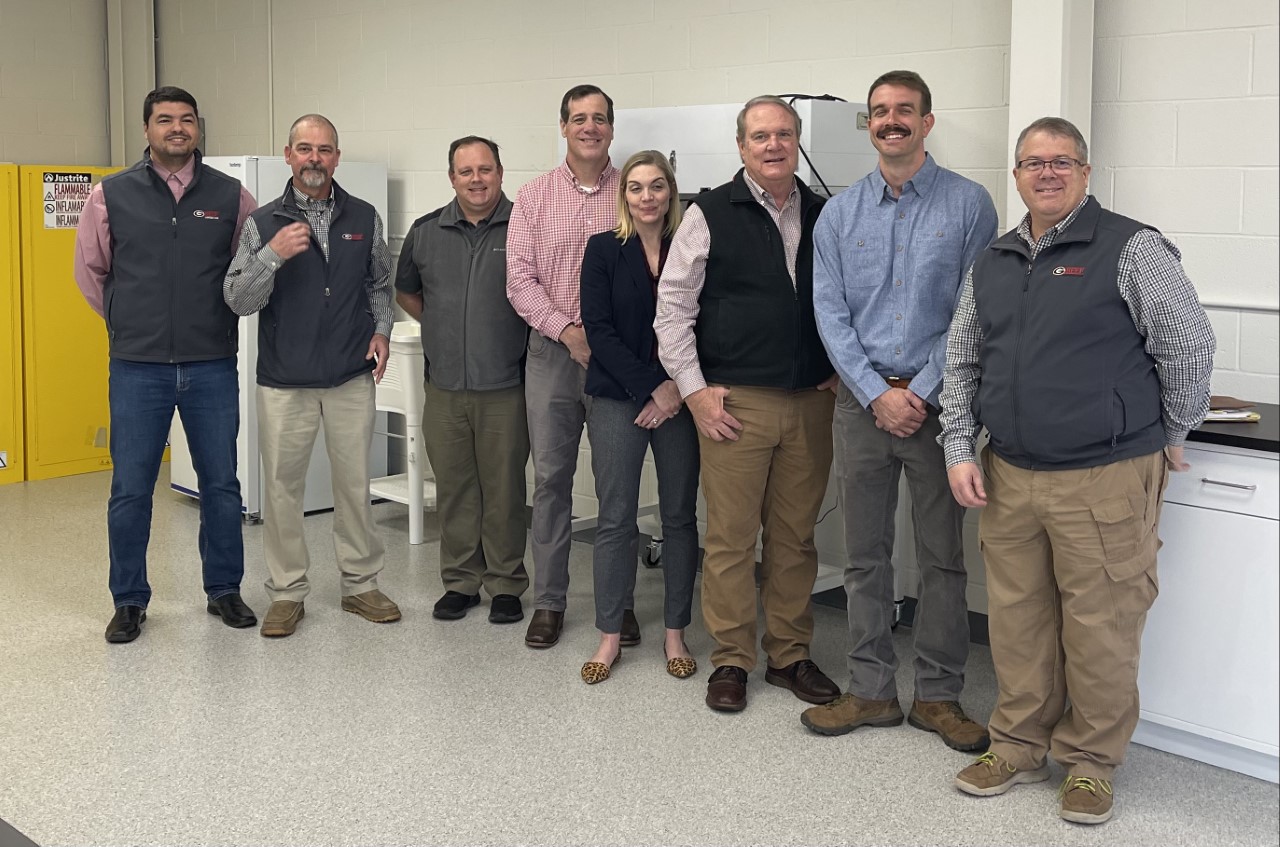 "A reduction in methane production by beef cattle would be a win-win because it would result in more dollars to producers through increased feed efficiency while helping to mitigate greenhouse gas emissions into the atmosphere," said Kelly, whose roots in agriculture go back generations in Morgan and Jasper counties.
It is estimated that a 10% improvement in feed efficiency would translate to more than $1 billion in increased profits for the cattle industry in the U.S. alone, which spurred initial research at UGA into improving feed efficiency in cattle. As environmental concerns around agriculture have intensified, this research into identifying highly efficient animals that naturally consume less feed and show improved growth rates and meat quality progressed into research into how to reduce methane emissions in cattle.

"Animals who are producing less methane are converting more of that carbon into their bodies and improving productivity," Pringle said.

Increasing the feed efficiency of cattle becomes especially important as the global demand for beef — and the global population — continue to climb.

"With the need for additional protein for human consumption, we must improve the efficiency with which beef cattle utilize the nutrients that we provide for them and reduce the methane produced by cattle so that we have the possibility of expanding numbers of cattle and pounds of beef," Pringle said.
Bridging business planning and academic studies
While Kelly and Pringle understood the importance of increasing the feed efficiency of cattle, they were also aware that they would need additional support for a successful partnership. That is where Chris Rhodes, CAES director of industry partnerships, came in.
"Keith is a great supporter of UGA generally, and he particularly wants CAES to be successful," Rhodes said. "He and the ADS research team were trying to figure out how to make this public-private collaboration work — that's how the innovation community and I got involved."
Rhodes is a part of the broader Innovation District community that includes the Delta Innovation Hub, the UGA Entrepreneurship Program and the Innovation Gateway. Embedded within CAES, Rhodes' primary role is building a culture of entrepreneurship within the college. For the partnership with Kelly Products, this meant building a bridge between business planning and academic research, as well as connecting the venture to the other resources in the Innovation District that will continue to help the project execute effectively.
"The university has stood up a lot of innovation resources over the last decade. CAES being able to connect to those resources is what facilitates these new partnerships," Rhodes said. "They aren't traditional gifts or grants or licensing, they are collaborations that will take research projects and expedite their outputs into the marketplace where they can do the most good."
Applying DNA sequence technology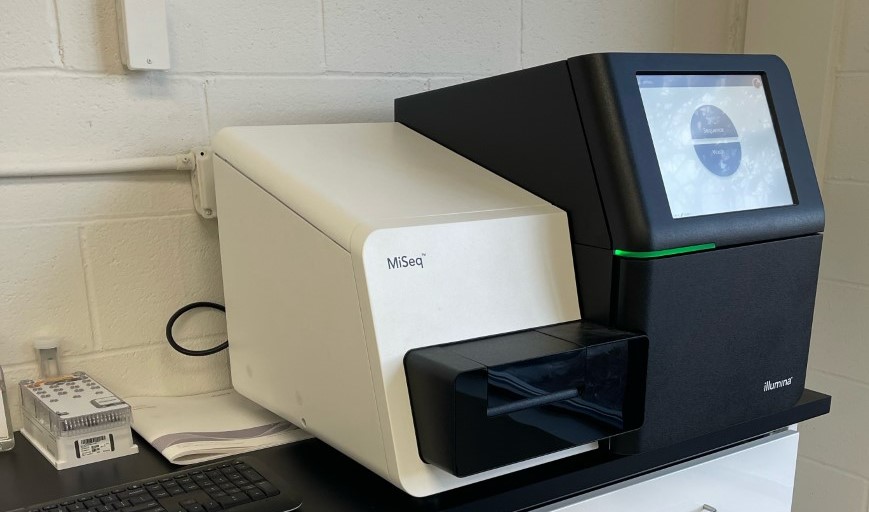 The microbiome collaboration will use the latest technology — including state-of-the-art MiSeq DNA sequencing equipment — in a dedicated lab at Kelly Products headquarters in Covington, Georgia, where UGA faculty and students will work with Kelly's scientific staff to test cattle feed efficiency in thousands of individual animals from cattle populations across the U.S.
"It is important to sample a large group of animals to increase the predictive power of the information we collect," Lourenco said.
Once the researchers process the information from those samples, which will include information from both high-performing and low-performing animals, the team will develop strategies for improving that feed efficiency and reducing methane emissions by improving the efficiency of the microbiome.
"Can the microbiome — the cattle's second genome — improve the accuracy of our genetic predictors for feed efficiency and other production traits? That is the $64,000 question," said Callaway, a ruminant microbiologist whose research focuses on understanding how the microbiome is affected by diet and environmental factors. "If so, then producers can have more confidence in selecting cattle that will reduce the amount of feed required to produce a pound of beef, are heavier at weaning or have a more desirable carcass."
'The rumen itself is a universe'
The researchers will focus on the DNA of each animal's genome and the DNA associated with the microorganisms they identify and quantify from the animal's microbiome.
"When it comes to the number of cells in our bodies, we are more microbiome than human," said Lourenco, whose research focuses on bioinformatics and biostatistics applied to microbiology in animal species. "This is not so different in cattle. The rumen itself is a universe — in order to understand the animal as a whole, we have to understand the microbiome. Initially we will be looking at the overall understanding for the relationship of the microbiome of the animal to the gases that are produced and emitted."
The value to Kelly Products comes from enhanced use of the new microbiome laboratory by cattle producers seeking to add this valuable new information to the genetic evaluation database.
In the first phase of the project, researchers will collect microbiome samples from cattle from producers across the country and analyze them in the lab at Kelly Products. The bioinformation from that sequencing will be connected to economically important traits that the individual cattle display in terms of feed efficiency and production value.
UGA's researchers hope that the addition of this microbiome information will increase the ability to identify cattle that excel in feed efficiency and other relevant traits with greater confidence at a younger age.
In later studies, researchers will use two GreenFeed systems, supplied through support from Kelly Products, that will allow for the direct measurement of greenhouse gases — including methane and carbon dioxide — produced by cattle that differ in feed efficiency at UGA's Double Bridges Beef Teaching and Research Unit.
"This will be a critical part of identifying methods for reducing the production of methane from cattle while maintaining or enhancing their production efficiency," Callaway said.
The GreenFeed technology will also track how much oxygen cattle release.
"It is exciting to think that this microbiome research may produce solutions for better feed efficiency and reduced greenhouse gas emissions, two of the biggest challenges facing the beef industry today," Kelly said. "I have the utmost confidence in the CAES research team who bring tremendous experience to the table."
To learn more about how CAES researchers are working with industry to lead innovation, visit leadinginnovation.caes.uga.edu.