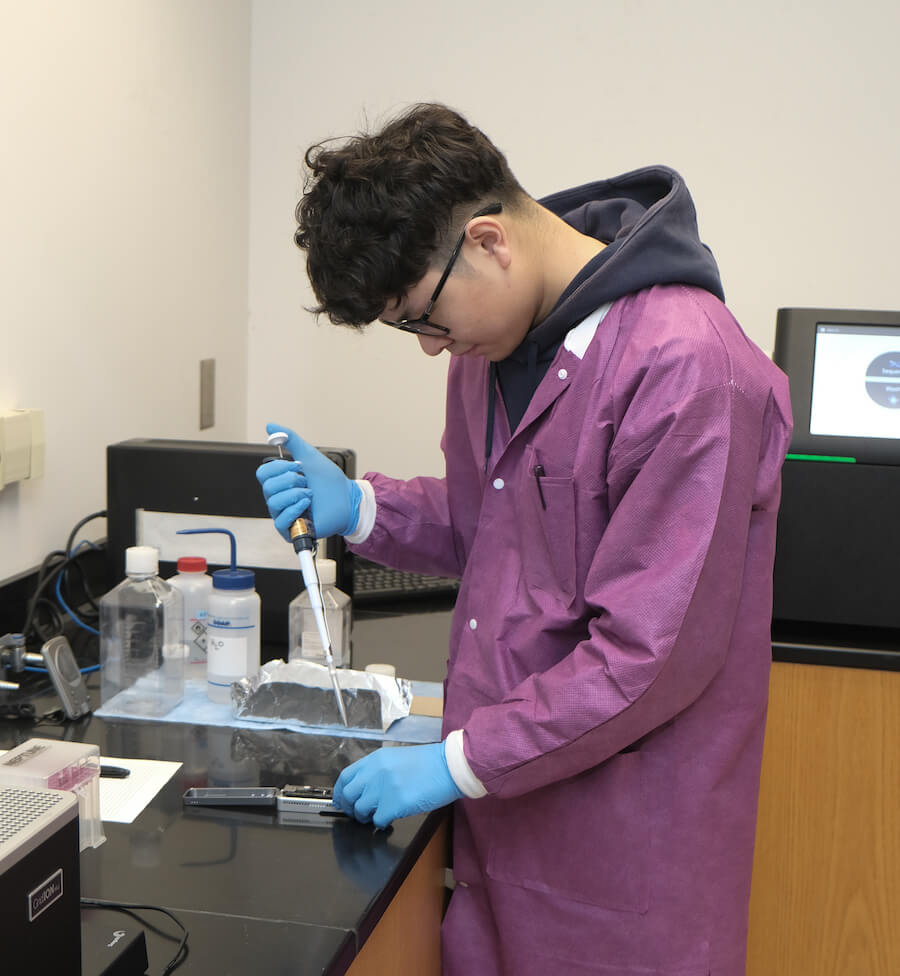 Zhihan Xian's innovative research into new methods of food origin tracing has been named this year's winner of the Testing for Life Student Award by AOAC International, a nonprofit association that was established in 1884 and seeks to set standards of analysis to help ensure food safety globally.
Xian, a doctoral student in food science at the University of Georgia's College of Agricultural and Environmental Sciences, is on the leading edge of research of food origin authentication. Typically done with chemical analysis, food origin authentication is a method of testing food to ensure that it originates where a producer says it does.
Not all food producers have the good of the public at heart. Some bad players lie about the source of food for reasons such as dodging import tariffs or trying to pass inferior foods off as a higher quality. This creates a multitude of problems and can have serious health implications. Should an outbreak of foodborne illness occur, it is imperative that researchers know the source of the food to help stop the outbreak as quickly as possible.
"We know from research from the Consumer Brands Association that food fraud affects nearly 10% of all commercially sold food products," Xian's advisor, Center for Food Safety Associate Professor Xiangyu Deng said. "Falsifying the origin of food is a type of fraud that is challenging to detect."
A student in Deng's lab, Xian theorized that testing the microbiome of foods could be a means of determining their source of origin. A microbiome is made up of a variety of microscopic organisms such as fungi and bacteria, both beneficial and harmful. Along with help from Deng, Xian tested the DNA of the microbiome that exists on the surface of garlic obtained from six different countries.
The results demonstrated that the food microbiome contains origin-specific information, giving the method potential as a useful tool in stopping origin fraud practices. Testing the microbiome of foods could prove to be more effective than traditional, chemical-based testing based on the results of machine-learning analysis applied to the study.
Xian hopes this new information will lead to new tools for government and industry to test the origins of food.
"I want to thank Dr. Deng and my former fellow student Shaoting Li for their guidance and assistance," Xian said.
Prior to joining UGA's Center for Food Safety, Xian worked for the U.S. Food and Drug Administration where he spent time researching Listeria monocytogenes in foods, including survival rates and detection methods. This is the first award he has received for his research, and it includes $3,000 and complementary attendance at the AOAC International Annual Meeting and Exposition in New Orleans, Lousiana, this August. Xian will give an oral presentation and present a poster of his research during the conference.
To learn more about student opportunities at the Center for Food Safety, visit cfs.caes.uga.edu.