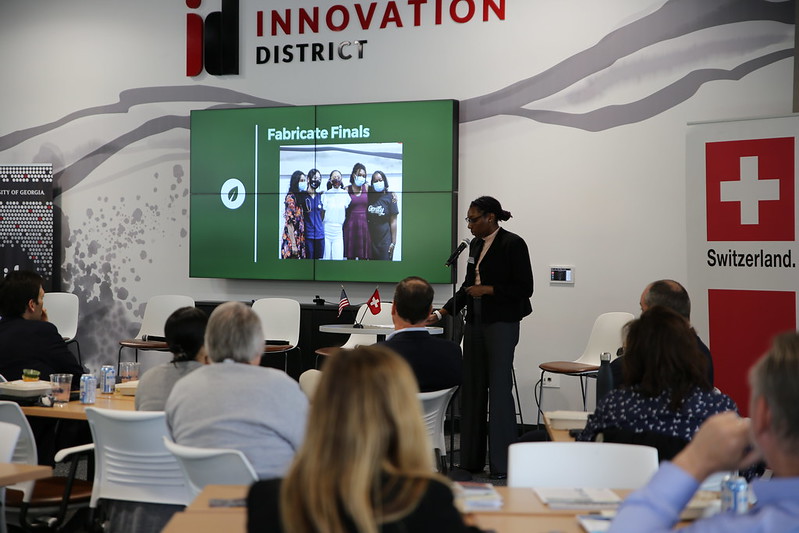 Peter Zimmerli, Consul General of Switzerland in Atlanta, implored attendees to expand their thinking regarding technology and sustainability at the opening of the recent Cleantech Symposium at the University of Georgia.
"Imagine a world where all humankind has access to sufficient food assured by sustainable agriculture. Imagine a world where we have technology that addresses these needs," Zimmerli said.
A partnership between the Consulate General of Switzerland, the UGA College of Agricultural and Environmental Sciences, the Swiss Business Hub and UGA's Office of Sustainability, the symposium featured a panel discussion, breakout sessions and a student poster competition focused on the future of innovation in sustainable technology. The UGA Innovation District — the home for faculty and student innovation at UGA — was the venue for the event, which attracted business leaders, academics, scientists and consumers to learn from sustainability innovators.
Industry experts share knowledge and experience
Adrian Robbins, a 2021 CAES graduate and current MBA at UGA, shared information about her ag tech startup, AgLite, a UV-C light sterilization method to prevent the spread of plant disease from contaminated seeds. Robbins was a finalist in the 2021 FABricate Entrepreneurial Initiative pitch competition.
"The world is trying to feed more people on less land with fewer resources, and today was a great example of how we can do that. CAES partnering with the Swiss Consulate and the Office of Sustainability created a global viewpoint from which we could have conversations about how technology can play a role in sustainability," said Chris Rhodes, director of industry partnerships and project-based learning at CAES. "It's these types of collaborations that will ultimately keep us on track delivering food to a hungry world."
Each entrepreneur, scientist and consumer has a unique path to sustainable operations and living, a concept that became the focus of discussions among of a panel of industry leaders at the symposium. Panel members, who shared the steps they've taken to make their operations more sustainable and strategies for communicating the importance of their work to the larger community, included:
Symposium attendees joined breakout sessions, during which panel members shared more in-depth information about their work, vision and journeys, and expanded the discussion through question-and-answer sessions.
The next generation's work begins today
Business leaders weren't the only curious minds in attendance at the Cleantech Symposium. Students interested in entrepreneurship or environmental sustainability sat in on sessions to glean knowledge from current industry pioneers.
"Hearing the entrepreneurial experiences of others encouraged me in my own entrepreneurial aspirations to keep on learning, communicating and advocating for myself and my businesses as a true entrepreneur does," said agricultural education major Tania Guadalupe Rios. "Hearing them refer to failure as a good thing and as an essential part of the entrepreneurial journey has given me even more motivation to continue developing my passion for entrepreneurship."
Students like Rios, who also competed in FABricate, aren't wasting any time when it comes to innovating for the future. As part of the symposium, graduate and undergraduate students were invited to share their research in a poster competition. Poster award winners were:
Undergraduate winners
Graduate winners
"I'm not worried about the next generation of leaders — at UGA, I've had the opportunity to work with a number of students who are bright, thoughtful and creative when considering how we can solve some of the most pressing issues facing our world today," Rhodes said.
For more on the Cleantech Symposium, visit newswire.caes.uga.edu. To learn about innovation at CAES, check out leadinginnovation.caes.uga.edu.