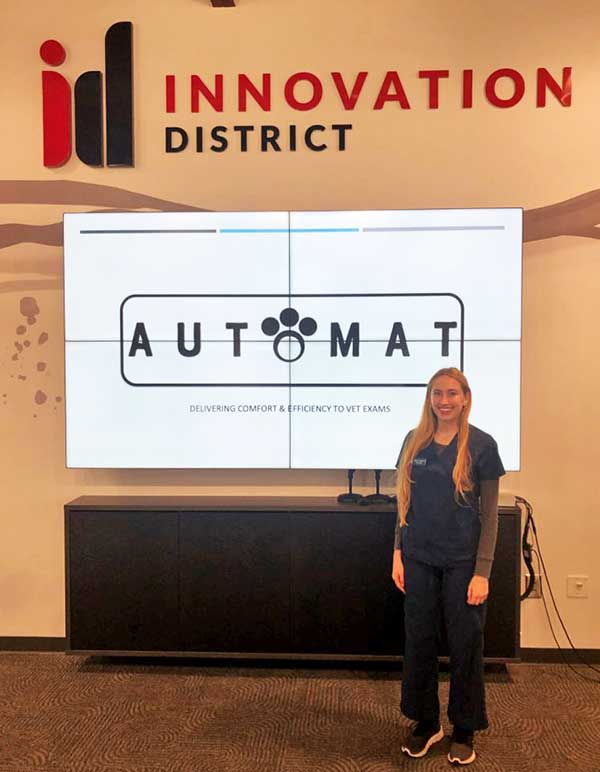 Studies have estimated that average person will have more than 6,000 thoughts a day.
For University of Georgia students participating in the 2022 FABricate Entrepreneurial Initiative competition, developing one of those thoughts into a business idea could earn them $10,000.
FABricate, which kicks off with a quick pitch competition on Feb. 28, has helped winners and finalists launch companies while at UGA and beyond.
The grand prize winner of the 2021 FABricate competition was a patented tech device called AutoMat. Veterinary students and co-founders Alyssa Gutierrez, Greena Kim and Madison Luker created a self-disinfecting, retractable, non-slip mat for veterinary exam tables.
"We saw a problem in our field and decided to create a solution. FABricate and the UGA Innovation District have been vital to our product development, sales and networking," said Alyssa Gutierrez, a first-year veterinary student at UGA and 2020 graduate of the College of Agricultural and Environmental Sciences in biological science.
The idea for the device first showed promise after AutoMat won the 2018 UGA Animal Health Hackathon. Since the product's conception, the company has won several entrepreneurial competitions including the 2020 Veterinary Entrepreneurship Academy, 2021 TiE Entrepreneurship Competition and 2021 UC Davis Big Bang Competition.
Kim, a fourth-year UGA veterinary student said, "The pandemic has been hard for so many, but hyperawareness of sanitation has shown not only the veterinary community, but outside markets the importance of AutoMat."
The company has received their continuation-in-part, which adds new information to an already granted patent, and are recruiting a tech company in California for mass scaling.
"Working alongside a product developer will not only make us available across the country, but it will keep AutoMat at an affordable price range for clinics," said Luker, a second-year veterinary student at University of California, Davis.
The forward-thinking trio have reached some important milestones since forming their idea, but Gutierrez emphasized that they're just getting started. "We plan to attend the AVMA Convention this summer to make some big sales and gain interest from investors."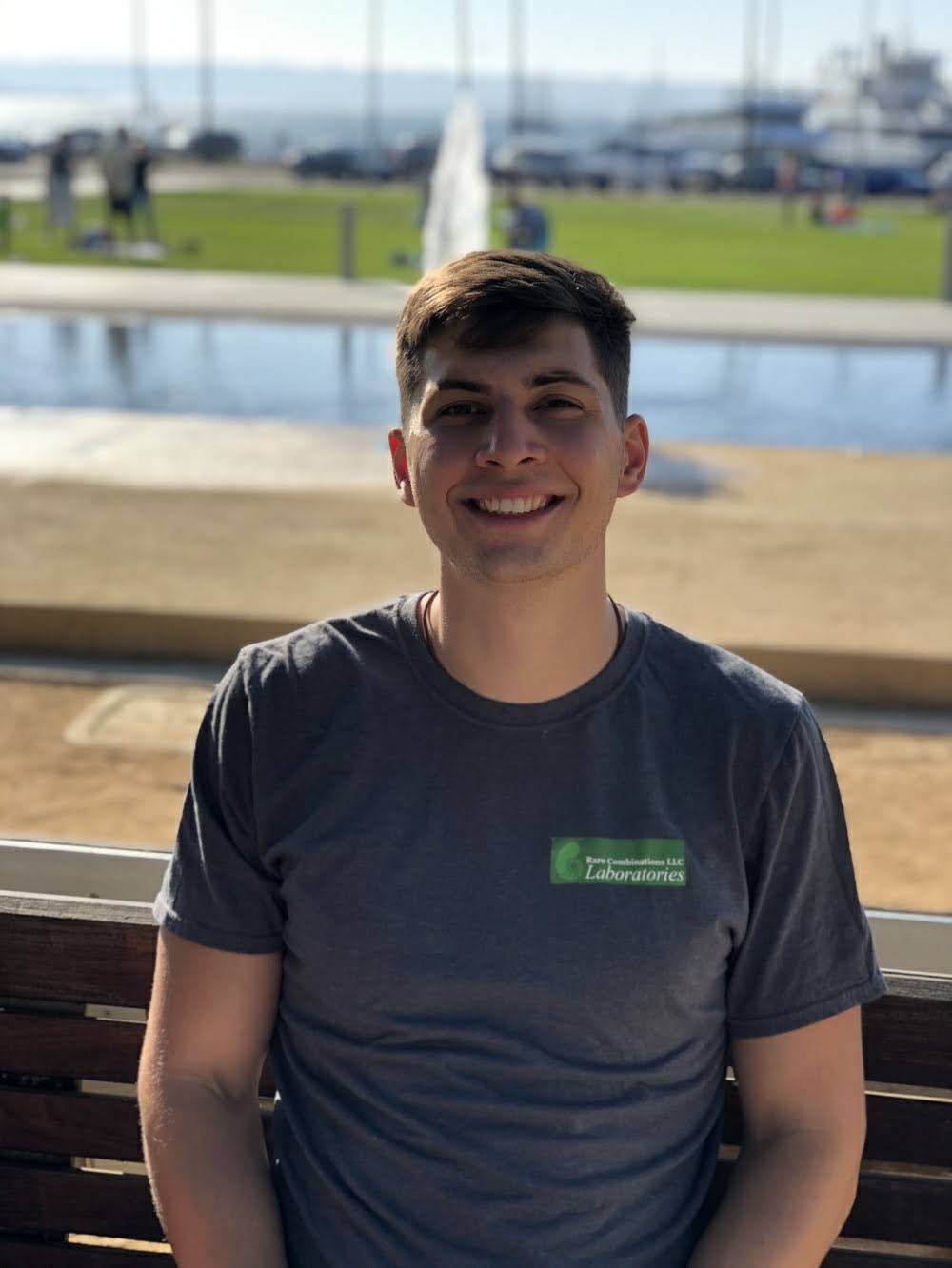 At the 2020 FABricate competition, Nick Robertson's idea for an efficient, affordable alcohol percentage detector for beverage producers scored him $10,000 for his company Rare Combinations.
"The funding from FABricate has been very helpful at kicking off sales and provided the funds necessary to build the first batch of detectors. More importantly, it gave me validation of my idea," said Robertson, a 2020 biochemical engineering graduate who is working on his doctorate in bioengineering at the University of California, Riverside, with a focus on genetic engineering in yeast.
Robertson developed the idea while at UGA when he began brewing and selling kombucha, a fermented health drink. He knew the fermentation process created a small amount of alcohol, and he quickly learned that producers can run into legal issues if they exceed the limit of 0.5% alcohol by volume. Traditional testing is costly and time-consuming, so Robertson developed his detector, which comes in at a price tag of $1,000 and produces results in 30 seconds.
He now employs one electrical engineering undergraduate student to help build the detectors and prototype new designs and, while business slowed a bit in 2021, Robertson hopes an upcoming stint as a vendor at the world's largest kombucha conference in Long Beach, California, will help boost sales.
"Rare Combinations has been doing well. The past couple months have been moving a bit slower, but I'm hoping the pandemic will clear up some and free up funds for kombucha brewers," he said.
FABricate finalists have also enjoyed continuing success after participating in the competition.
Adrian Robbins, a 2021 environmental resource science graduate from CAES, is currently pursuing an MBA at Terry College of Business. While at CAES, she brought her idea for a method of controlling plant diseases to Chris Rhodes, director of industry partnerships and project-based learning at CAES.
With his help, Robbins became involved with the UGA Idea Accelerator, which helped her solidify her concept for Aglite, a UV-C light sterilization method to prevent the spread of plant disease from contaminated seeds. The concept was a finalist in the 2021 FABricate competition and Robbins subsequently received a $3,000 grant from the UGA Kickstart Fund to help grow her idea into a business.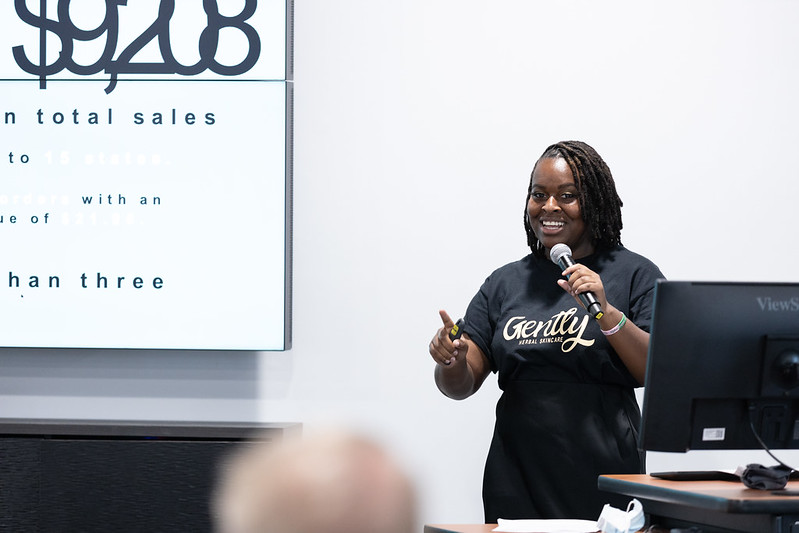 "It's almost a year later and so much has happened. Some people think things don't work that fast, but it has been very encouraging to receive support to grow this idea into something more," Robbins said.
Rhodes has helped elevate the profile of the FABricate competition at UGA since joining CAES in June 2020.
"I've spent most of my career in the entrepreneurship community, and the creativity of the students at UGA really does rival that of Silicon Valley pros," Rhodes said. "All the students in the program are gaining valuable experience by participating, but it is especially heartening to see the ones going beyond the contest and finding success in the real business world. It is a testament to their individual achievement, but also to the community we are building here."
Other 2021 FABricate finalists include CAES agriscience and environmental systems graduate Kamaya Brantley with MAIA Aquatech, an aquaponics solution to provide fresh food to food deserts; and CAES agricultural communications alumnus Kristen Dunning, founder of Gently Soap, who also won a fall 2021 UGA Idea Accelerator pitch competition for The Herby Box, a subscription box of craft and herbal goods.
To learn more, visit caes.uga.edu/fabricate.