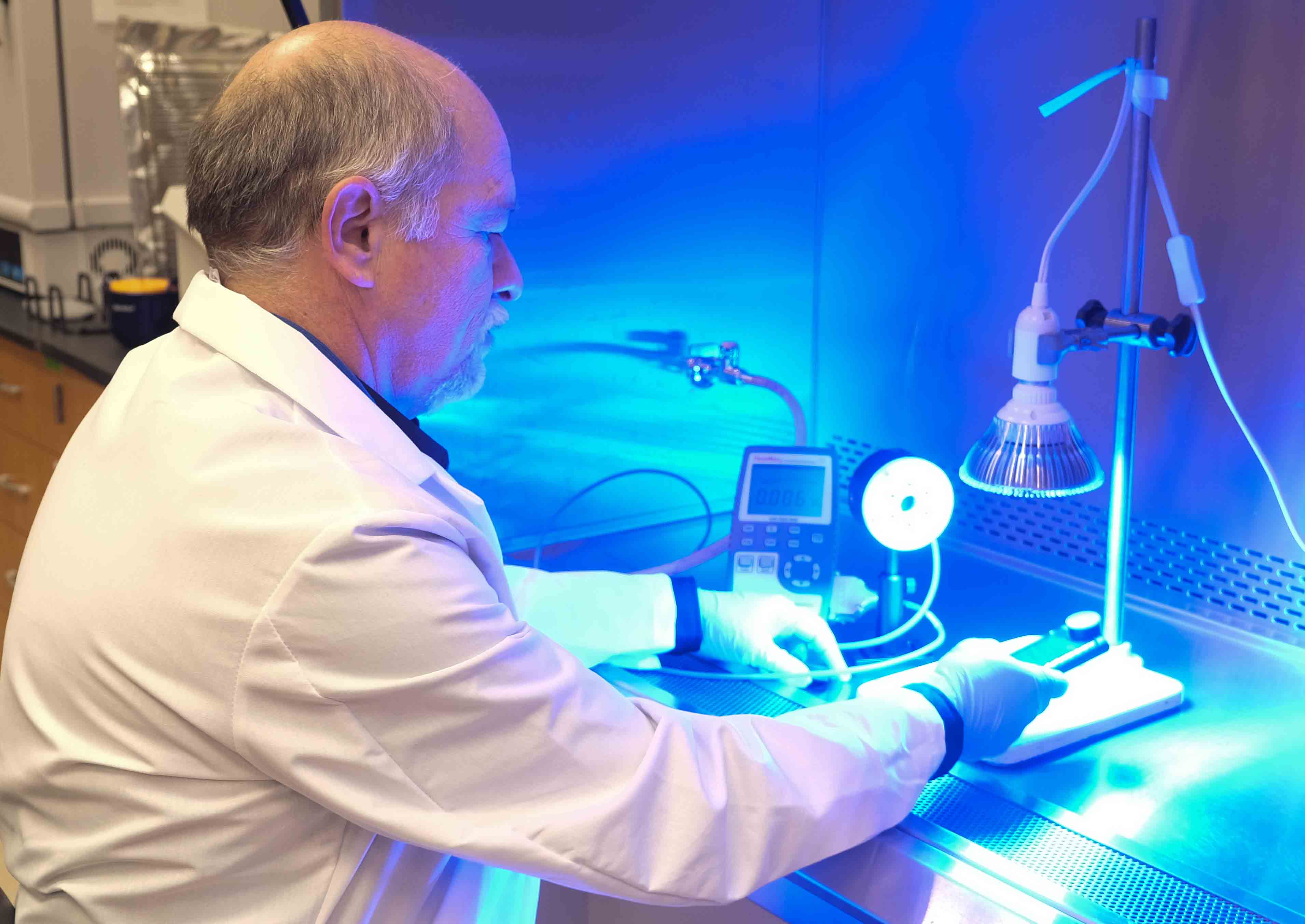 Researchers from the University of Georgia Center for Food Safety are beginning a new study to investigate the effectiveness of antimicrobial blue light technology to reduce the foodborne pathogens that cause food poisoning.
When used as a means of disinfecting surfaces in a hospital setting, antimicrobial blue light technology has shown promising results, but little research has yet been done to explore its potential efficacy to control foodborne pathogens.
Through a three-year, $599,900 grant awarded by the U.S. Department of Agriculture's National Institute of Food and Agriculture, UGA College of Agricultural and Environmental Sciences researchers will test the technology to uncover possible applications in the food production process.
Despite industry efforts, the number of foodborne infections has remained steady and, in some cases, has increased in recent years according to the Centers for Disease Control and Prevention (CDC).
Large-scale outbreaks and recalls still occur, particularly due to environmental contamination — like food preparation and processing surfaces — with Salmonella enterica and Listeria monocytogenes, both of which can cause illness and even death.
Most food manufacturers use chemical sanitizers on food preparation surfaces to help control the spread of foodborne pathogens.
This is typically effective in easy-to-reach areas, but areas that are hard to reach may not receive the same degree of sanitation.
These hard-to-reach places sometimes harbor biofilms, which are clusters of microorganisms such as bacteria that are hard to eliminate. The inadvertent spread of these microorganisms can occur during food production both by humans and machinery. Viruses pose a further challenge as many, such as norovirus, can survive on a variety of surfaces for long periods of time.
Finding new, innovative approaches could be the key to helping control foodborne outbreaks.
"The use of a dynamic and harmless light technology during downtime and close of operation could serve as a useful tool in preventing biofilm formation and persistence," said Center for Food Safety Director Francisco Diez-Gonzalez, who will head the research team. Other UGA faculty members on the project are Govindaraj dev Kumar and Malak Esseili, both assistant professors at the center.
With the advent of low-cost light emitting diodes, better known as LEDs, there is an increased interest in antimicrobial blue light technology as a means of reducing environmental contamination of foodborne illnesses.
The researchers' ultimate goal is to deliver a new, low-cost and environmentally friendly means of enhancing food safety.