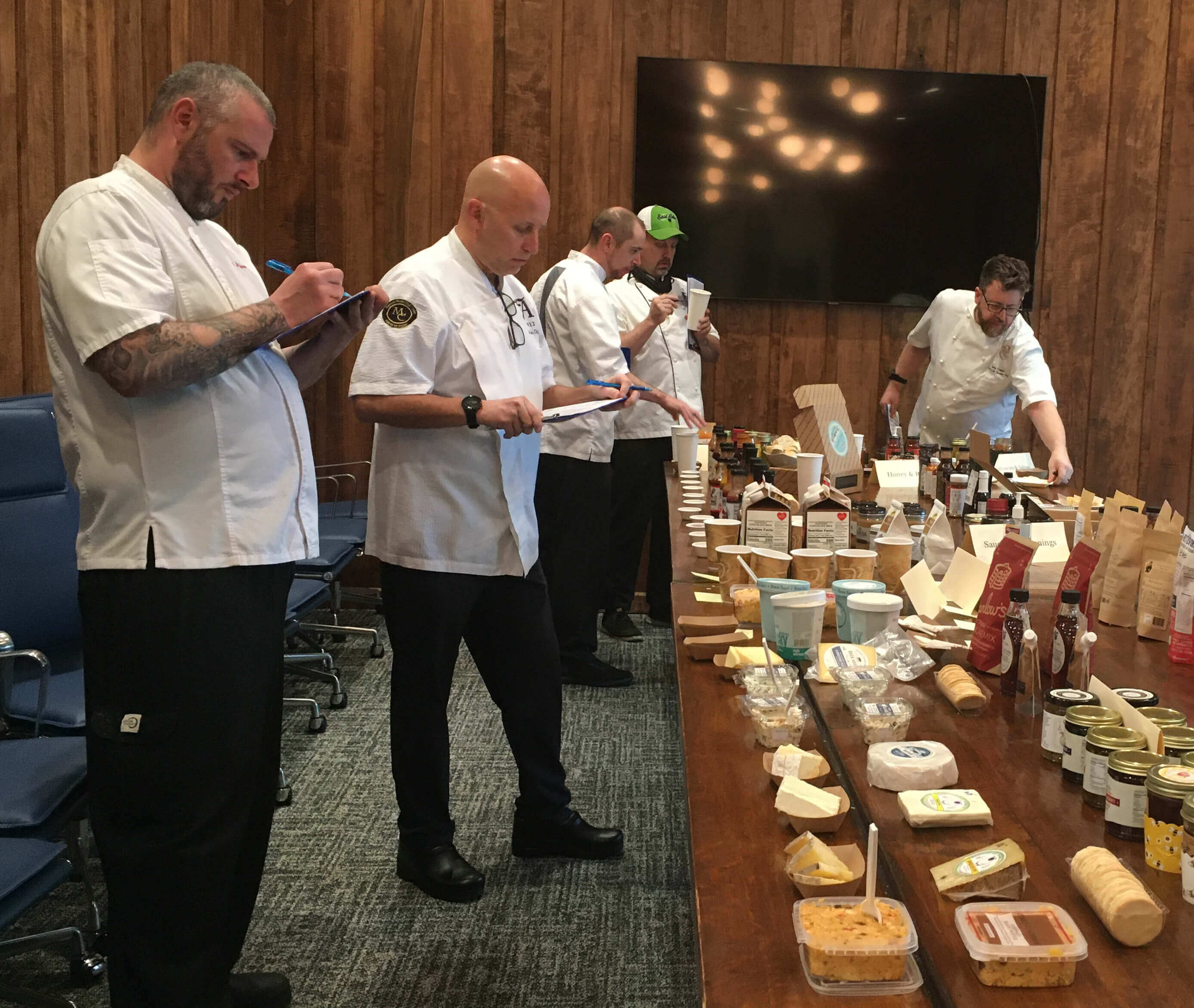 Judges have selected 32 finalists to compete in the second and final round of the University of Georgia College of Agricultural and Environmental Sciences' annual Flavor of Georgia food product contest. Narrowed from a field of 148 products, the finalists will compete on April 21 at The Classic Center in Athens with an award ceremony to follow.
The contest is the state's proving ground for small, start-up food companies as well as established brands looking for recognition or new markets. This year's finalists represent all corners of the state and the best of Georgia's diverse culinary heritage.
"The Flavor of Georgia competition is an opportunity for the Department of Food Science and Technology (FST) to make an impact with companies and individuals who are developing new products and new businesses — ultimately, these new products and businesses benefit not only those who are directly involved in them but also those who buy the products they sell," said FST Department Head and Professor Manpreet Singh. "With a wealth of resources at their disposal through FST on the Athens and Griffin campuses, Flavor of Georgia competitors are able to develop flavorful, marketable and profitable products for consumers."
Judges for the final round of the contest will include food brokers, grocery buyers and other food product experts. Entries are evaluated by category based on their Georgia theme, commercial appeal, taste, innovation and market potential. Contestants will provide samples to judges while pitching their products in a three-minute presentation. Winners will be named for each category, the overall grand prize and a people's choice award, which will be chosen by event attendees.
The 2022 Finalists
This year's finalists are listed by company, product name and city within the 11 competition categories. All entries are from Georgia-based businesses.
Barbecue Sauces
Brooksmade Gourmet Foods Inc., Habanero Soulful Sauce, Alpharetta
Lane's BBQ, Pineapple Chipotle Sauce, Winder
O'Baby BBQ, Sweetie Sauce, Dawson
Beverages
Boarding Pass Coffee, Monte Alegre (Brasil) — Light Roast, Milton
Byne Blueberry Farms, Blueberry Cider, Waynesboro
HIBO LLC, HIBO Classic Hibiscus Superdrink +Peach, Bishop
Condiments and Salsas
Point Blank Pepper Company, Smoke Rings, Marietta
Powerful Pepper Company, Hot Pickled Okra, Marietta
Pride Road LLC, Peach Hibiscus Chutney, Lithonia
Confections
Maybird Confections, White Gold Pecan Toffee, Alpharetta
Rock Salt Milk Bar, Caramel Pecan Cookie, Newnan
Zolene Gluten-Free Delights LLC, Gluten-Free Vegan Pecan Praline Blondies, Atlanta
Dairy and Related Products
Hart Dairy, Pasture Raised & Grass Fed 365 Days Per Year Chocolate Whole Milk, Alpharetta
Rock House Creamery, Tomato, Basil and Garlic Fresh Chevre, Newborn
Suga's Enterprises LLC, Gourmet Black Truffle Pimento Cheese, Powder Springs
Honey and Related Products
Deju LLC, Grandma's Honey Stuff, Conyers
Savannah Bee Company, Hot Honey, Savannah
Jams and Jellies
Georgia Jams LLC, Vidalia Onion Spread, Williamson
three b's jams LLC, three b's Strawberry Jalapeno Jam, Greensboro
We Bee Jammin' LLC, Strawberry Lemonade Marmalade, Pooler
Meats and Seafood
920 Cattle & Company, Southern Caprese Sausage, Millen
Sunset Farm Foods, Sunset Farm Brand Country Applewood Smoked Sausage, Valdosta
White Oak Pastures, Pastured Pork Bacon, Bluffton
Miscellaneous
Buenos Dias Pupusas, Pupusas, Atlanta
Ruthie's Best, Ruthie's Best Butterscotch Sauce, Albany
Sutton Mill Creek Syrup Co., Spiced Apple Cider Hickory Syrup, Clarkesville
Sauces and Seasonings
Komodo Sauces, Komodo Black, Kennesaw
Lane's BBQ, Spellbound Rub/Seasoning, Winder
Num Num Sauce Company, Num Num Sauce, Atlanta
Snack Foods
All the Fixins Pecans, "Get 'em Riled Up" Crunchy Chocolate Pecans, Twin City
Cassava Breads, Garlic & Herb Cheese Bread, Evans
Mokipops LLC, Mokipops Basil Lemonade Frozen Fruit Bar Popsicle, Atlanta
Showcasing Georgia's best
Flavor of Georgia is more than a contest —the event helps to promote the variety and successes of food entrepreneurs all over the state. Since 2007, more than 1,500 products have been entered into the contest, and participating businesses have experienced increased sales, business contacts, publicity and overall interest in their products.
Past finalists report that participation in the contest boosts their annual sales by about 20% on average. Taking into account multiplier effects, it is estimated that increased sales from participating in Flavor of Georgia contribute to more than $5.6 million in annual revenue for the Georgia economy, according to a follow-up survey of previous finalists and winners from 2015-19.
"Not only were these products sold in Georgia but sales have also been reported in all 49 other states," said Sharon Kane, study author and economist with the CAES Center of Agribusiness and Economic Development. "Significant sales were reported throughout the southeast in Alabama, Tennessee, North Carolina, Florida and South Carolina."
The Flavor of Georgia food product contest is organized by the UGA CAES Department of Food Science and Technology with support from the Georgia Department of Agriculture, Georgia Grown and Georgia Agribusiness Council.
"Flavor of Georgia is a showcase of all that the Department of Food Science and Technology does, from flavor profiling to extending the shelf life of a product and value addition of food products," Singh said.
To learn more about the contest, including benefits and registration, visit flavorofgeorgia.caes.uga.edu.