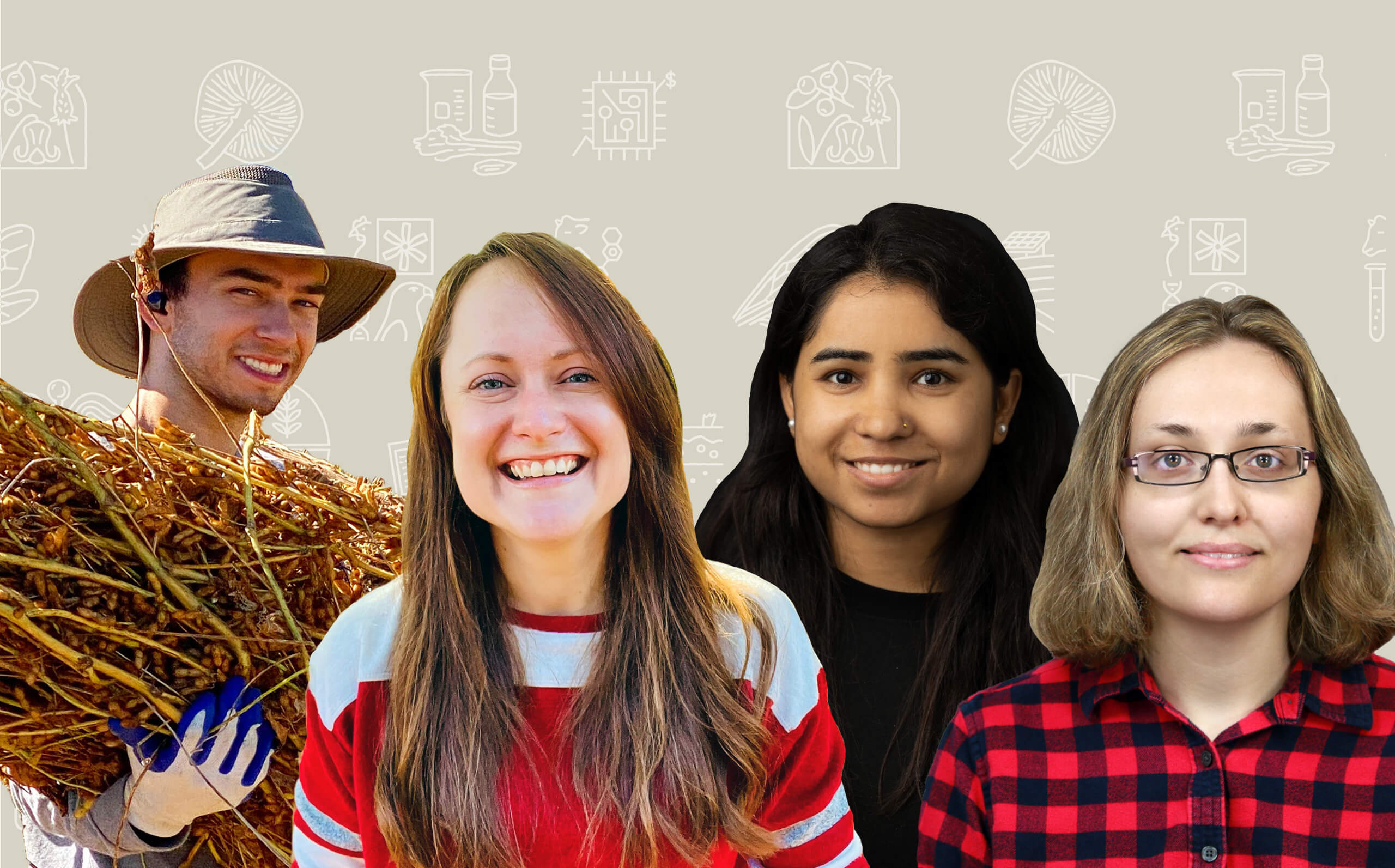 Four graduate students in the University of Georgia College of Agricultural and Environmental Sciences (CAES) have been honored with an E. Broadus Browne Award for Outstanding Graduate Research.
Given in honor of the former director of the Georgia Agricultural Experiment Stations, the award is presented to outstanding CAES master's and doctoral students recognized for both their research and effective communication.
"The research taking place in CAES labs, classrooms and fields in agricultural and environmental sciences keeps Georgia at the pinnacle of these industries," said Harshavardhan Thippareddi, the college's interim associate dean for research and John Bekkers Professor in Poultry Science. "Our incredible graduate students represent the next generation of industry experts and I'm proud to have them here at CAES."
Lauren Vaccaro took first place in the doctoral category. She is graduating in summer 2023 with a doctorate in poultry science under the guidance of advisor Laura Ellestad. Vaccaro earned her bachelor's degree in biological sciences from Mount Holyoke College in Massachusetts.
Nathaniel Burner, a second-year doctoral student in the Institute of Plant Breeding, Genetics and Genomics, took second place in the doctoral category. He intends to graduate in spring 2025 under the guidance of Zenglu Li. Originally from Lemont, Illinois, Burner holds a bachelor's degree in crop sciences from the University of Illinois and a master's degree in crop sciences from North Carolina State University.
Stephanie Botton, who earned a bachelor's degree in biology and chemistry from Mercer University School of Liberal Arts in Macon, Georgia, took first place in the master's category. A third-year master's student in plant breeding, genetics and genomics, Botton intends to graduate in spring 2024 under the guidance of Peggy Ozias-Akins.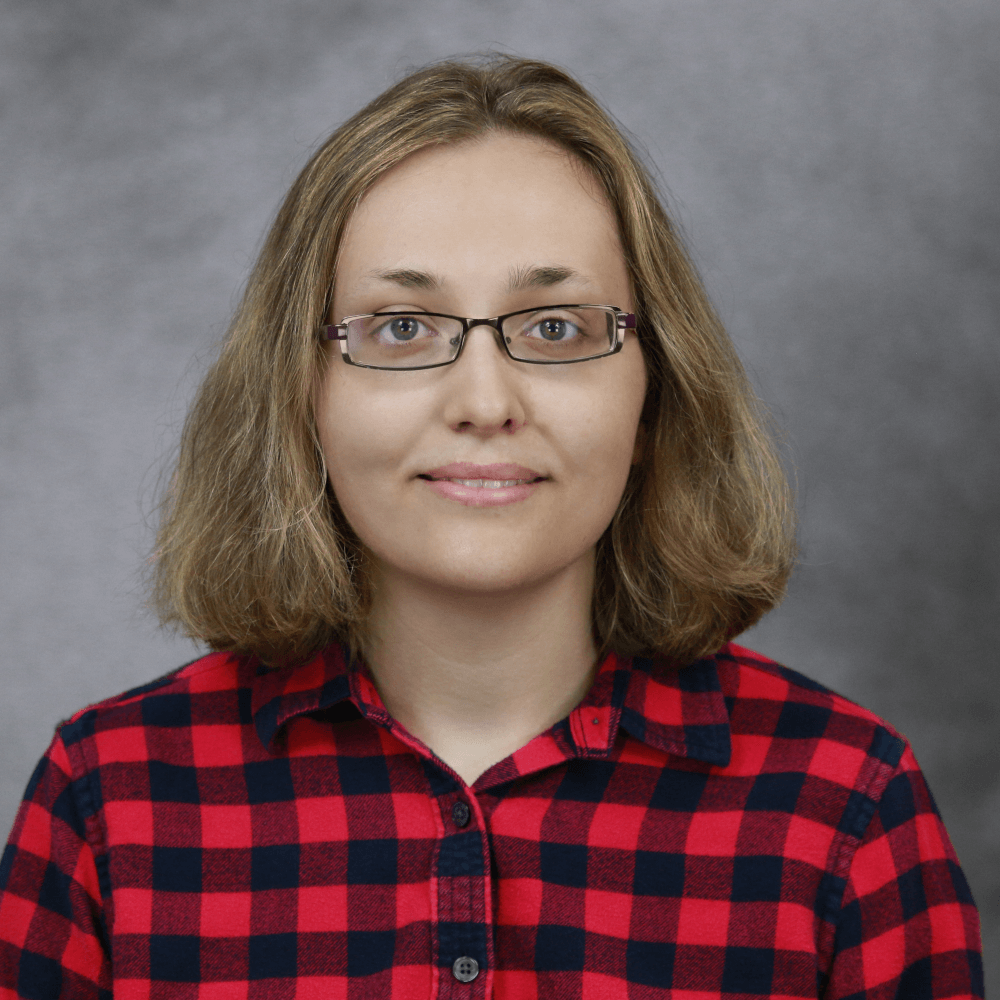 Laxmi Pandey moved to the U.S. after earning a bachelor's degree from the Institute of Agriculture and Animal Sciences at Tribhuvan University in her native Nepal. Awarded second place in the master's category, Pandey plans to graduate in December 2023 under co-advisors Bob Kemerait and Marin Talbot Brewer.
The first-place doctoral award consists of a certificate, $2,000 and up to $2,500 in travel funding support to attend a professional meeting. The second-place doctoral winner is awarded $1,000. The first-place master's award consists of a certificate, $1,000 and up to $2,500 in travel funding support to attend a professional meeting. The second-place master's winner is awarded $500.
Where are you from, and why did you choose to study at UGA CAES?
Vaccaro: I am from upstate New York. I chose to study at UGA in part because I was interested in transitioning to poultry, and upstate New York is very big on cattle and dairy. Georgia is the poultry capital of the U.S., so it had more opportunities.
Burner: I am originally from Lemont, Illinois. Since undergrad I have had the career goal of becoming a plant breeder. UGA is well-known for being a plant breeding powerhouse in large part due to the accomplished faculty it attracts. The soybean breeding and genetics lab offered projects that provided me with direct experience in its applied breeding program that would prepare me for a career in industry.
Botton: I am from Tifton, Georgia. I currently work for the Department of Horticulture as a research technician at CAES in Tifton, working with peanut breeding and genetics. I applied for the Tuition Assistance Program with UGA and took the opportunity to pursue a master's degree with UGA's Institute of Plant Breeding, Genetics and Genomics while maintaining my full-time position.
Pandey: I am from Nepal. I chose to study at UGA because UGA offers a very good plant pathology program with a wide range of research opportunities for students and excellent faculty members.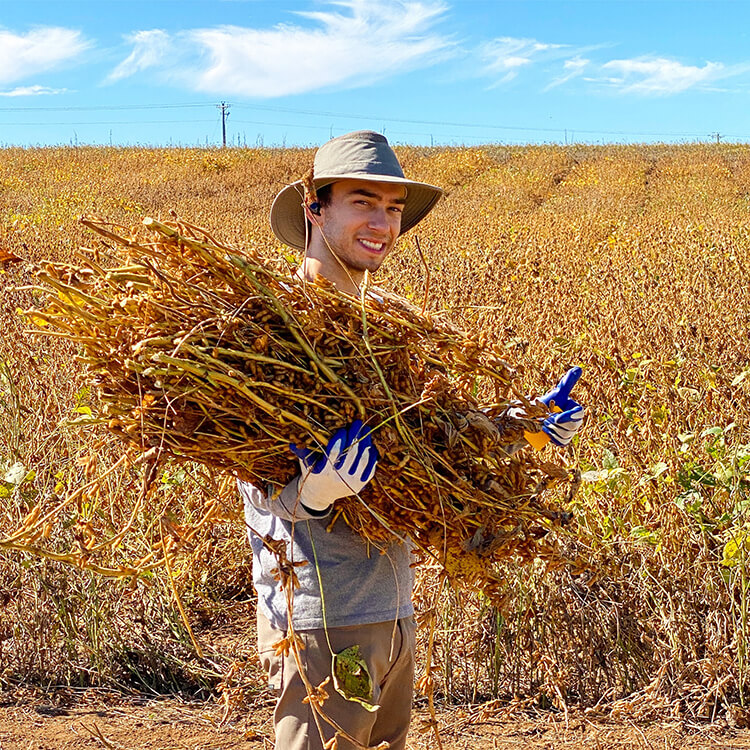 What is the subject of your current research, and what are the potential implications?
Vaccaro: My work is focused on understanding the biological mechanisms behind hormonal signaling in broiler chickens that contribute to their unique physiology, with the goal of identifying targets for genetic selection.
Burner: I am working on developing a pipeline that takes drone imagery of our soybean breeding plots and can estimate whether they are mature. This trait is important to know as it greatly affects yield and other management decisions. Currently we must take these field notes manually each year, which takes a ton of time and requires many people. A drone pipeline will allow us to collect maturity data in a fraction of the time and in a more objective and repeatable way, which will improve the efficiency by which we can evaluate and release better-performing soybean cultivars to growers.
Botton: My research is focused on conferring and characterization of peanut root-knot nematode (PRKN), Meloidogyne arenaria, resistance derived from two wild peanut species, Arachis cardenasii and Arachis stenosperma, in cultivated peanut. PRKN is a roundworm that, if not treated with nematicides or usage of a non-host crop or a resistant crop variety, can lead to devastating yield loss for growers. The hope is to discover the genes involved in the resistances from these two wild species. The potential implications of this research would be to have the availability of two sources of PRKN resistance in cultivated peanuts. Knowing the location of these resistance genes will aid breeders in developing and releasing peanut cultivars with comparable yields to growers.
Pandey: My research focuses on the management of aflatoxin contamination in peanuts through an integrated approach, which includes the use of newer chemistries of fungicides, different methods of fungicide application as well as the use of Afla-Guard GR. I am also looking at the impact of those fungicides on soilborne fungi in peanuts. Along with that, I am working to develop a model that helps predict the risk of aflatoxin contamination in peanuts during storage. This research will help us to provide effective tools to the growers for aflatoxin management in peanuts.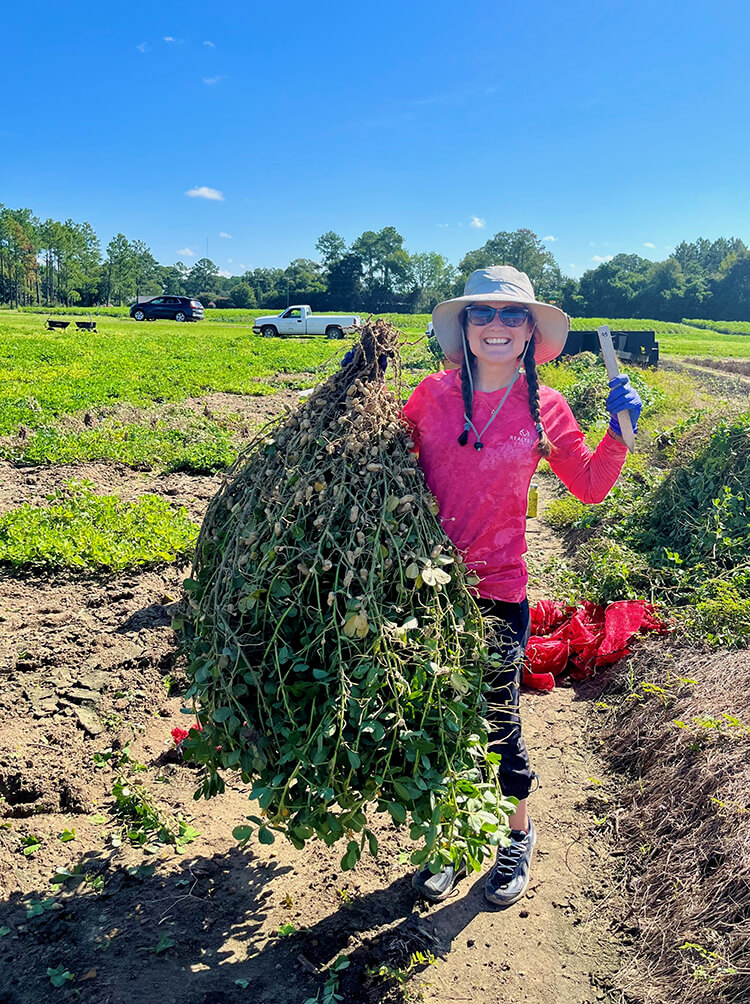 Why did you choose your field of study?
Vaccaro: This is a bit of a weird story — when I was working on my honors thesis at Mount Holyoke, I began to read poultry science papers in my spare time. My research at the time was on antibiotic resistance in baker's yeast conveyed by the mitochondrial genome. It was a pretty big leap for me, but I became very interested in poultry domestication and modern bird physiology as the result of genetic selection.
Burner: Plant breeding provides for the opportunity to enrich the livelihoods of growers and the communities they serve through the development of improved crop cultivars.
Botton: My initial goal was to pursue a degree in medicine and ultimately become a pediatrician. However, after graduation from Mercer I took a technician job with Professor Ozias-Akins working with peanut genetics and breeding. I don't want to sound cliché, but this was a life-changing experience. My interest moved away from medicine and became more focused on plant breeding, and it ultimately made me decide to pursue a master's degree in the field.
Pandey: During my undergraduate study in agriculture, I was fascinated to learn how small microorganisms can lead to the devastating loss of agricultural crops. I wanted to pursue a career in plant pathology to get hands-on experience in the identification and management of plant diseases and directly help growers to save their crops.
What has been the best experience you've had so far at the college?
Vaccaro: I think the best experience I have had is the opportunity to meet others inside and outside of my field of expertise. This has taught me different approaches to research and teaching.
Burner: My favorite part has been the many opportunities to travel to conferences across the country to hear interesting talks and network.
Botton: I have enjoyed being able to learn from our brilliant CAES professors and researchers, and additionally, being a part of the family-like atmosphere that our Tifton campus provides. This is especially true with my Institute of Plant Breeding, Genetics and Genomics classmates. Their support and friendship throughout my entire graduate school career is has been invaluable to me.
Pandey: I participated in the International Street Festival 2022. The diversity of culture, food, languages and dress that I experienced during that festival has been the best experience I have had so far.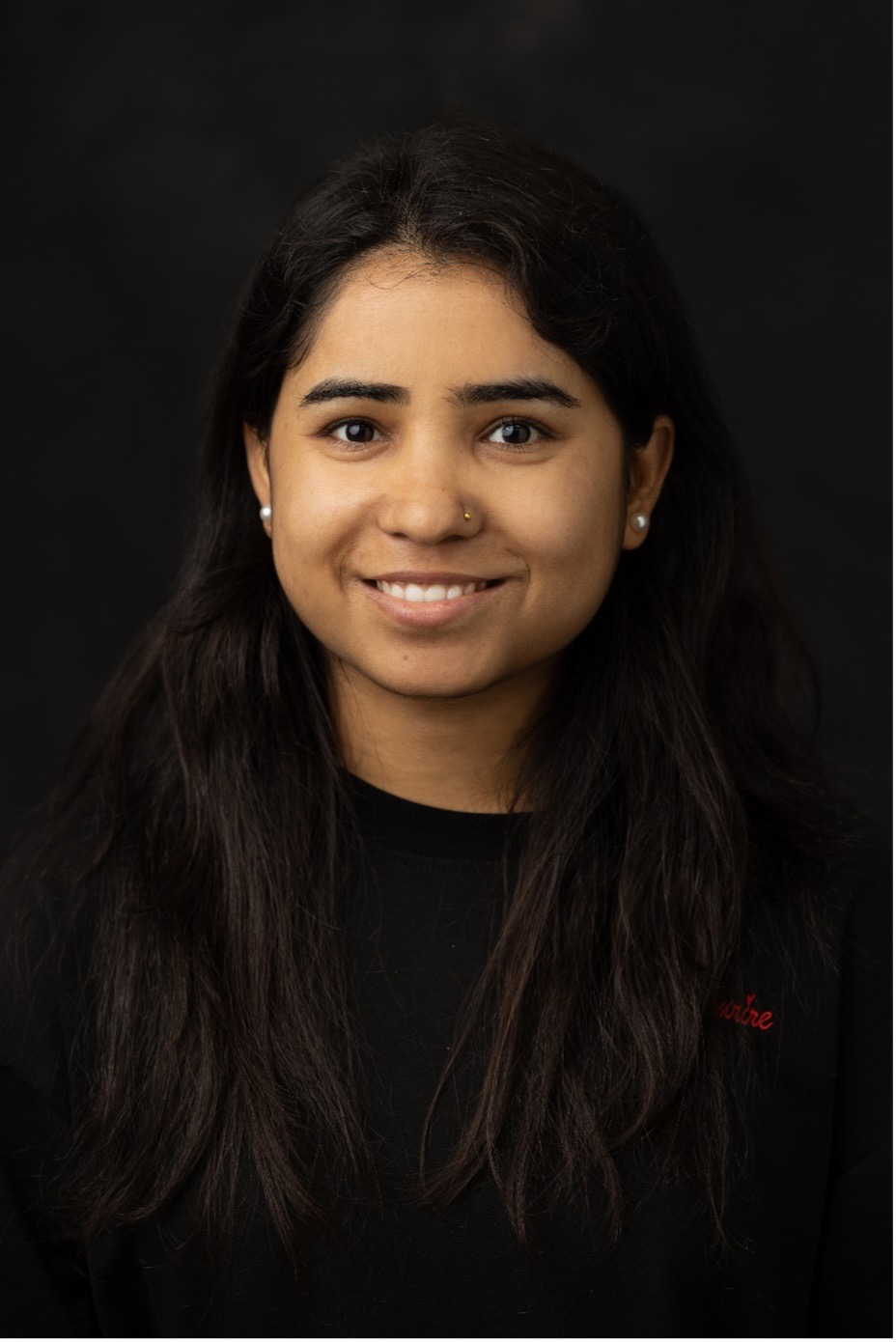 What do you want to do with what you have learned here?
Vaccaro: Teaching is what I want to pursue after graduation, and I will use my research experience to integrate molecular techniques and emphasize the importance of practical lab work, which allows students to apply and practice the theory they've used in the classroom.
Burner: I want to become a plant breeder at a private seed company.
Botton: My goal is to further my plant breeding career through pursuit of a Ph.D.
Pandey: I aspire to become a researcher and would want to use everything I have learned here to continue doing research and pursue a Ph.D. in the field of plant pathology.
How do you plan to use your award?
Vaccaro: I'm planning to travel to New Mexico in June for the annual North American Colleges and Teachers of Agriculture (NACTA) Conference. It will be my first time attending, and I'm very excited.
Burner: I will probably use it to offset the cost of travel.
Botton: I will use the professional stipend to attend conferences this year. This is a boring answer, but I will probably save the cash award in my emergency cash fund and/or use it for travel a bit later in the year.
Pandey: I think I will just save my award money for now and buy a special gift for myself with that money later.
To learn more about graduate programs at CAES, visit caes.uga.edu/students/graduate-programs.html. To learn more about the E. Broadus Browne Awards, visit caes.uga.edu/research/projects/browne-research-awards.