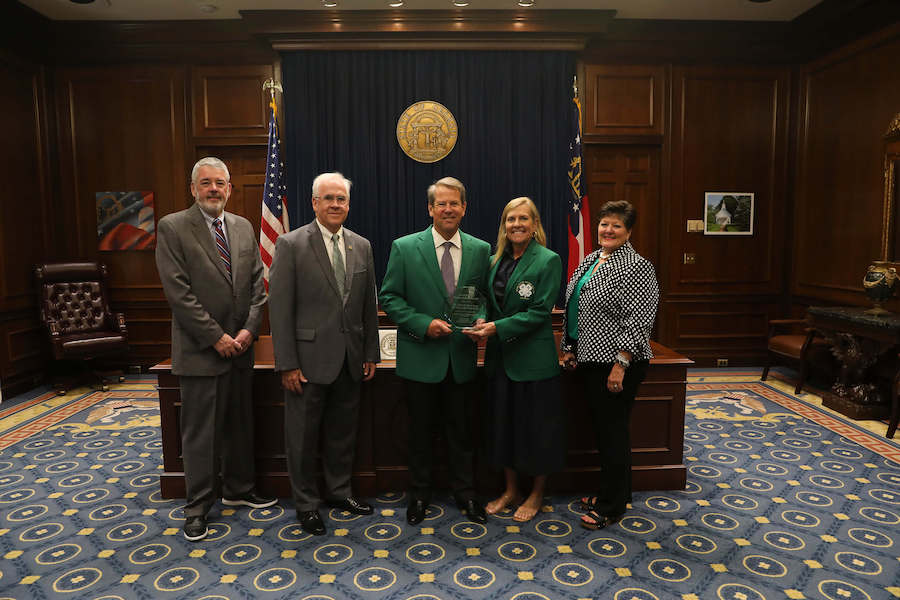 Georgia Gov. Brian Kemp and first lady Marty Kemp received the Green Jacket Award from Georgia 4-H at the 2022 Georgia 4-H State Congress. This prestigious award is presented to individuals who have shown significant ongoing support to 4-H across the state of Georgia.
The Kemps have been proponents of Georgia 4-H for two decades. During his time in public office, Gov. Kemp has passed and upheld legislation that provides funding for Georgia 4-H programming throughout the state.
Gov. Kemp has attended and supported local and state-level 4-H events since he began serving Georgia as a senator in 2003. He recently delivered the keynote address to 4-H'ers and other stakeholders at the 2022 Georgia 4-H Day at the Capitol.
"Throughout his years of service, Gov. Kemp has continued to show up for Georgia 4-H'ers," said Arch Smith, retired Georgia 4-H state leader. "I can recall numerous occasions where he would take extra time to meet and listen to our state officers. He is a champion for Georgia 4-H."
First lady Marty Kemp has invested in the Georgia 4-H program by involving 4-H'ers in the activities of the Governor's Mansion, including tours, pet adoption days, and other specialty events for youth. She also facilitated the First Flock project, for which Warren County 4-H'ers and FFA members helped design and install a chicken coop for the mansion grounds.
The Green Jacket Award was first announced during 4-H State Congress on July 21 in Atlanta. "We are honored to be chosen as the recipients of this year's Green Jacket Award," Gov. Kemp said in a video address to the 4-H State Congress delegation. "We know how important Georgia 4-H is to young people in every corner of our state. Because of 4-H, young people have the skills and drive they need to succeed," said first lady Kemp.
Georgia 4-H has presented the Green Jacket Award with support from Georgia EMC every year since 2008. For a complete list of winners, visit www.georgia4h.org/awards.
Dennis Chastain, CEO of Georgia Electric Membership Corporation (EMC), Smith and Laura Perry Johnson, associate dean for Extension at the University of Georgia College of Agricultural and Environmental Sciences, presented the Kemps with their green jackets and a commemorative plaque at the Capitol on Aug. 9.
Georgia 4-H celebrated excellence during the 79th Annual 4-H State Congress with competitions and recognition for top 4-H'ers from around the state who gathered in Atlanta. State Congress, which took place July 19 to 22, includes the state-level Project Achievement and Leadership in Action contests and acknowledges youth development professionals, supporters and public officials for their contributions to the success of 4-H in Georgia.
Georgia 4-H empowers youth to become true leaders by developing necessary life skills, positive relationships, and community awareness. As the largest youth leadership organization in the state, 4-H reaches more than 225,000 people annually through UGA Extension offices and 4-H facilities.
For more information about Georgia 4-H, contact your local UGA Extension office or visit georgia4h.org.