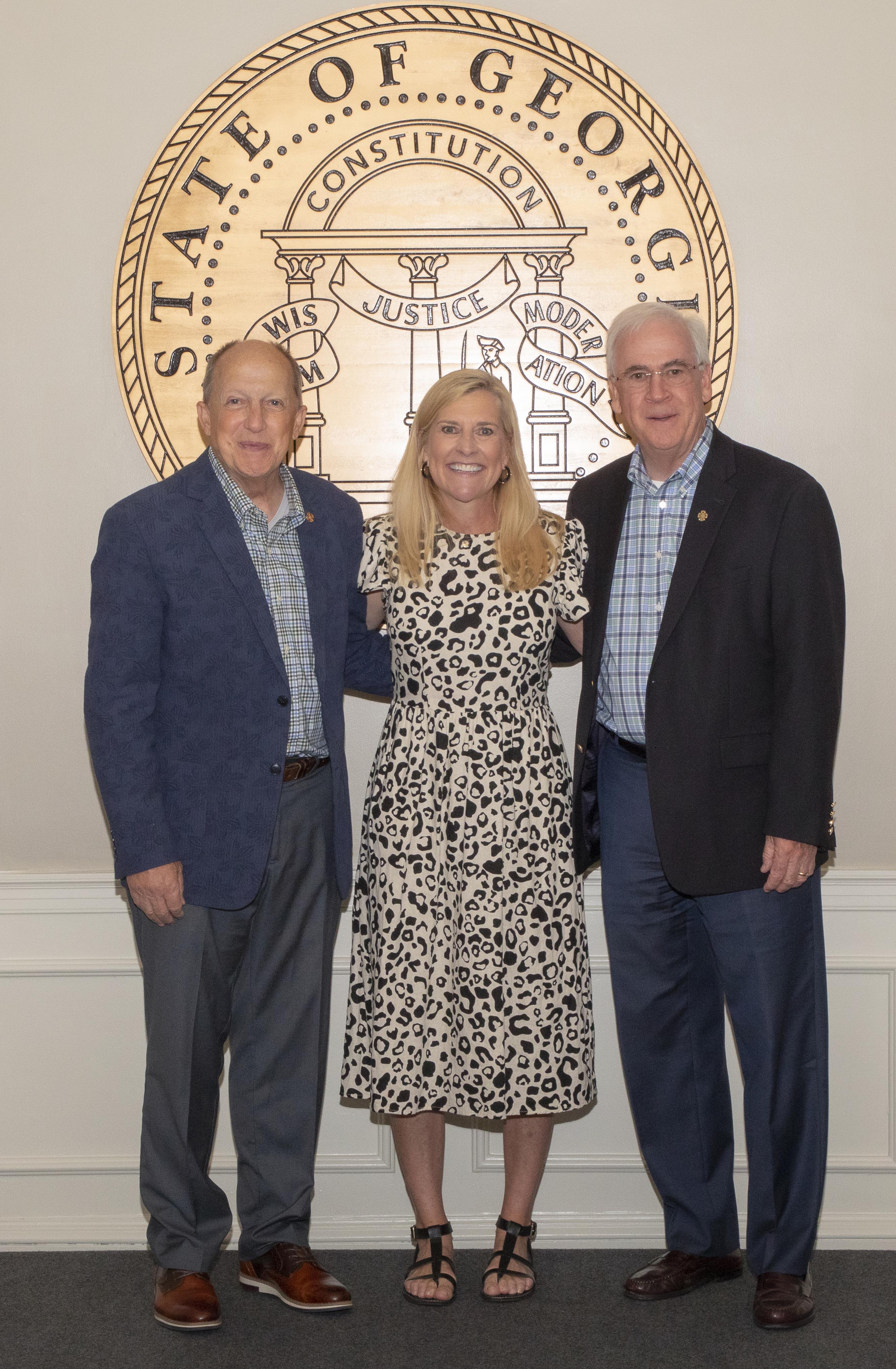 Thanks to a prize-winning chicken coop design by 4-H and FFA students from Warren County, Georgia's newly established First Flock now has a stately home on the 18-acre grounds of Governor's Mansion in Atlanta.
Born of a conversation between Georgia First Lady Marty Kemp and Bo Ryles, senior director at National 4-H, the Georgia FFA and 4-H Ag Awareness Poultry Project challenged teams of Georgia 4-H and FFA members to submit plans that would help Kemp's dream of a First Flock become a reality.
Working under a set of guidelines provided to teams by the project partners — including Georgia 4-H, FFA, the Georgia Poultry Federation and the University of Georgia Department of Poultry Science — student teams submitted proposals that included a site plan, concept and, in the case of the winning team, landscaping for the project.
Six teams of Georgia 4-H and FFA members from around the state submitted plans, and all of the teams were invited to visit the Governor's Mansion on July 9 for the dedication of the project.
"We've gotten more than 15 dozen eggs and they've only been here for about a month, so they're very happy," said Kemp at a ceremony honoring the top teams. "Every night that I'm here, I'll go out and collect eggs. We all enjoy taking care of the First Flock. They have a special place here and 4-H and FFA are such special organizations. We will continue to support agriculture, 4-H and FFA as long as we are here and beyond."
Warren County was announced as the winning team before the beginning of COVID-19 pandemic restrictions, but shutdowns delayed the completion of the project until this spring.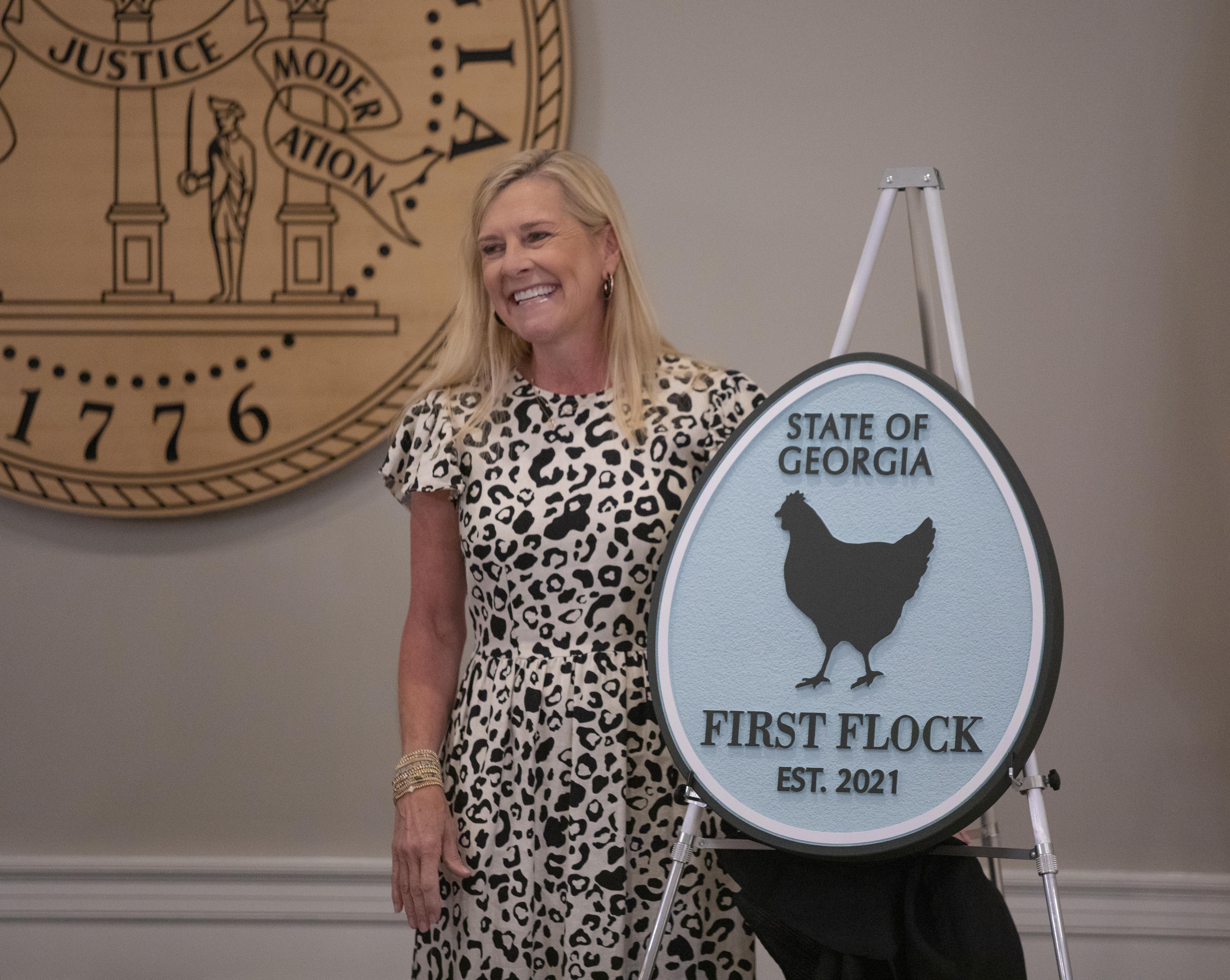 Thomas Wilkerson, a 4-H'er and member of the Warren County team, said the team of seven studied the site for the coop and came up with a plan that included the hen house, coop and landscaping for the project that incorporated seating for visitors.
"We wanted to create a coop that would fit the needs of the project and raise awareness of agriculture since poultry is such a large part of the agriculture industry in the state," Wilkerson said.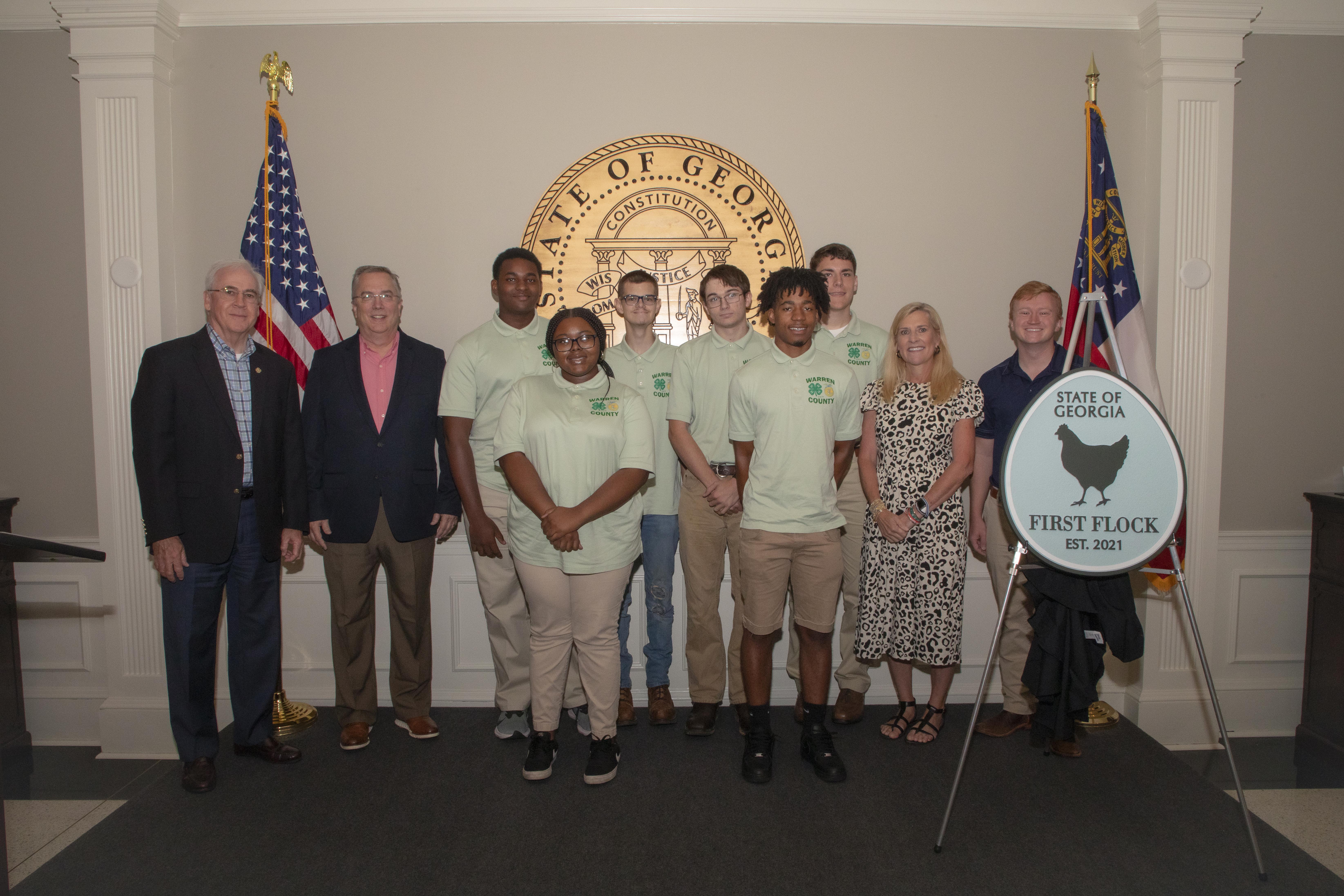 Other team members included Randy Olive, Faith McNair, Caleb Griffith, Ayden Hill, Nathan Coffman and Tayvion Robertson, guided by UGA Cooperative Extension 4-H Program Assistant Amanda Wilkerson and FFA Advisor Peggy Armstrong.
"We studied the site where the coop would be placed and came up with all the measurements," said Olive of the coop, which includes nesting boxes and roosting spaces, as well as a fenced enclosure with plenty of space for the chickens to scratch, watering and feeding stations and a dust bath area. Robertson, an artist, designed and painted a stained-glass window salvaged from an old church that will be installed on the site.
The top four teams each received a cash award from the Georgia Poultry Federation, including the second-place team from Lowndes County, the third-place team from Bulloch County and a team from Toombs County, which received honorable mention.
The Georgia Building Authority worked with 4-H and FFA to develop the site for the coop, while Carroll Daniel Construction of Gainesville took the winning design and created working construction plans to meet all building code requirements. Morton Vardeman and Carlson designed the First Flock logo and Signs by Tomorrow of Gainesville created the First Flock sign that will be installed at the coop.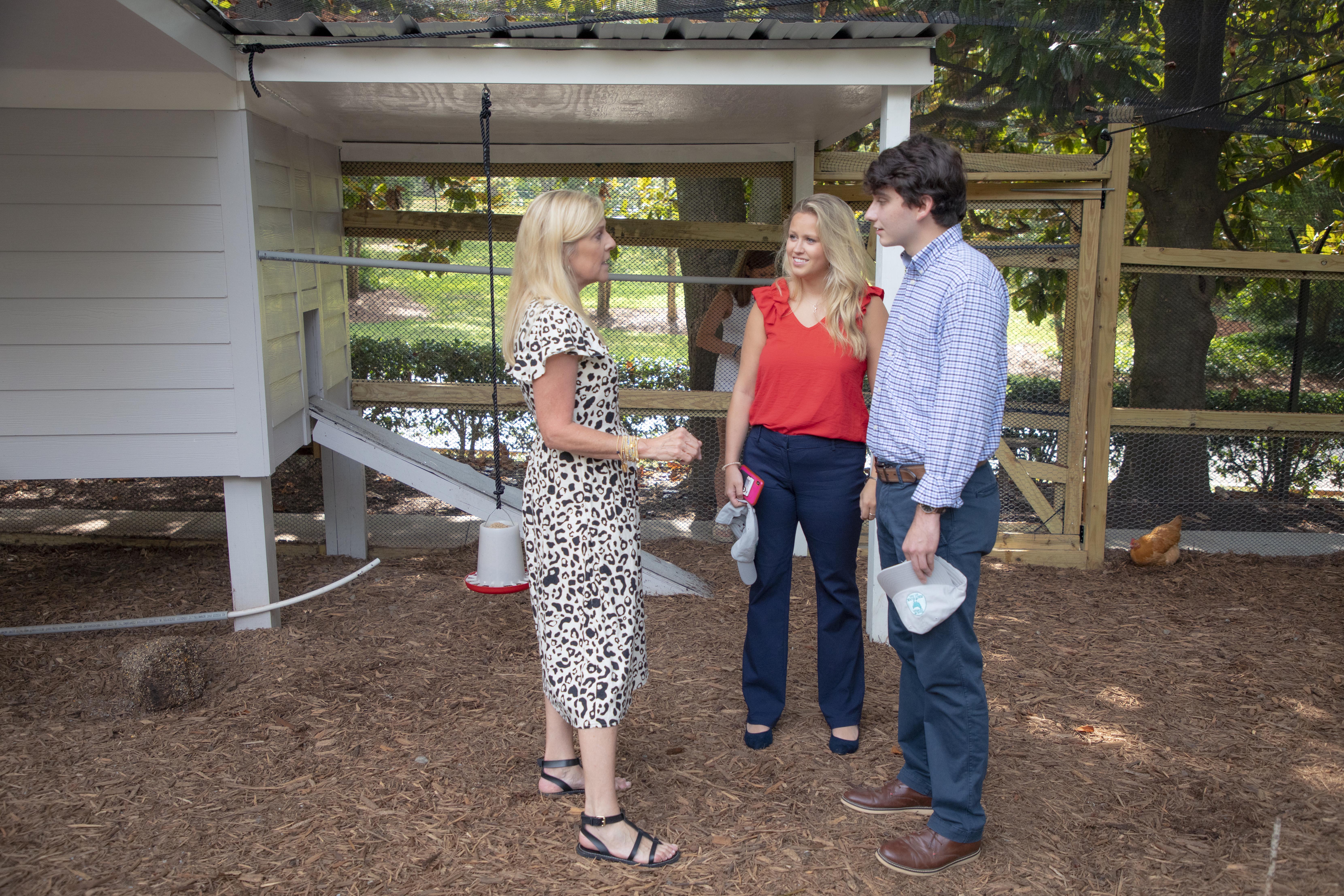 Once plans were complete, preconstruction work on the coop was done by staff at the Rock Eagle 4-H Center before the coop was delivered to the Governor's Mansion for installation, said State 4-H Leader Arch Smith.
"We are grateful that Georgia First Lady Marty Kemp was willing to involve youth interested in agriculture in the development of the First Flock," Smith said. "This experience provided an opportunity of 4-H and FFA members to work together on a project that would showcase the knowledge they have gained by participating in their local programs."
The First Flock includes breeds chosen for hardiness and egg color and includes a total of 12 laying hens including two Black Australorps, two Buff Orpingtons, two Barred Plymouth Rocks, two Rhode Island Reds — all of which lay brown eggs — and four Easter Eggers, which lay blue-green eggs, said Professor and UGA Cooperative Extension poultry specialist Casey Ritz, who consulted on the project along with Todd Applegate, head of the Department of Poultry Science at UGA's College of Agricultural and Environmental Sciences.
"We have prepared a set of placard cards that describe the breeds and that will be added to the coop. We tried to purchase a flock of hens that produce a variety of egg colors at the First Lady's request and breeds that were also recommended from the 4-H/FFA project proposals," Ritz said.
Applegate encouraged the students to consider the breadth of careers available in poultry science when planning for their futures.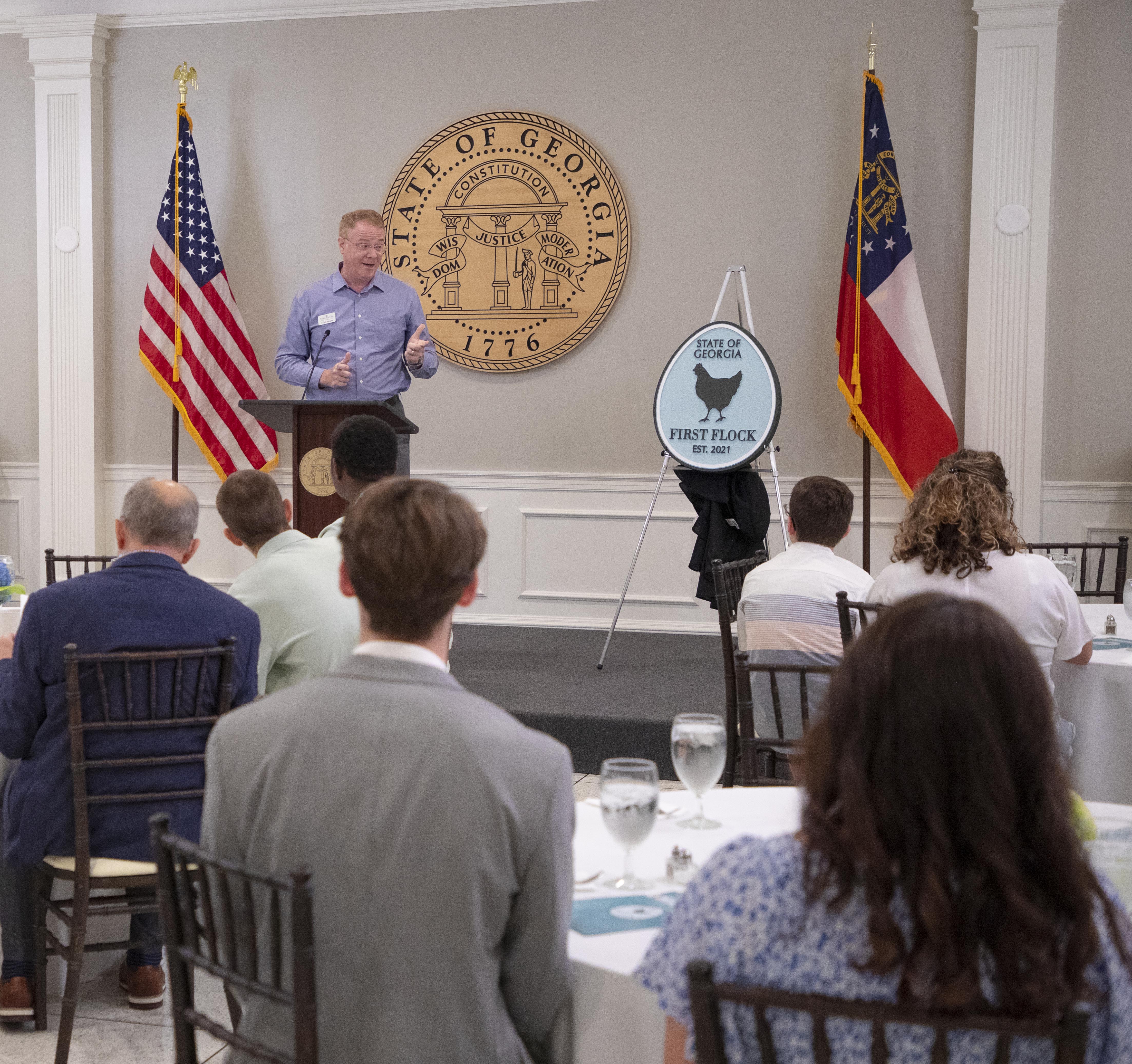 "I challenge the young folks here — and I know it is really difficult to think about why you want to go into a particular career path — to think about how we grow our food and how you can have an impact on that. Think about what you've done already through these wonderful organizations and the programs you have been a part of and realize that you are blessed with being in the state of Georgia," Applegate said.
"There is a wealth of opportunities to make an impact and to choose a career path in poultry, from accounting, sales and marketing to food safety to quality control. The leadership and team-building skills that you are developing right now are certainly skills we need in this industry."
Ryles said the students involved have become a part of Georgia agricultural history through their work on the project and their involvement in 4-H.
"Through the years, generations of students will come here and see what you have established here, and they will learn a little bit about the history of the First Flock and they will understand the role you played in making that happen," Ryles said. "I have said this before, and I can't take credit for it, but it is said that if you want to touch the past, touch a rock. If you want to touch the present, touch a flower. But if you want to touch the future, touch the life of a child and that is what 4-H and FFA and all of our leaders and volunteers do through projects like this."
For more information on youth agricultural and environmental programming visit Georgia FFA at georgiaffa.org and Georgia 4-H at georgia4h.org.