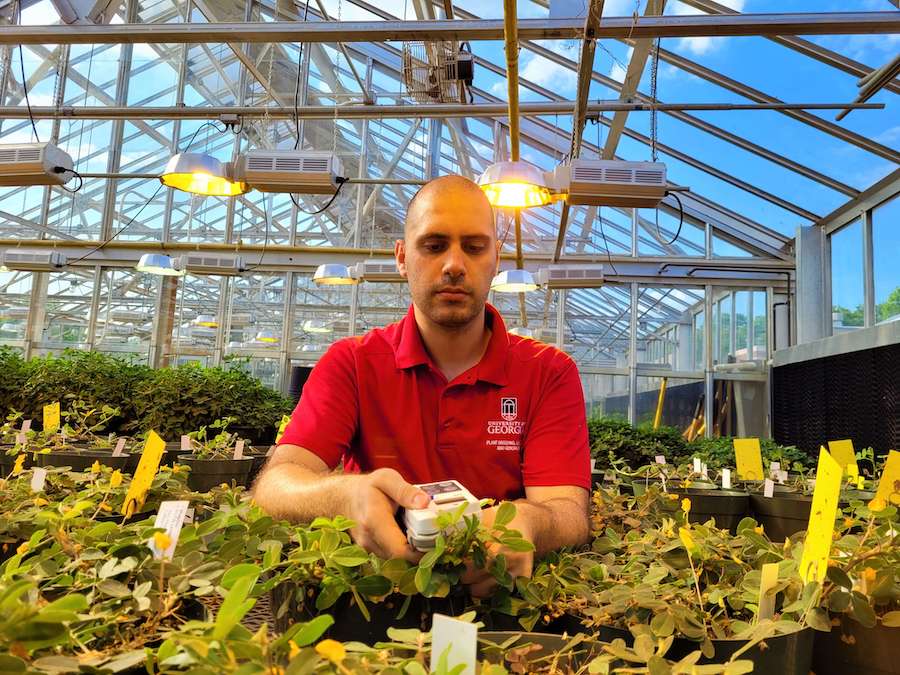 Samuele Lamon, a doctoral student in the University of Georgia College of Agricultural and Environmental Sciences, has been selected for the 2022-25 cohort of the Foundation for Food and Agriculture Research Fellows program.
The FFAR Fellows program provides a platform for personal and professional growth to doctoral students working in the agricultural and food research sector. The three-year program helps the selected fellows develop communication and other professional skills, connecting them with other fellows, industry members and related governmental and non-governmental organizations.
Lamon is a student in the Institute of Plant Breeding, Genetics and Genomics advised by David Bertioli. Lamon's research in the CAES Wild Peanut Lab investigates genetic instability, or the frequency of change in the peanut's DNA over time.
Developing a better understanding of the genetic instability of peanuts could help guard the purity and quality of peanut seeds in the future, which could protect their value for food security.
Given that the peanut is a hardy, relatively easy-to-grow and water-efficient crop that is nutritious and requires little preparation or cooking, it is ideal for ensuring food security in areas where fresh food may be difficult to grow or obtain. The end goal of Lamon's research is to help others achieve food security using peanuts.
"I'm so happy to see Samuele joining international agriculture leaders at FFAR. There's a real benefit for Samuele as he uses this community to better learn how to connect industry to academia, and UGA gains from having our graduate students broadening their perspectives," said Chris Rhodes, director of industry partnerships and project based learning at CAES. "In addition, FFAR has a real-world focus on six critical challenge areas for feeding the world. These students don't come from all over the world solely to improve their career prospects; they are working with leaders and each other to figure out ways to feed more people better food with greater sustainability. I look forward to seeing what Samuele can accomplish."
Lamon applied to the FFAR program after realizing his research and FFAR's focus areas — which include areas like next-generation crops and the health-agriculture nexus — were closely linked. He felt the program could help him better explain his research and connect him to like-minded researchers and industry professionals.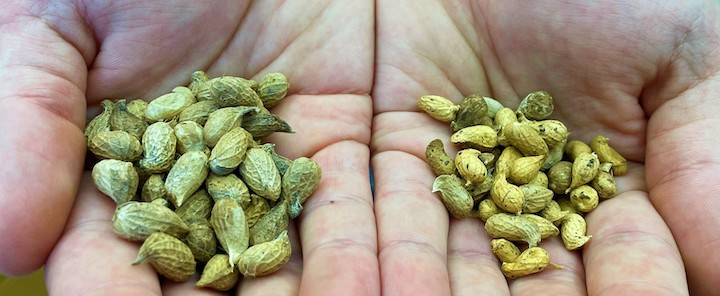 "This is a really interesting opportunity, and I think it's what I need during my Ph.D.," said Lamon. "My research fits the target areas of the program, and I want to do more than just research. I also want to develop those soft skills that could help me to be a more capable person within my work relationships."
Lamon decided to pursue agriculture and research during his initial collegiate years at the University of Padua in Italy studying agricultural sciences. For his master's degree, he came to UGA to study which parts of certain wild peanut's DNA control resistance to a fungal disease. After earning dual master's degrees from both UGA and the University of Padua, he joined the Wild Peanut Lab for his doctoral work.
The first meeting for the 2022-25 FFAR cohort took place in early August in Raleigh, North Carolina, and Lamon feels he is already beginning to see the benefits of the program.
"We did some training for effective scientific communication, and it really improved my understanding of how I should present my research," said Lamon. "There are a lot of students that have really interesting stories, people who live in different places and have really different backgrounds. I've been connecting and interacting with those students because some of them are in the same field as me. It was truly an enriching experience."
After the fellows learn how to present their research in an accessible and concise way, they will practice presenting to one another to evaluate the effectiveness of their communication. Lamon is looking forward to better understanding how to best present his research to help him share his passion for genetics and the mission of his research with others.
"One of my current goals is to make my current research more understandable because genetics is really interesting," explained Lamon. "I feel like if I can communicate that properly, a lot of people will be interested and surprised by what's going on in my research."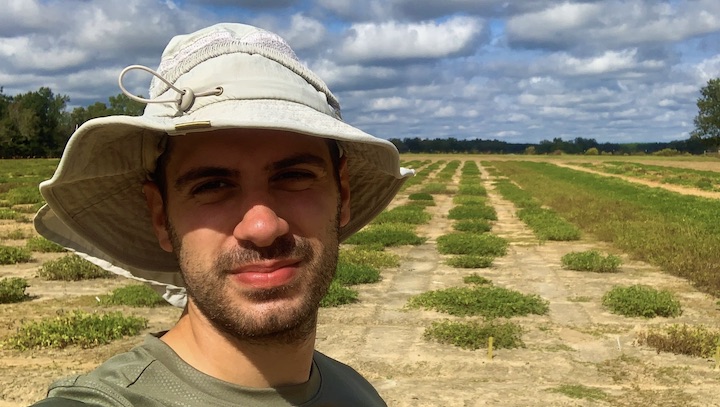 Lamon also expects that FFAR will help him define where he wants to take his career after completing his degree, whether that involves continuing his research, getting more involved in the industry or some other avenue that presents itself while he is in the program.
Lamon is thankful for the mentorship and support for his FFAR fellowship application provided by his advisor Bertioli and his doctoral committee members, Soraya Leal-Bertioli and Peggy Ozias-Akins, as well as previous IPBGG student Raegan Holton. He also appreciates the support CAES and UGA has shown for his research.
"I am grateful to CAES for allowing me to be a UGA student, first in the Department of Crop and Soil Sciences for my master's degree, and now at the Institute of Plant Breeding, Genetics and Genomics for my doctorate. I really appreciate the regard CAES has for its international students," said Lamon. "I also owe particular thanks to Chris Rhodes, who helped me throughout the application process and encouraged me to not give up."
The 2022-25 cohort is FFAR's fifth class of fellows since the program began in 2018.
"The newest cohort of FFAR Fellows are an impressive group of young scientists and leaders who want to make a positive difference in the world," said Rebecca Dunning, who manages the FFAR Fellows program. "This fellowship offers training and networking opportunities to provide these students with the tools to succeed in their future careers while enhancing their current productivity and well-being as Ph.D. students."