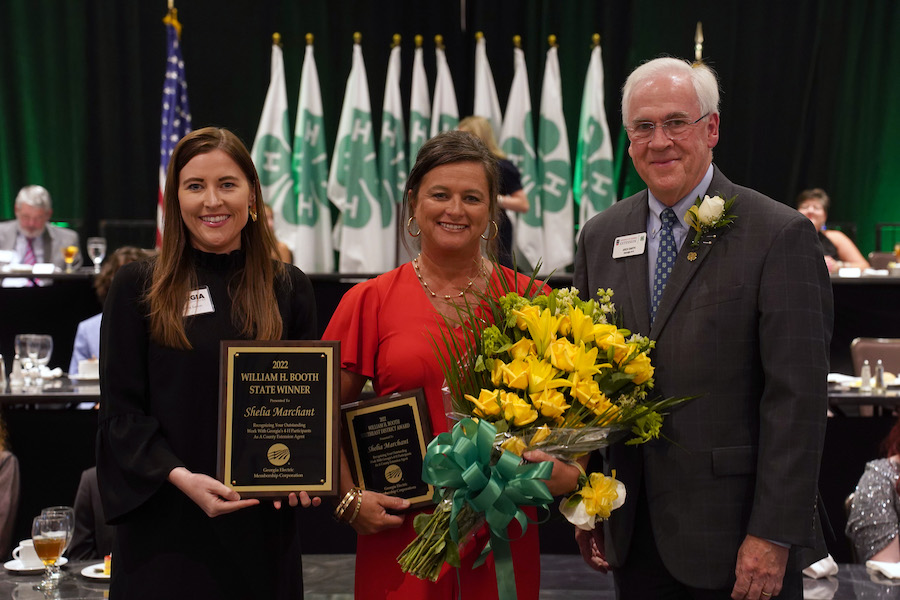 Sheila Marchant, UGA Cooperative Extension coordinator and 4-H agent for Jeff Davis County, received the 2022 William H. Booth Award at Georgia 4-H State Congress in July. This award recognizes 4-H agents for their outstanding career achievements and strong commitment to community support.
The Georgia Electric Membership Corporation (EMC) presents the William H. Booth Award in conjunction with the Georgia Association of Extension 4-H Youth Development Professionals. The award was established in 1979 in honor of Booth, a rural electric pioneer who founded the Jackson EMC in Jefferson, Georgia. Booth encouraged Georgia's 41 EMCs to provide dedicated support to statewide 4-H programs. Partnership with Georgia EMC is vital to Georgia 4-H's positive youth development efforts.
Marchant has been with UGA Extension for 22 years, and she has provided thousands of students with 4-H programming during her tenure as the Jeff Davis County 4-H agent. Highlights of her career include guiding five state-winning judging teams, 58 State Congress delegates, nine district and state officers, and 55 district award winners for Project Achievement participation.
More than 1,800 students have exhibited livestock under her direction, and she has raised $77,000 for local livestock programming. She has also partnered with local organizations to secure $65,000 in general funding for Jeff Davis County 4-H.
Additionally, Marchant has served as a professional mentor and provided guidance for her peers. She regularly sits on school councils and committees and coordinates community service initiatives in the county. She has also presented numerous research posters at national and state conferences.
Marchant is dedicated to creating a safe and caring environment for youth to achieve their goals in Jeff Davis County.
"All children can learn, achieve, prosper and be given the opportunity to reach goals and milestones in a safe, caring environment. It is my passion to see them achieve where their own passions lie," Marchant said of her philosophy in positive youth development. "It has been a calling to serve as a youth development professional and I have committed my career to the youth of Jeff Davis County. Success for me is seeing that I have made a difference in the life of a child."
Each year, one 4-H agent from each Extension district is chosen as a finalist for the William H. Booth Award. Agents are nominated by their peers and must have at least seven years of 4-H experience. Nominees complete a rigorous application and interview process, and district finalists are recognized at State Congress before the statewide winner is announced.
Marchant represented the Southeast District. Other district finalists include Brittani K. Lee, interim Cobb County Extension coordinator and 4-H agent, Northwest District; Wanda McLocklin, Barrow County Extension coordinator and 4-H agent, Northeast District; and Crystal Perry, Sumter County 4-H agent, Southwest District. Each of these individuals provide admirable support and leadership to their county programs.
Georgia 4-H celebrated excellence during the 79th Annual 4-H State Congress with competitions and recognition as top 4-H'ers from around the state gathered in Atlanta from July 19-22. The event includes the state-level Project Achievement and Leadership in Action contests and acknowledges youth development professionals, supporters and public officials for their contributions to the success of 4-H in Georgia.
Georgia 4-H empowers youth to become true leaders by developing necessary life skills, positive relationships, and community awareness. As the largest youth leadership organization in the state, 4-H reaches more than 225,000 people annually through UGA Extension offices and 4-H facilities.
For more information about Georgia 4-H, contact your local UGA Extension office or visit www.georgia4h.org.