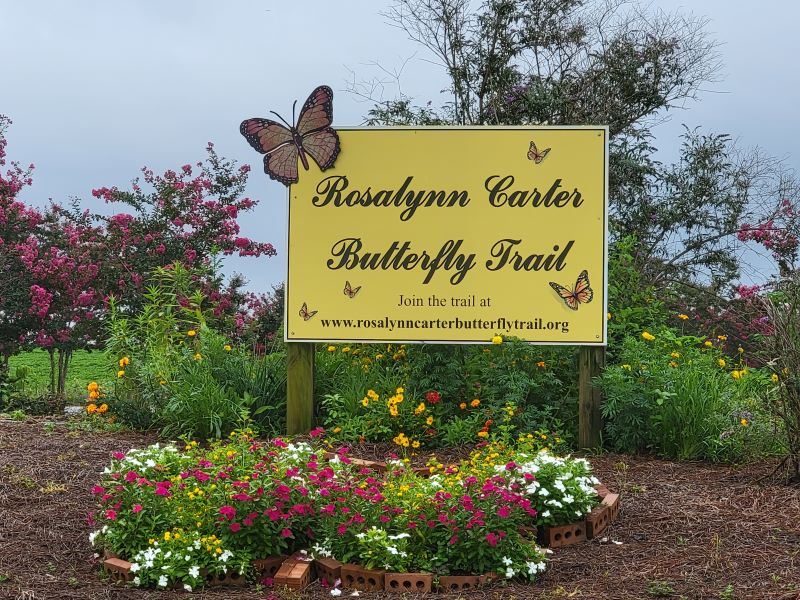 University of Georgia Cooperative Extension is partnering with the Rosalynn Carter Butterfly Trail to honor the former first lady's work in pollinator conservation with a unique 95th birthday initiative.
"We are asking gardeners and pollinator advocates to post a message for former first lady Carter on social media wishing her a happy birthday or thanking her for her years of work in pollinator conservation," said Becky Griffin, community and school garden coordinator for the UGA College of Agricultural and Environmental Sciences (CAES). "We are encouraging people to be inventive with their posts, maybe creating a short video or posting a photo of their pollinator garden."
Griffin, who also coordinates the Great Georgia Pollinator Census, added that celebrating Carter's 95th birthday is a special way to kick off the 2022 event. Carter will turn 95 on Aug. 18, the day before the pollinator census on Aug. 19 and 20.
As inspiration, Griffin suggests "I appreciate Mrs. Carter's work with pollinators because…" as a prompt for social media posts. Participants can post their messages on the Georgia Pollinator Census Facebook page or the Rosalynn Carter Butterfly Trail Facebook page. People can also post on their own social media pages using the #RC95 hashtag.
Carter inspired the butterfly trail to increase habitat for pollinators, especially her favorite monarch butterflies.
Gardeners can put their pollinator spaces on the trail by registering on the project website. The requirements to be included as a butterfly trail garden include having butterfly larval plants and a variety of nectar plants. There is no requirement for garden size.
Annette Wise, Carter's friend and trail co-founder, works tirelessly to bring awareness about the trail to the public and to educate gardeners on creating pollinator habitats. The program is based in Plains, Georgia, and has expanded across the U.S. and internationally.
"I am proud to have my home garden as part of the butterfly trail," Griffin said. "We are excited to be a small part of Mrs. Carter's birthday celebration, and we thank her for her longtime work in pollinator conservation."
To learn more about UGA Extension's work to improve pollinator habitat alongside the Carters, see "UGA experts work to protect biodiversity on Jimmy Carter's solar farm."