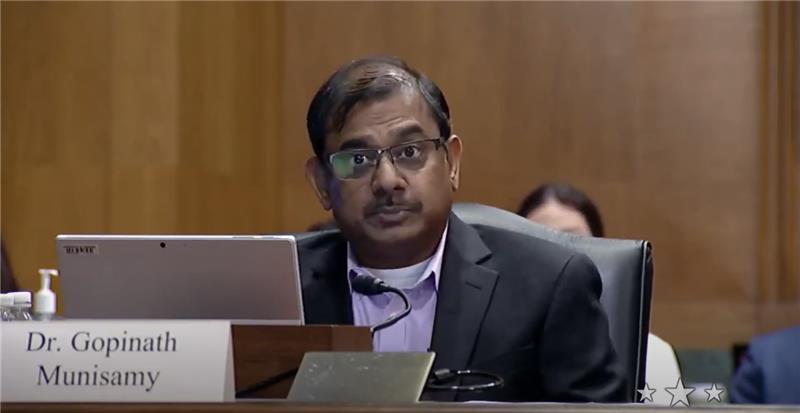 When visualizing the daily life of farmers, we often think of green fields, hardworking families and harvest time. Often missing from the picture of the modern American farmer are their daily concerns about fuel and fertilizer prices, crop yields and trade issues.
On June 9, Gopinath "Gopi" Munisamy, Distinguished Professor of Agricultural Marketing and interim head of the University of Georgia Department of Agricultural and Applied Economics, shared the impact of these issues with the Senate Subcommittee on Agriculture, Nutrition and Forestry, chaired by U.S. Sen. Raphael Warnock of Georgia, in a hearing focused on agricultural trade priorities and issues.
The hearing, titled "Agricultural Trade: Priorities and Issues Facing America's Farmers," included testimony from Munisamy; Karla Thompson, vice president of JET Farms Georgia and Integrity Farms; and representatives from Associated Milk Producers Inc. and the North Dakota Wheat Commission.
"There is much to celebrate in American agriculture," said the College of Agricultural and Environmental Sciences (CAES) professor during his Senate testimony. "Our farm and food producers will export commodities and products worth about $191 billion in 2022. That's about $19 billion over 2021, according to the USDA."
"America is among the world's largest exporters of many agricultural commodities — soybeans, corn, beef, wheat, cotton, almonds. While we celebrate that success, let us keep in mind that export success is uneven across commodities and countries," Munisamy added.
He went on to share that the record export value in 2022 mostly comes from price increases, with volume down across most products. Munisamy said that, according to the USDA, American consumers and food businesses will import $181 billion of commodities and products during fiscal year 2022, nearly $18 billion more than in 2021. He drew attention specifically to a trade imbalance in fruits and vegetables, where America will export roughly $14.4 billion in products in fiscal 2022, while importing nearly $42.7 billion in the same time period.
"No other group of commodities faces such a wide trade gap," Munisamy said via email after the hearing. "Collectively, produce — fruits and vegetables — faces the largest trade deficit."
American farmers need predictable and equitable trade policies
With increasing labor costs and fuel and fertilizer price increases outpacing inflation, farmers are faced with extremely high input costs. One Georgia farmer recently told Munisamy that the current year's crop was close to — if not the most — expensive they've ever planted.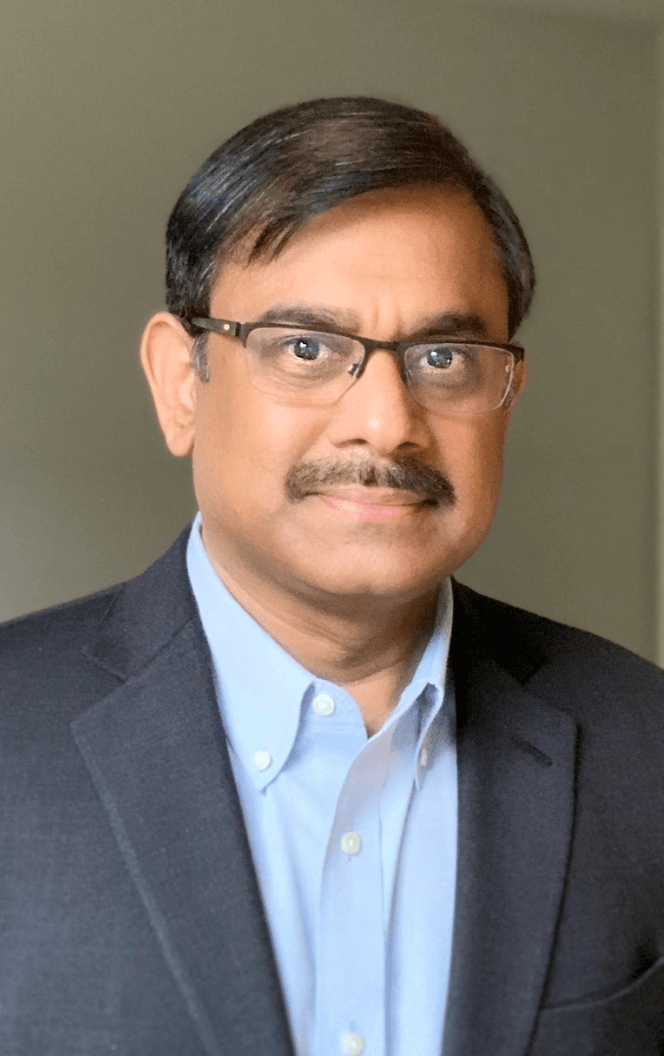 "We need open and stable access to many of our major markets (e.g., China) in commodities where we have competitive advantages," Munisamy said. "In the case of commodities where we have competitive disadvantages (e.g., high labor cost in produce), we need policies that address losses to growers arising from the flood of imports."
During his testimony, Munisamy said that, looking forward, American agriculture needs both predictable and equitable trade policies. Back-to-back-to-back events — including the U.S. China trade conflict, COVID-19 and the Ukraine/Russia military conflict — have created significant economic and policy uncertainties.
"For soybeans, for example, the largest market — China — was taken away at first and, when it reopened, we faced a COVID-19 demand collapse, worker shortages and shipping constraints," Munisamy said at the hearing. "Economists have clearly shown that uncertainties make all of us, including our farmers, limit investments for future growth."
Munisamy stated in his testimony that addressing inequities arising from trade is the next step in achieving predictable market access.
"Every trade economist will tell you that trade creates gains and losses," he said. "If the losses — jobs, income, abilities — do not receive adequate policy attention, a consensus to move forward on future agreements cannot arise."
Addressing inequities in agriculture
During the hearing, Munisamy pointed to the southeastern produce industry to prove his point. On a recent trip to south Georgia with CAES Dean and Director Nick T. Place, Munisamy found a common theme across a dozen or so farms visited: hardworking families all challenged by imports, import costs and labor issues. One major issue on the agenda of south Georgia farmers revolved around how to compete with both in-season and off-season Mexican and South American produce arriving in American markets.
"Both the U.S. Department of Agriculture and the International Trade Commission have documented these trends and assessed revenue losses to Southeastern growers from some of these produce imports," Munisamy testified. "Most of our growers recognize that American consumers desire year-round availability of produce, but fear that comes at the expense of their current and future incomes."
There is no doubt in Munisamy's analysis that a solid natural resource base, together with technology and farmer ingenuity, are at the core of American agricultural growth. Trade policy, he says, plays a critical role in translating that growth into well-being for both American producers and consumers.
"There are many examples in the farm bill which could make our Southeastern (and beyond) growers more competitive. The lessons learned from addressing inequities in agriculture may be of use elsewhere in the economy as well," he said during the hearing.
"Leaders with negotiating and agricultural experience need to meet with farmers, shape the agenda and make progress toward helping our farmers," Munisamy added via email interview.