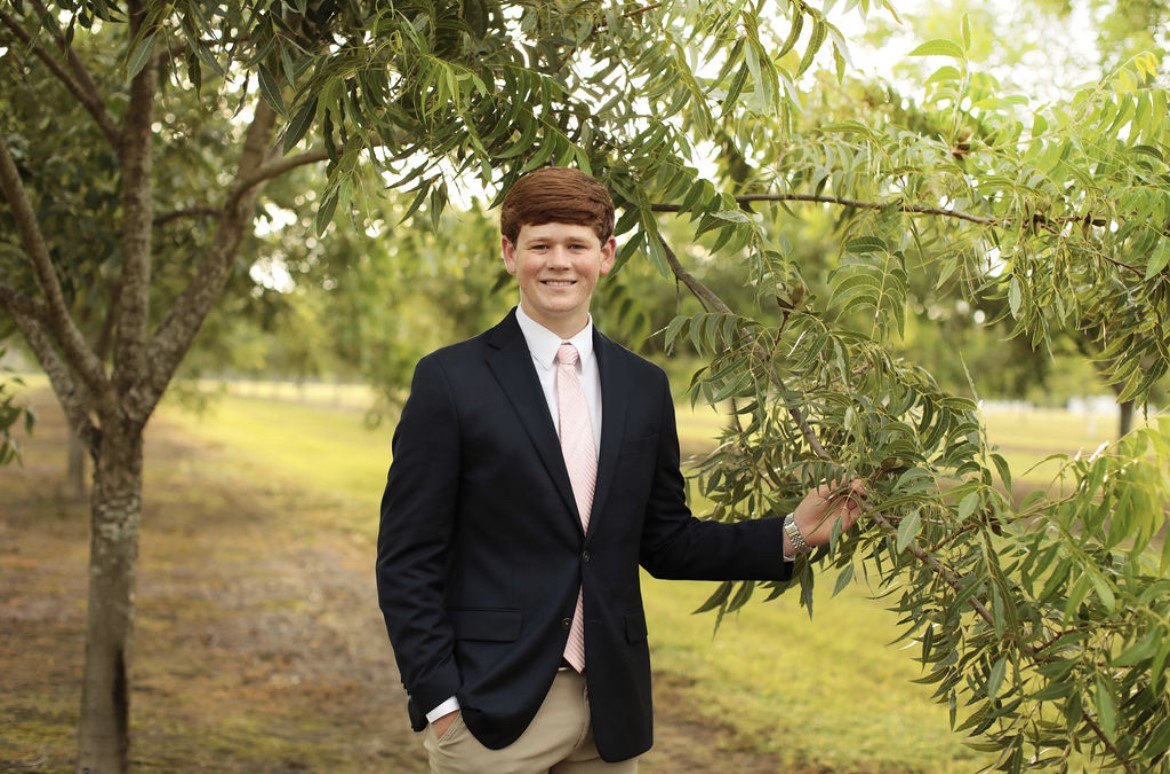 When not outside hunting, fishing, playing a round of basketball with friends or competing as a state-level varsity swimmer, Luke Hendrix has had his eye on a different prize: attending the University of Georgia, just like his dad.
For Hendrix, incoming biological science major at the College of Agricultural and Environmental Sciences (CAES), the journey to graduation is about to become even more enriching — Hendrix has just been announced as one of the university's newest Foundation Fellows.
"I learned about the Foundation Fellowship program while I was researching scholarships at UGA. I was really interested in maximizing my opportunities at the university, and the Foundation Fellowship seemed like a good fit, and it had the travel opportunities that I was interested in," Hendrix said. "I applied for it in hopes of being selected, but I realized only a few were chosen each year. It was a huge honor when I found out I got in, and I'm very grateful."
Founded in 1972 by the UGA Foundation's trustees, the Foundation Fellowship is the university's foremost undergraduate scholarship, placing students in a community of similarly dedicated scholars. It is housed within the Morehead Honors College.
In addition to offering a stipend that approximates the cost of attendance at UGA, the Foundation Fellowship also includes a May session of study at the University of Oxford immediately after a student's first year at UGA — Hendrix's class will have the opportunity to study in England in 2023. Fellows also learn abroad and in the U.S. through individual travel-study grants, spring group travel-study programs and research and academic conference grants.
"We are excited to have Luke as a Foundation Fellow," said Meg Amstutz, interim associate provost and dean of the Morehead Honors College. "His academic credentials are outstanding, but it was his commitment to his community and leading through service that set him apart."
The process begins with an application period in late August followed by an interview weekend in late February. Finalists who are selected to receive the Foundation Fellowship are notified immediately after the interview weekend.
Applicants must meet a series of requirements, including maintaining a minimum 3.40 cumulative undergraduate GPA, taking a minimum 12 hours per semester and contributing to the campus and/or local community. A full list of benefits and requirements can be found at honors.uga.edu.
In addition to participating in his FFA chapter all four years of high school, Hendrix, a Jesup, Georgia, native, has served in several roles on the Wayne County High School Student Council, acted as vice president of the Georgia Association of Student Councils in 2020-21 and was chairman of the Wayne County Schools Superintendent's Student Advisory Board in 2021-22. Hendrix also serves his community through the First Baptist Church youth group focusing on hurricane outreach programming, community cleanup for elderly members and more.
Even with an already lengthy list of achievements, Hendrix knew CAES was where he wanted to be for the next step in his education. With that goal achieved, he's already set his sights on the next target on his list.
"After college, I plan to go to medical school and then move back home to practice medicine with my dad, he said. Hendrix's father, Dr. Lance Hendrix, received a bachelor's degree in biochemistry and molecular biology from UGA's Franklin College of Arts and Sciences in 1998. "I also want to help run our family's pecan farm so I can give back to a town that has poured so much into me."
Learn more about the Foundation Fellowship at honors.uga.edu.