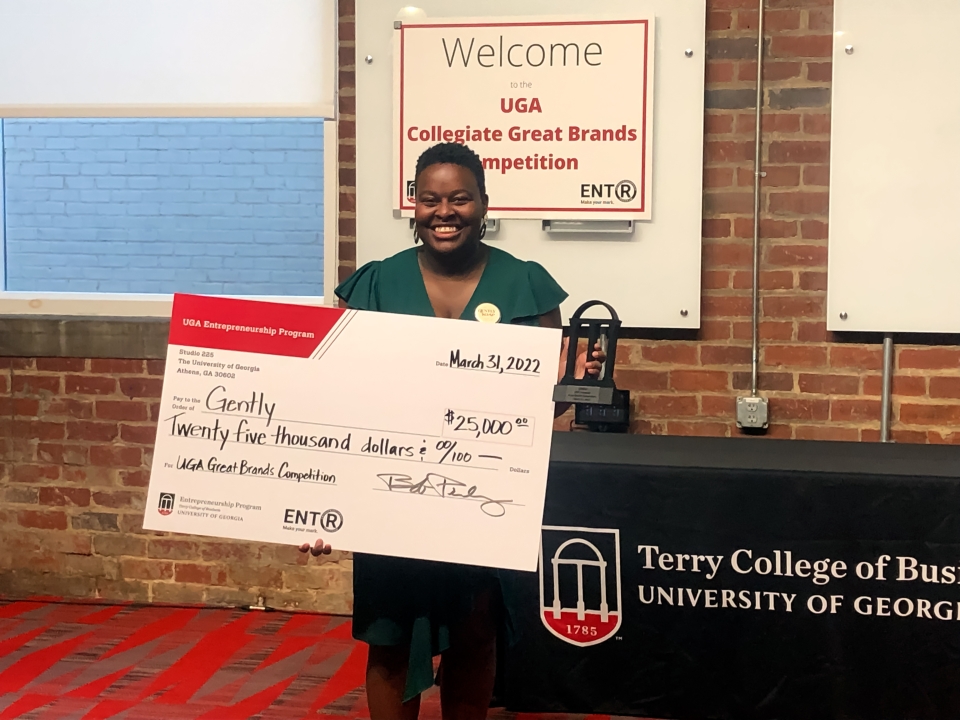 Since the beginning of the year, University of Georgia College of Agricultural and Environmental Sciences graduate student Kristen Dunning has won $35,000 in new capital to expand her growing clean skin care line, Gently Soap. In February Dunning's business took home first prize and $10,000 at UGA's Venture Prize Competition. On March 31, a team of judges — all veterans of the consumer products industry — awarded her the top prize of $25,000 in the Collegiate Great Consumer Brands Competition. It's the first time a UGA student won this nationwide competition, held at Studio 225.
"The authenticity of what you've done, the detail of work you've done, and the thought you've put in are a huge plus," said Mike Fine, competition judge and a former footwear executive. "The aesthetic of your branding is wonderful. It is a great product, but to sell your product it's got to have an appeal; you have amazing appeal with this product. I see incredible potential beyond what you're doing, and you're the person to deliver it."
The Collegiate Great Consumer Brands Competition, created and hosted for the past six years by the UGA Entrepreneurship Program, is a college entrepreneurship pitch competition offering burgeoning consumer brands the chance at $25,000 and a spot at Consensus Great Brands Show in New York. The showcase brings aspiring brands together with investors and retailers.
This year more than 30 teams from across the country applied to compete for the prize and nine student-run companies traveled to Athens to pitch a team of judges from Consensus Advisors, a boutique investment bank that serves consumer-facing brands and sponsors the Consensus Great Brands Show.
Judges included industry veterans including Fine, a former Payless Shoes CEO; Peter Cameron, former CEO of Lenox luxury housewares; Richard Barry, former CEO of Toys R Us and Consensus Advisors founder Mike O'Hara and Vice President Abbie Hitchcock.
"I was very impressed with all nine of our finalists," said Bob Pinckney, the Milton Anthony (Tony) Greene Director of Entrepreneurship at UGA. "We had more than 30 teams apply from colleges across the country. The judges had a tough time choosing from the contestants we saw here in Athens for the final round."
Dunning launched Gently Soap in 2020 and participated in several UGA Entrepreneurship accelerator and mentorship programs, winning two of them. At first, she sold soaps at farmers markets and on her website, but has since expanded to more than 20 boutiques nationwide and soon will be featured on Amazon and in a major department store.
Dunning will use the prize money to expand capacity to meet the demand of selling to larger markets and possibly expand her four-person Gently Soap team.
The judges awarded second prize to Orange Otter toys, a startup focusing on making toys accessible for older children with cognitive disabilities. Founded by University of Arkansas MBA students Natalie Akers, Wesley Jackson and Sarah Heimer, Orange Otter creates safe, cool magnetic building toys that appeal to children with developmental disabilities and their cognitively normal siblings.
Terry College marketing and international business major Valeria Brenner took home third prize for Thryft Ship, her streamlined shipping platform for social media merchants. Brenner finished second in last month's UGA Venture Prize Competition.