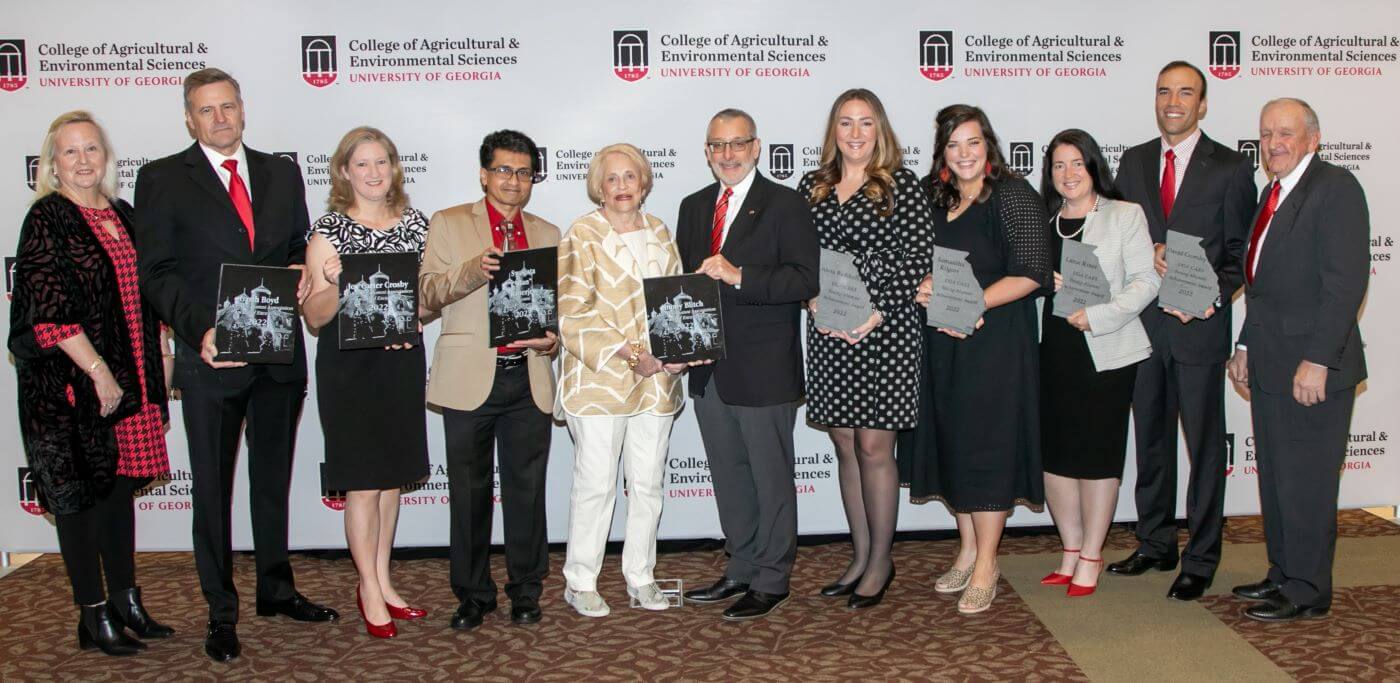 The College of Agricultural and Environmental Sciences (CAES) Alumni Association recognized eight outstanding college alumni at the 66th CAES Alumni Association Awards banquet on April 9 at the University of Georgia Tate Center Grand Hall. Two Georgia agricultural leaders were honored with induction into the Georgia Agricultural Hall of Fame.
"The 2022 CAES Awards Celebration was a stellar event. It is so impactful to be able to celebrate in person once again and this year's honorees were truly deserving of their accolades," said Sarah Cook, CAES Alumni Association board president and director of domestic trade at the Georgia Department of Agriculture.
"The importance of celebrating the best, brightest and most dedicated champions of our state's No. 1 industry cannot be understated," said Cook. "These honorees give of their time and talents for the betterment of our farmers, producers, agribusinesses and advocates. I was honored to be called upon to help acknowledge their commitment to our college, university and state."
Young Alumni Achievement Awards
The CAES Alumni Association Young Alumni Achievement Award recognizes alumni under 41 who have achieved excellence in their chosen field and/or in their community.
David Cromley, a 2009 graduate with a bachelor's degree in animal science, is a partner at Nellwood Farms in Brooklet, Georgia, managing the production, health and marketing of crops and livestock. In addition to implementing several impactful farm improvements, Cromley is actively involved in hosting farm tours and farm days for local elementary schools, promoting agriculture to the next generation.
In 2010, Cromley served as an intern for Georgia's Rural Caucus, which represents Georgia's rural communities and interests to the state legislature. In Bulloch County, Cromley is an active member of the Bulloch County Farm Bureau, Georgia Young Farmers Association, Southeast Bulloch FFA Advisory Board, Ogeechee Technical College Agricultural Advisory Board, Georgia Agribusiness Council and the CAES Alumni Association's East Georgia Chapter. He served on Georgia Farm Bureau's Young Farmers and Ranchers committee in 2014 and acted as chairman in 2015. He has remained an active member of the committee and now serves the board in Bulloch County as president.
Samantha Tankersley Kilgore, a 2011 graduate with a bachelor's degree in agricultural communication, is a managing partner and chief marketing officer with Association Services Group (ASG). At ASG, Kilgore coordinates and manages the day-to-day activities of client associations including the Georgia Watermelon Association and the Agricultural Communicators Network and their staff to execute board meetings, membership campaigns, conferences, budgets, marketing, communications and promotional projects.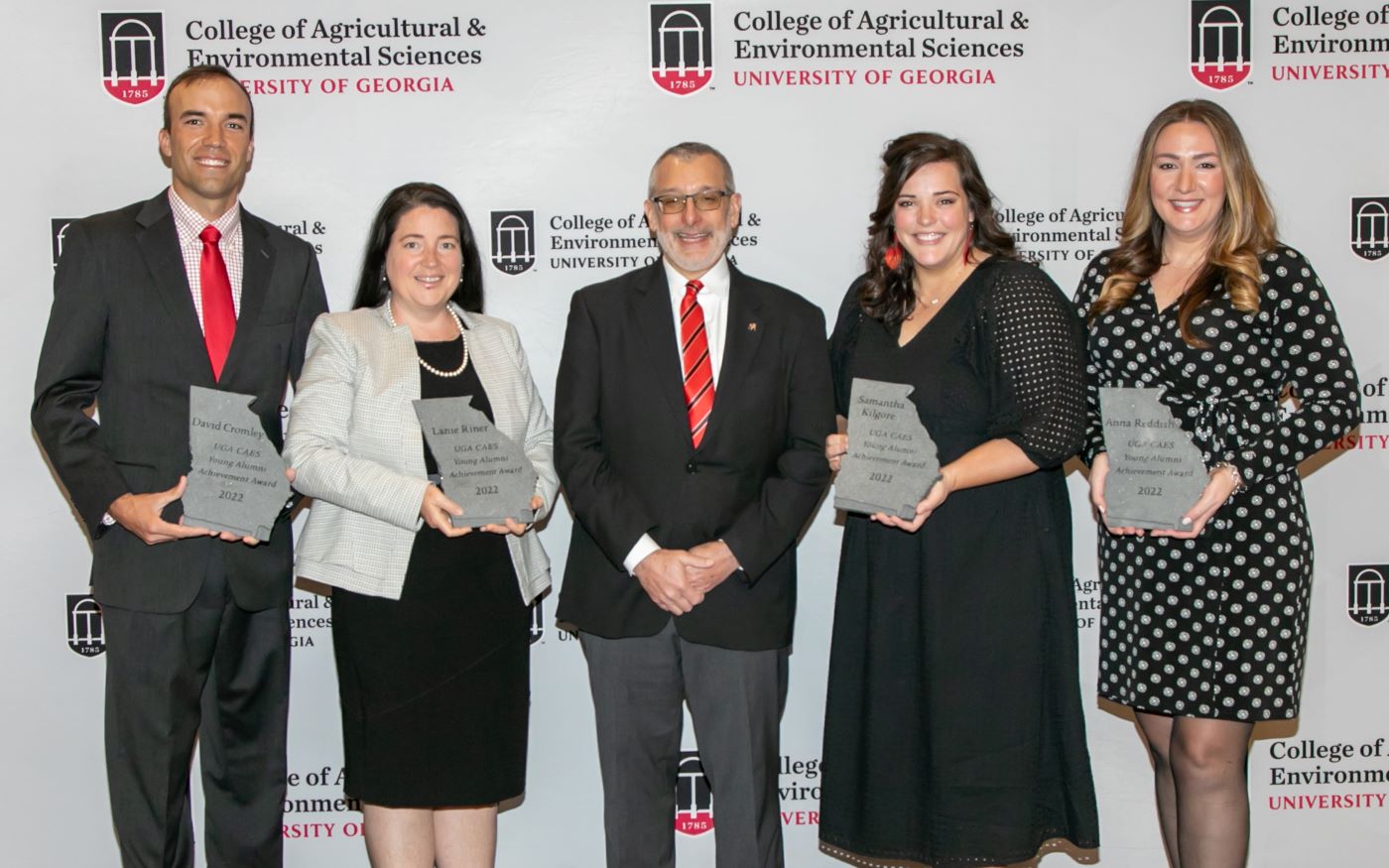 Through her roles with agricultural trade associations, Kilgore has made a direct impact on production agriculture. She oversees an annual promotional campaign for Georgia watermelons that includes social media contests, metro network TV commercials, billboard campaigns and general event marketing. Through the knowledge gained from her years working with members of the produce industry, Kilgore helped her parents start and market Double Branches Farm (DBF) in Lincolnton, Georgia, in 2019. In 2015, Kilgore was chosen as one of 25 members of UGA's Advancing Georgia's Leaders in Agriculture and Forestry class out of more than 150 applicants. She has also served the CAES Alumni Association as a member of the alumni relations committee.
Anna Daniel Reddish, who earned a bachelor's degree in animal science in 2008 and a master's degree in animal and dairy science in 2009, is a university relations liaison with IDEXX. In this role, she establishes, sustains and promotes strategic relationships with universities and colleges of veterinary medicine. Prior to joining IDEXX in 2021, Reddish was the associate director for veterinary career services at the American Veterinary Medical Association (AVMA) and co-host of the "My Veterinary Life" podcast. After receiving her doctorate in veterinary medicine from Auburn University in 2013, Reddish practiced mixed animal medicine in central Georgia. In 2015 she left clinical practice to join AVMA as an assistant director for student initiatives.
In 2018, Reddish received the J. Lamar Branch Award for outstanding leadership in agriculture from Abraham Baldwin Agricultural College. She has served on the Auburn University College of Veterinary Medicine (AUCVM) Admissions Committee and currently serves on the board of directors for the AUCVM Alumni Affiliate Group. She is also actively involved with the Veterinary Leadership Institute serving as a conference facilitator and small group facilitator for the Veterinary Leadership Experience. Reddish was an inaugural member of the UGA Alumni Association Young Alumni Leadership Council. She is committed to giving back to Georgia 4-H as a donor and project judge for Junior and Senior District Project Achievement and as a portfolio judge at 4-H State Congress.
Lanie Abigail Huff Riner, a 2005 graduate with a bachelor's degree in horticulture, is executive director of the Georgia Green Industry Association (GGIA) and president of Thunderwood Farms in Woodbury, Georgia, a commercial greenhouse operation. Thunderwood Farms participates in commercial plant trials for CAES to bring the best of new plant genetics to the marketplace. Riner has also been a guest lecturer for nursery management and horticulture classes at CAES. Through GGIA, she collaborates with other members each year to distribute plants to the Georgia General Assembly, the Georgia Governor's Office and the Georgia Department of Agriculture, using the opportunity to advocate for the state's green industry and emphasize its economic impact on the state's economy.
She serves on the Georgia Farm Bureau's Environmental Horticulture Commodity Advisory Committee, is an active member of the Waterwise and the Upper Flint Basin Advisory Council and is a 2021 member of the education committee for the Nursery and Landscape Association Executives of North America. She has hosted FFA state officers at Thunderwood Farms, speaks to FFA classes in local schools and serves as a state judge in horticulture proficiency.
Awards of Excellence
The CAES Alumni Association Award of Excellence recognizes alumni who have achieved excellence in their chosen field and/or in their community.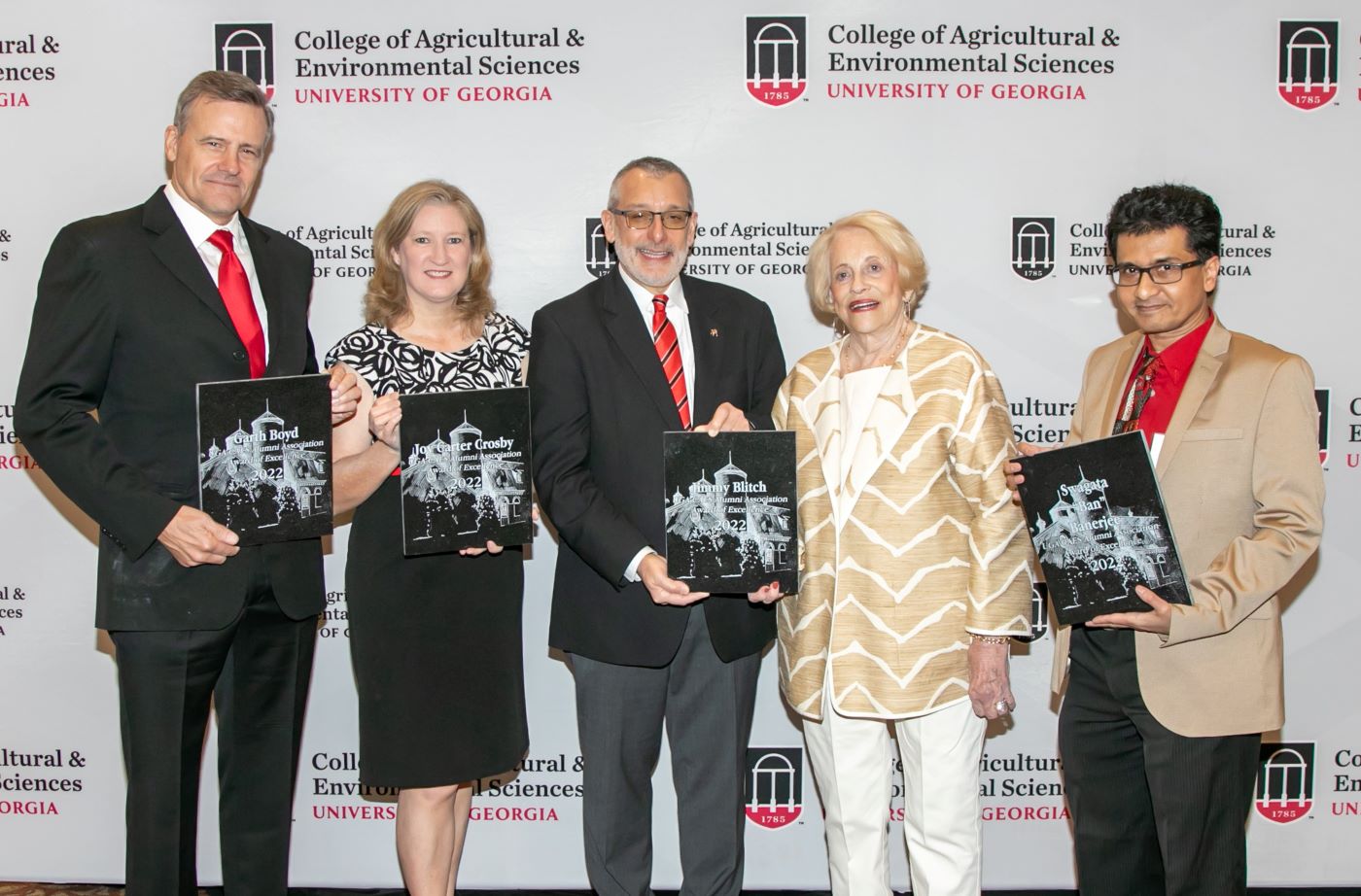 Swagata "Ban" Banerjee, who earned a doctorate in agricultural economics in 2004, is an associate professor of economics and finance at Kentucky State University's School of Business. A prolific academic, instructor and mentor, he has taught 29 courses ranging from introductory level undergraduate economics/agribusiness to graduate classes in business organization, agribusiness management, farm management, finance and agricultural finance at three institutions, including Kentucky State University, Alabama A&M University and University of Wisconsin-Platteville. He holds bachelor's and master's degrees in economics from the University of Calcutta and a master's in resource and applied economics from the University of Nevada in Reno.
In addition to his academic achievements, Banerjee is an accomplished musician (songwriter and producer). While at UGA, he founded a regional workshop chapter of Nashville Songwriters Association International (NSAI), which led to a one-year Music Business Certificate program in UGA's Terry College of Business. Along with his older brother, Gautam, Banerjee is one-half of the musical duo Ban Brothers. They have released four full-length albums for worldwide distribution, including the 2016 critically acclaimed album "All About Love: Music From The Heart." Banerjee is currently working on a series of mini-album projects including one called "Guiding Star" themed around hope and inspiration, which will be released by mid-2022.
James M. "Jimmy" Blitch, a 1954 graduate with a bachelor's degree in agriculture, owned and operated Blitch Place Farms, a five-generation diversified farm in Bulloch County, Georgia. The farm currently includes a 275-head brood cow herd and has produced tobacco, wheat, oats, rye, Bahia grass, peanuts, cotton, corn, soybeans, timber, cattle and swine. Blitch spent his life helping to advance the agricultural industry, including serving as president of the Georgia Crop Improvement Association, spending 12 years on the executive board of the Georgia Peanut Commission and serving six years on the CAES Advisory Council.
A proponent of applied research, Blitch was a pioneer in implementing research-based practices on his farm and others to improve crop production and strengthen agriculture. In 2019, the CAES Alumni Association East Georgia Chapter honored Blitch for his service to agriculture with a brick paver engraved with his name and graduation date placed on the UGA Athens campus. For more than 60 years, Blitch worked as an active ambassador for agriculture in the community, state and nation, encouraging young people to pursue agriculture and strengthening the relationship between the public and the agricultural community. He passed away on Jan. 20, 2022, and his life is celebrated and honored by his family, the college and the communities he supported.
Garth Boyd, who earned a bachelor's degree in animal science in 1980 and a master's degree in animal science in 1982, is a principal partner at The Context Network, a global strategic and management consulting group for the agricultural and food industry. Boyd is also a founding partner of AgPower Partners, a limited liability company that helped develop the largest swine-to-energy system in the U.S., the Storms Hog Power Anaerobic Digester. Boyd, who earned a doctoral degree in reproductive physiology from Kansas State University in 1987, was a two-term member of the U.S. Department of Agriculture's (USDA) Agriculture Air Quality Task Force and the North Carolina Pork Council Board. He also served on the climate change subcommittee of the inaugural Environmental Protection Agency Farm, Ranch and Rural Communities Advisory Committee in 2007.
A pioneer in environmental stewardship in agriculture, Boyd has worked with some of the nation's largest livestock producers to help innovate their environmental management and stewardship, helping clients accomplish environmental goals in a way that is both financially feasible and financially sustainable. Boyd is a recognized global expert on sustainability issues for livestock, particularly in bioenergy, manure conversion and management and carbon offset project development.
Joy Carter Crosby, who earned a bachelor's degree in agricultural communication in 1997 and a master's degree in agricultural leadership in 2007, is assistant executive director of the Georgia Peanut Commission, editor of the Southeastern Peanut Farmer magazine and owner/operator of Joy Carter Photography, where she specializes in photographing agricultural events. Crosby has been active in many industry and community organizations that support both agriculture and her community, and she is a 2001 graduate of UGA's Advancing Georgia's Leaders in Agriculture and Forestry program. She is a past president of the Georgia FFA Alumni Association, former Southern Region member director for the National FFA Alumni Council and former board member with the Georgia FFA Foundation.
Crosby has been an active volunteer for the CAES Alumni Association, helping direct many events and serving on numerous committees for the CAES Alumni Association Board of Directors. She was selected as a 2004 UGA CAES Outstanding Young Alumnus, received the 2003 Outstanding Woman in Ag by the Southeast Agricultural Coalition and the 2009 Andy Markwart Horizon Award by the American Agricultural Editors' Association.
Celebrating CAES alumni
CAES Dean and Director Nick T. Place noted that the banquet was an "incredible opportunity to reflect on the work done by CAES graduates all across the agriculture industry," going on to say that it was an honor to celebrate some of the best and brightest CAES alumni at the 2022 event.
"The alumni awards are an excellent representation of the impact that CAES has on the agriculture industry," Place said. "We are proud that these outstanding individuals are a part of the CAES family and are thankful for this opportunity to showcase their work, whether it's been 10 years or 30 years since they graduated."
For more information about the CAES Alumni Association, visit caes.uga.edu/alumni.