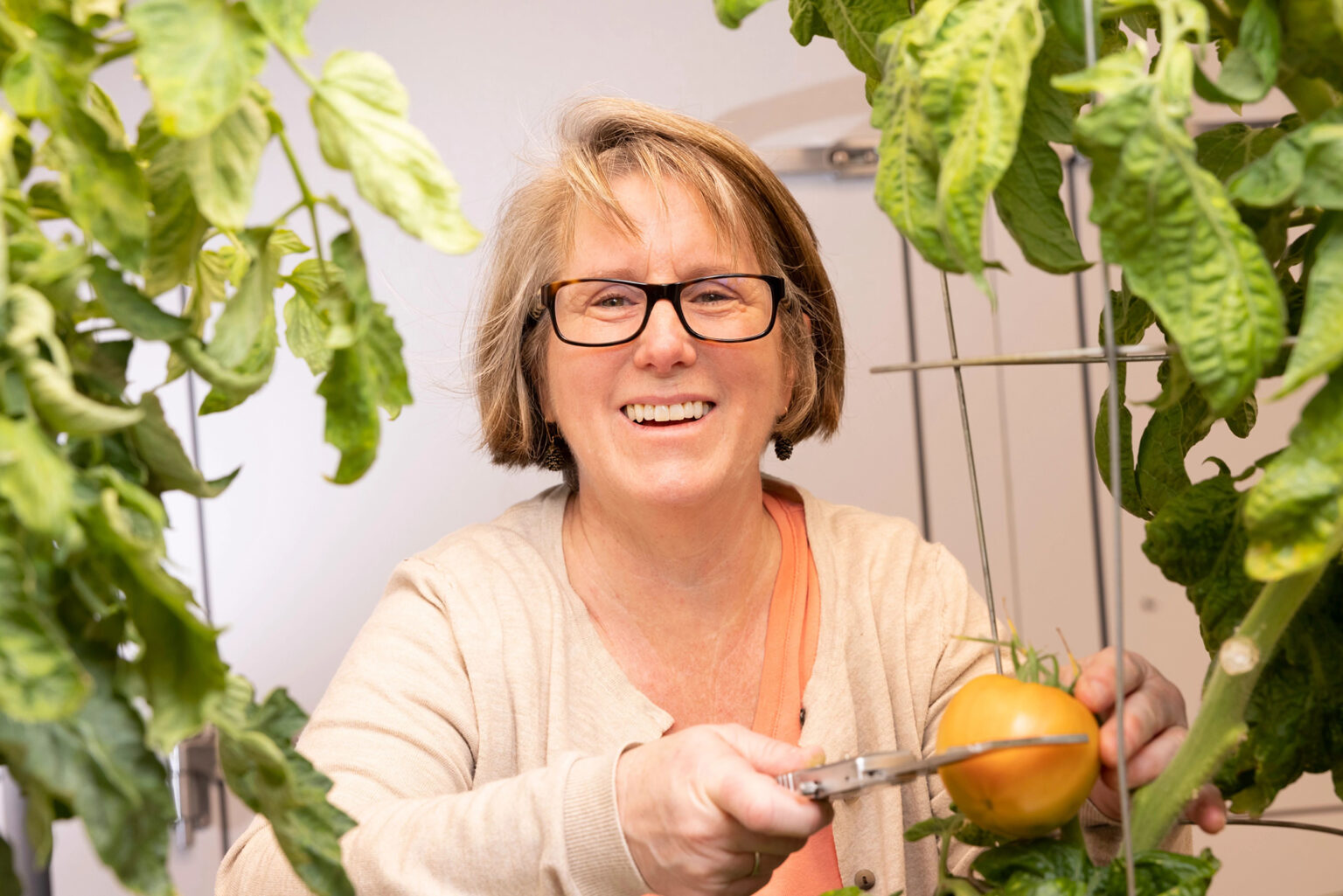 Since Robin Buell joined the University of Georgia faculty in fall 2021, there's been a flurry of activity in her lab. Buell and her researchers have nine projects underway in plant genomics — and Buell has already secured millions of dollars in federal funding.
This complex, very exacting work — begun in 1999 when Buell began sequencing plant genomes — has led to wide-ranging breakthroughs across a variety of fields, including medicine, farming and energy production. Her research has laid the foundation to boost worldwide food supplies through improving crop yields and plant hardiness, increase the biofuel potential of bioenergy crops, and harness the inherent power of plants to product healing substances.
"At least a third of all pharmaceuticals either come from a plant or they're originally found in a plant and are now chemically synthesized," said Buell. "Now we have all the tools so that we can figure out very quickly in relative time how the plant makes these compounds."
Accelerating research for cancer medication
Buell, who is the Georgia Research Alliance Eminent Scholar Chair in Crop Genomics in the College of Agricultural and Environmental Sciences, has more than $4 million in federal funding – contributing to the 65% increase in the National Institutes for Health and National Science Foundation expenditures at UGA over the past six years.
Right now, her lab is at work on Madagascar periwinkle, commonly known as vinca, a small ornamental plant. An extract from the plant is used to produce anti-cancer drugs and the process is currently extremely expensive. "Very little amounts of it are produced in the plant, and it's a very complex compound, so it can't be synthesized," she said.
Buell and her team are on the cusp of finalizing exactly how that compound is made, a game-changing discovery that was 13 years in the making, a process she said would now take only about two years.
"Advances in technology now allow us to do biology with precision," she said. "You can make plants environmentally sustainable, produce crops to address food and nutrition deficiencies in crops, and you can do it so much faster. What people once took 100 years to do, we can do to almost any crop in less than 10 years, if not five."
Sequencing the rice genome
Buell is a true pioneer in the field of plant genomics. Back in 1999, Buell started her groundbreaking work on sequencing the rice genome as an investigator at The Institute for Genomic Research. "Other than the sequence of mouse ear cress, a model for genetic studies, there were no plant genome sequences," said Buell, on the impetus for the research. "The thought was that half the people in the world get most of their calories from rice every day, and by having access to the genome, the DNA sequence, we could improve rice and breed it better."
That work let to a stint at Michigan State University where she was a University Distinguished Faculty and MSU Foundation Professor of Plant Biology from 2007 until 2021. She worked on a wide variety of projects including understanding the genome of tepary bean, which is heat-, drought- and pest-resistant, to using genomics to increase the biofuel potential of switchgrass by improving the crop's ability to survive winter.
Since arriving at UGA, Buell has kept up the pace. She's already been selected as the recipient of the prestigious 2022 McClintock Prize by the Maize Genetics Cooperation Advocacy Committee for her groundbreaking work in plant genome structure, function and evolution. An expert in comparative genomics, bioinformatics and computational biology, Buell's also sharing her research and collaborating with colleagues around the world.
"Robin has the rare ability to translate state-of-the-art genomics technologies to answer hard biological and biochemical questions," said Sarah O'Connor, director of the Department of Natural Product Biosynthesis at Max Planck Institute for Chemical Ecology in Germany. O'Connor has been collaborating for 10 years with Buell long distance on Catharanthus roseus, a medicinal plant that makes the anti-cancer agent vinblastine. "We could not have elucidated the pathway without Robin. Robin and her group gave us access to high quality transcriptomic data at a very early stage, allowing us to be 'ahead of the curve' in this highly competitive field."
The two are currently working on more projects. "I think in the coming year we are going to have some very exciting stories to tell," O'Connor said.
Seeking answers from agriculture
And Buell just received a new grant that's she's already putting to use.
"We're trying to make tomatoes that can make some very high-value chemicals," said Buell. "These chemicals — one is an antimicrobial and the other one is an anti-insecticidal, or mosquito-cide — cost a lot of money per kilogram, are hard to naturally extract from natural sources and you can't chemically synthesize them," said Buell. One of these compounds has traditionally come from trees, which only grow in certain parts of the world and take time to grow. "If you could just get a tomato fruit to make it, you can grow these anywhere anytime in a greenhouse," said Buell.
Buell's passion is fueled by finding these kinds of solutions. "I'm looking for interesting biological questions that my skills and expertise can answer that we couldn't answer before," she said.
Buell's scientific curiosity extends to potential gene-editing efforts in staple crops. "What we're asking right now is 'How over the course of evolution did some plants have the ability to make a tuber and others didn't?'" Besides being an interesting intellectual exercise, the work could have big, real-world repercussions. Because tubers — the fat root part on plants like potatoes – are underground, they have an inherent ability to overwinter and stay protected from drought and other stresses. If Buell's team can figure out how this happened evolutionarily, this knowledge could be used in re-engineering other plants.
UGA is fortunate to have Buell onboard and she is quite happy to be here. "I'm from Michigan, and I believe it's snowing there today," she laughed. But it's clear that it's not just lack of snow that brought her to UGA. "There are just so many opportunities here. They're making big investments in their research and it's clearly a university that has momentum."