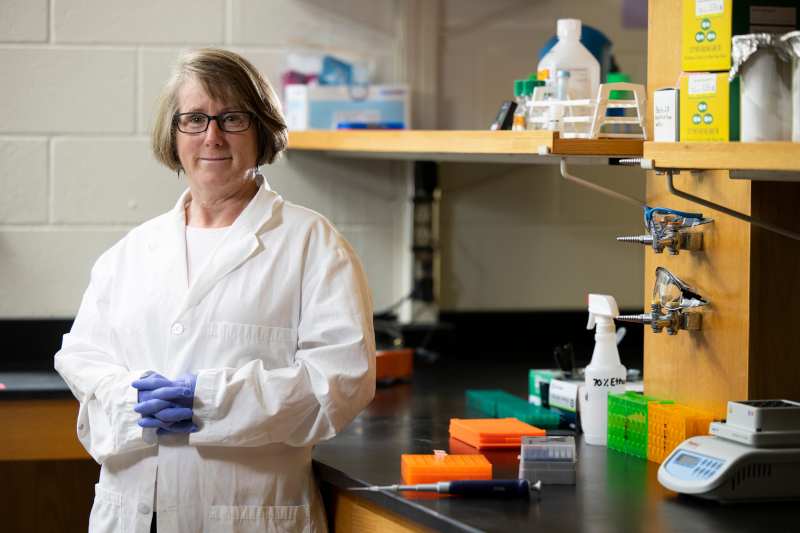 University of Georgia plant geneticist Robin Buell has been selected as the recipient of the 2022 McClintock Prize by the Maize Genetics Cooperation (MGC) Advocacy Committee (MGAC) for her groundbreaking work in plant genome structure, function and evolution.
Buell, who recently joined the faculty in the College of Agricultural and Environmental Sciences as the Georgia Research Alliance (GRA) Eminent Scholar Chair in Crop Genomics, came to UGA from Michigan State University where she was a University Distinguished Faculty and MSU Foundation Professor of Plant Biology from 2007 until 2021. She was previously an associate investigator at The Institute for Genomic Research and an assistant professor at Louisiana State University.
"Recruiting Robin Buell to UGA was a major win for the state of Georgia," said GRA President Susan Shows. "She is a true pioneer in the field of plant genomics, an area of study that is of vital interest to Georgia's farmers and food producers. In addition, the research grants she will bring to our state and the lab experience she provides students reflect the added benefit GRA Eminent Scholars create for Georgia."
The McClintock Prize
MGC is a nonprofit organization dedicated to advancing research in maize genetics, genomics and breeding. The Barbara McClintock Prize for Plant Genetics and Genome Studies was created to honor the contributions of renowned plant geneticist Barbara McClintock, who won the 1983 Nobel Prize in Physiology or Medicine for her discovery and characterization of transposable genetic elements — "jumping genes" — that she determined could move within the genome. She was the first woman to receive an unshared Nobel Prize in the sciences.
The date of this announcement, Oct. 10, is the anniversary of the day when McClintock learned she would receive the Nobel Prize. The McClintock Prize will be presented to Professor Buell at the March 2022 Maize Genetics Meeting.
"This prize is awarded in memory of one of the most famous plant geneticists in history, and we are delighted to present it to Professor Robin Buell in light of her innovative discoveries in plant genomics and service to the scientific community," said Dave Jackson, former MGAC chair.
Buell has been at the forefront of genomic research, having been involved in sequencing the first plant genome, Arabidopsis, and the first crop genome, rice. These early genomic milestones set the stage for sequencing more complex plant and crop genomes as well as research to improve crop genetics and study processes important to human health. Buell has also worked on the genomes of potato, maize, switchgrass, sweet potato, mints and medicinal plants.
With expertise in bioinformatics, Buell has also created databases and web-based data-mining tools for the greater scientific community. She maintains the Rice Genome Annotation Project, which receives more than 2 million page visits a year.
"Dr. Buell is our newest GRA Eminent Scholar at UGA, and it is clear why we were delighted to be able to attract her to the College of Agricultural and Environmental Sciences. Her research is world-leading, utilizing the power of modern genomics to understand plant biology," said Allen Moore, associate dean of research at CAES. "Her work is the definition of integrative, using genomics and computational approaches to understand plant biology from fundamentals to applications. Her contributions to the college and the Institute for Plant Breeding, Genetics and Genomics are already paying dividends for Georgia."
Ongoing genome research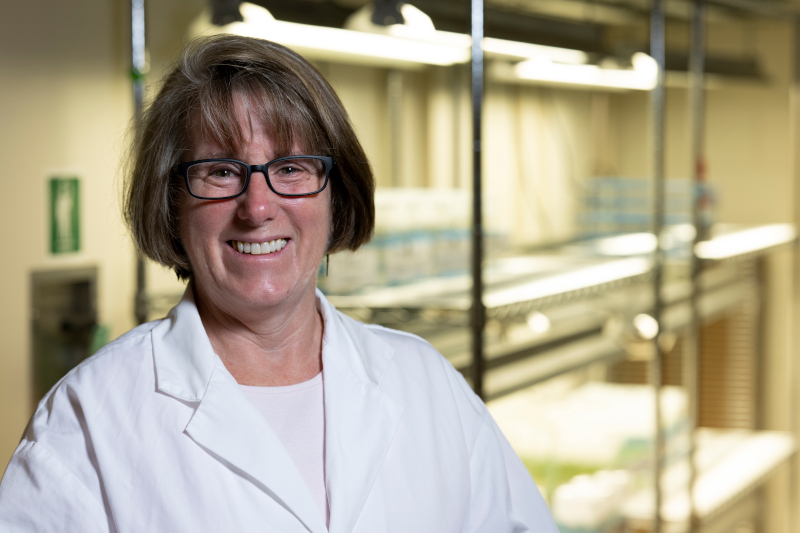 At UGA, Buell continues her research program focusing on the genome biology of plants including comparative genomics, bioinformatics and computational biology. In a newly funded project, Buell is working with collaborators to re-engineer tomatoes' natural terpenes, or aromatic compounds, to produce valuable products for medical and other applications.
"Some famous terpenes are the compounds that make lavender and citronella smell nice. There are a lot of terpenes that are produced in tomato fruit, but we'd like to produce some high-value novel compounds that normally you would get from sperm whales or sandalwood, which is a very expensive tropical tree," Buell said.
"We already know how to grow tomatoes year-round and we know how to process tomatoes, so what we'd like to do is to take the tomato — which is a nice little chemical factory — and make it produce these novel, high-value chemicals sustainably," she added.
Buell and her collaborators will try to do this by modifying the plant's natural processes to create the novel terpenes in tomato fruit.
The project will be a proof of concept, as the research team will attempt to engineer a tomato chassis that does not make terpenes in the fruit. Once successful, they will make tomatoes that produce two specific high value terpenes — one as an antibiotic used to treat tuberculosis and the other an essential oil from sandalwood.
Buell has an active research group composed of postdoctoral research fellows, research assistants, graduate students and undergraduate students, and she collaborates with scientists across the U.S. and throughout the world. She has served as an editor at Plant Physiology, the Plant Genome, Crop Science, Frontiers in Plant Genetics and Genomics, and Plant Cell. She is a fellow of the American Association for the Advancement for Science and the American Society of Plant Biologists.
Buell joined UGA as GRA Chair in Crop Genomics because it will provide her the opportunity to pursue novel projects that have the potential to significantly impact our understanding of plant biology and crop production.
"UGA has momentum. There is a lot going on here and the university and state are making substantial strategic investments in agricultural research," Buell said of joining the CAES faculty.