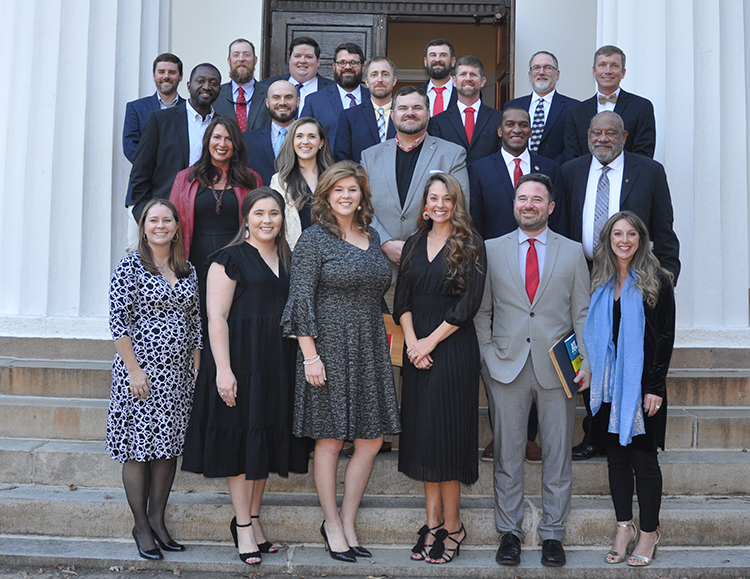 Twenty-five professionals representing agriculture, forestry and allied sectors graduated from the Advancing Georgia's Leaders in Agriculture and Forestry Class of 2019-21 in November.
The joint program between the University of Georgia's College of Agricultural and Environmental Sciences and Warnell School of Forestry and Natural Resources aims to educate, empower and connect today's professionals in agriculture, forestry, natural resources and allied sectors to be dynamic industry leaders.
Lauren Griffeth, program director for AGL and UGA Cooperative Extension leadership specialist with the CAES Office of Learning and Organizational Development, shared her pride at witnessing the 2019-21 class complete the program.
"This class had to endure a lot of difficult circumstances due to the pandemic, but they came back with flying colors and all of them completed the requirements and graduated. I'm really proud of them for enduring, and I know that their resilience is going to make them exceptional leaders moving forward," Griffeth said.
The graduation ceremony took place at the UGA Chapel with a reception on Herty Field. Class awards, voted on by the graduating class, included the Outstanding Leader Award and Outstanding Leadership Project Award, both presented to Ben Lancaster. Lancaster is the director of sales and marketing at IFCO in Moultrie, Georgia. Zippy Duvall, president of the American Farm Bureau and graduate of the 1996 class of the Georgia Agrileaders Foundation Forum, received the Outstanding Alumni in Agriculture and Forestry Award.
"Being selected to participate in the AGL program was an honor and a privilege," Lancaster said. "It was an honor because I got to represent my family and my employer, IFCO Seedlings, across the state and at our nation's capital. It was a privilege because of the wonderful relationships and lifelong friendships I formed along the way. The AGL program helped me to more clearly see and understand the uniqueness of all people and it highlighted for me the greatness of agriculture and forestry across our state."
Graduates of the 2019-21 AGL class include:
Daniel Atkins, area marketing manager, Weyerhaeuser; Brunswick, Georgia
Toby Bowen, account manager, AGCO; Athens, Georgia
Jason Bragg, vice president, government relations, Georgia EMC; Atlanta, Georgia
Sam Brown, owner and landscape architect, Fiddleheads Garden Center; Dalton, Georgia
Jordan Carter, director of sales and marketing, Leger and Son, Inc.; Cordele, Georgia
TR Clark, regional manager, F&W Forestry Services, Inc.; Hogansville, Georgia
Francie Cotton, southwest Georgia field sales representative, Bayer; Albany, Georgia
Hillery Culpepper, assistant director of development, Georgia FFA Foundation; Sylvester, Georgia
Nicole Duvall, program coordinator, Agricultural Commodity Commission for Milk; Madison, Georgia
Dusty Engel, precision ag manager, Lasseter Tractor Company; Tifton, Georgia
Chan Flanders, forester, Faircloth Forest Products; Dublin, Georgia
Susan Harrell, financial analyst, Timberland Owner; Culloden, Georgia
Aaron Hemmer, regional lending manager, AgGeorgia Farm Credit; Starr, South Carolina
Matt Hestad, vice president of engagement, Georgia Forestry Association; Covington, Georgia
Jessica Jarvholm, executive director, PineyWoods Farm; LaGrange, Georgia
Ben Lancaster, director of sales and marketing, IFCO Seedlings; Moultrie, Georgia
Jason Little, director of valuation services, Forest Resource Consultants, Inc.; Forsyth, Georgia
David Martin, president/CEO, Widget Development and Trading Company, LLC; Atlanta, Georgia
Samantha McLeod, executive director, Georgia Pecan Growers Association; Chula, Georgia
Arren Moses, president, Edward Moses Farms; Uvalda, Georgia
Sarah Nerswick, agriculture education teacher/FFA advisor, Brunswick High School; Rockville, Maryland
Erin Nessmith, project owner, Vivayic; Madison, Georgia
Blake Poole, middle Georgia field representative, Office of Georgia Gov. Kemp; Buchanan, Georgia
Eric Simpson, development coordinator, West Georgia Farmers Cooperative; West Point, Georgia
Keaton Walker, chief marketing and PR director, Circle F Farms, Circle F Meats, Woody Folsom Trailers and Feed; Hawkinsville, Georgia
Nominations for the next AGL class will open Feb. 1 and close March 31. Information on the nomination process and opportunities to support the program are available at agl.uga.edu or through Program Coordinator Katie Fife at katiefife4@uga.edu.