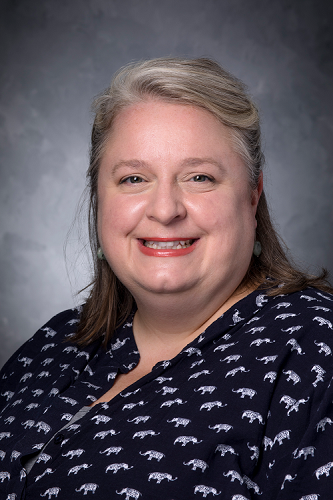 During her final year as a student at Washington State University, Faith Critzer found that she needed one elective to complete her bachelor's degree in animal science. Critzer was required to take a course outside the animal science department, so she selected an introductory food science course that fit her schedule. That one elective course changed the entire course of her education and career.
"It was the best dumb luck I've ever had," said Critzer, who joined the faculty at the University of Georgia's Department of Food Science and Technology in August.
Although she had previously considered pursuing a career in veterinary medicine, Critzer chose to pursue a second bachelor's degree in food science and technology. That bachelor's degree was quickly followed by a master's and then a doctorate in the same discipline.
At UGA, Critzer's research focuses primarily on food safety in fresh produce, and in particular, mitigation of the pathogens that can cause outbreaks of foodborne illness. Her expertise in this critical area of research earned her a position on the Joint Food and Agriculture Organization (FAO) and World Health Organization (WHO) Expert Meeting on Microbiological Risk Assessment (JEMRA). The FAO and WHO are specialized agencies of the United Nations.
The panel, made up of 19 food safety experts from around the world, is tasked with setting guidelines for food safety in fresh fruits and vegetables around the world each year.
Fresh fruits and vegetables present a unique potential risk to consumers — when consumed raw, these foods do not go through a "kill step" that removes potentially dangerous microorganisms that can make consumers sick. Without cooking or pasteurizing, two common kill steps, these microorganisms have a higher likelihood of surviving the journey from field to plate.
Because of that risk, consistent mitigation strategies are a critical step in protecting local, regional and global food systems.
"The FAO and WHO are interested in setting global standards for how, as a society, we should approach food safety," Critzer said. "This panel is primarily concerned with the fresh fruit and vegetable question — we know that a great deal of mitigation begins in the field with water use and harvesting practices, so this panel of experts makes suggestions about how to standardize that mitigation as much as we can."
While they cannot set specific policy guidelines, this panel ensures that there are minimal standards for the global community to consult as they create policy in within their own governments. This group has representation from a number of different countries, including India and Norway, highlighting the global nature of our food systems.

"For us in the United States, a significant portion of our produce is shipped in from other countries, and we are not alone in that. We should care about the food safety practices of other nations not only to protect their citizenry, but also ours," Critzer said.
Reliance on the most up-to-date, science-backed strategies is critical in preventing outbreaks of foodborne illness.
"Many people are not very familiar with the intricacies of food science, but they can name a foodborne pathogen or remember when a product was recalled from shelves due to an outbreak. Food safety experts are the ones who study the science behind prevention of large-scale outbreaks," she said.
The food safety experts named to JEMRA recently released a document summarizing their findings and presenting a consensus on general measures for control of microbiological hazards in fresh produce. At their next meeting, the panel will focus on sprouted seeds and other commodity-specific recommendations.
For more information about the Department of Food Science and Technology, visit foodscience.caes.uga.edu.