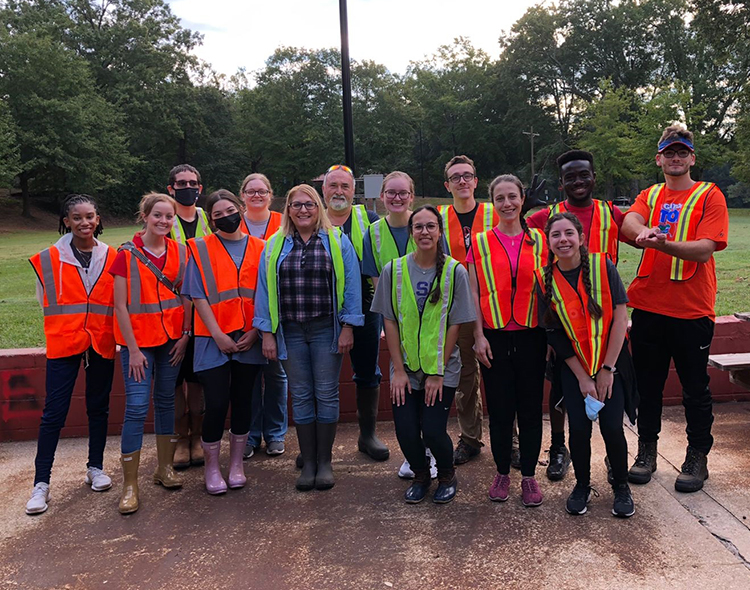 Students, staff and faculty from the University of Georgia's Griffin campus sacrificed the luxury of sleeping late on a Saturday morning to pitch in on Oct. 16 for the City of Griffin Annual Stream Cleanup, a long-standing event that brings together citizens of Griffin-Spalding County to clean up area streams and waterways.
Volunteers from UGA-Griffin and the rest of the community removed trash and debris from their assigned streams in a combined effort to make their county a better and cleaner place.
"I think we were one of the largest groups who signed up to volunteer," said Melissa Slaughter, a staff member at the Center for Food Safety at UGA-Griffin. "I got involved because I used to help out when I was with 4-H and I wanted to get the Griffin campus involved. It is a great way to give back to the community."
The team of 18 volunteers from UGA, primarily made up of students in the Food Science Club and staff from the Center for Food Safety, spent the morning working near the old Rushton Mill in a stream that feeds into Shoal Creek. They filled several bags with trash including plastic bottles, chip bags, clothing and old toys. Most items were typical of what you would expect to find doing this type of cleanup, but the group did find a few things they were not expecting.
"We found more than one vacuum cleaner," said one student volunteer. "It was just odd, as you would not think of someone throwing that in the stream. But we were told this area often floods, so it may have been outside someone's house and brought down because of the rain."
Participating in the event helped put the continuing problem of littering into perspective for many volunteers.
"It was really an eye-opening experience and hopefully we made a difference," said Slaughter. "You could feel people watching us as they drove by, so maybe we inspired some of them to do the same type of thing."
Peter Chiarelli, a first-year doctoral candidate in the Department of Food Science and Technology, was inspired by the event to do more. While he has volunteered for many groups throughout his college career, this was the first time he had done a cleanup event. Energized by the experience, Chiarelli began organizing an Adopt-A-Stream project for the UGA Griffin campus.
"I really want to do an Adopt-a-Stream for Shoal Creek, which runs into the UGA-Griffin property," he said. "It not only gives you a way to meet people, but also to give back to the community."
Chiarelli has already begun the process of setting up the program, which will be open to the entire Griffin campus community, and hopes many more people will get involved.
"It just opens you up to a life outside of campus. Hopefully we will be able to get this going and give back in a big way," Chiarelli said.