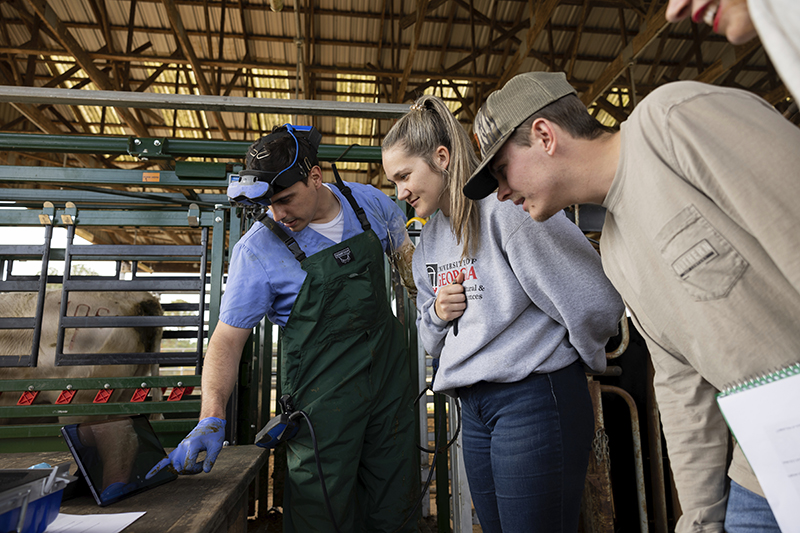 Poultry may perch atop the agricultural food chain in Georgia, but beef production brought $658.6 million to the state's economy in 2021.
The impact of the beef industry took the No. 5 spot in the top 10 Georgia commodities, according to the 2021 Georgia Farm Gate Value Report published by the University of Georgia Center for Agribusiness and Economic Development.
Cattle can be found in every one of the state's 159 counties — even Georgia's most populous Fulton, Gwinnett and Cobb counties, according to Lawton Stewart, professor in the College of Agricultural and Environmental Sciences.
"The beef cattle industry is such a unique industry in Georgia," said Stewart, who also serves as a UGA Cooperative Extension beef specialist. "It is one of the few industries where you can have five cows or 5,000 cows and you are still a part of it."
Serving producers of all sizes across the state, the UGA Beef Team is dedicated to helping beef cattle producers of all sizes maintain their economic livelihood.
A multidisciplinary approach
Committed to herd innovation, producer education, stockmanship and stewardship, the UGA Beef Team has developed educational and live animal programs, short courses and trainings to advance the beef cattle industry in Georgia.
"We've had a strong beef cattle Extension presence going back 50-plus years," Stewart said.
For Stewart, the path was simple — he followed in the footsteps of his father, Robert Stewart, who was a UGA beef cattle specialist years before.
From humble beginnings that included cattle shows and auctions at Stegeman Coliseum, the UGA Beef Team has grown into a robust initiative that provides opportunities for producers and students and creates a baseline appreciation for the industry.
"Our multidisciplinary focus converges into a group of specialists that can assist producers and county agents in different areas of their beef production system," said Pedro Fontes, an assistant professor in the Department of Animal and Dairy Science.
While Fontes focuses on beef cattle reproductive performance, other members of the team cover nutrition, genetics, livestock economy, herd health, forage management and more.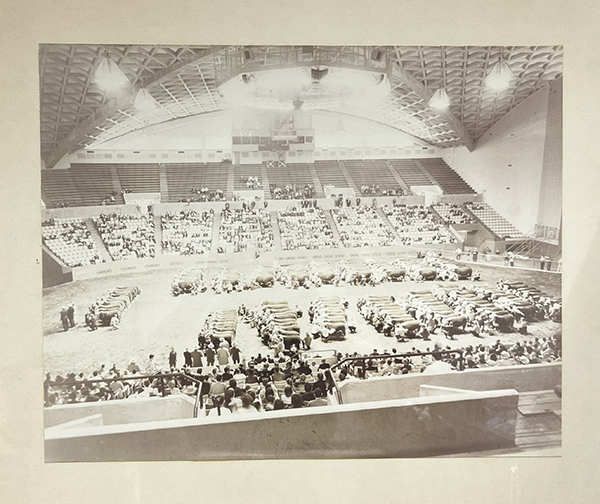 In the team's live animal programs, producers can consign their animals to different programs, including the Bull Evaluation Program, Heifer Evaluation and Reproduction Development (HERD) Program and the Georgia Beef Challenge. Each of these programs was developed to educate producers working in different areas of the industry, including both commercial and seedstock operations.
The HERD program, for example, was developed to educate producers on best management practices that result in high quality, bred replacement heifers that will calve unassisted and remain productive in the herd for many years. The program demonstrates the benefits of cooperative efforts involving cattle producers, industry professionals, the Georgia Cattlemen's Association, the UGA animal and dairy science department, the UGA College of Veterinary Medicine, and county Extension agents.
Other programs include a hands-on youth program developed to teach high school students more about the beef industry and live animal involvement, the popular Master Cattleman Program, and various short courses across the state that cover pertinent topics through one-day events.
"The Top Hand-Stockmanship and Stewardship program teaches youth about proper cattle handling techniques through a hands-on team competition using live animals," said Jason Duggin, A beef specialist with UGA Extension in Calhoun, Georgia. "Students learn about pharmaceutical handling, vaccine administration and record keeping."
Beyond cattle nutrition and handling, team initiatives include working with veterinarians to learn about ultrasonography and with producers to learn about blood-based pregnancy tests. Another unique program educates Georgia law enforcement on how to respond to cattle-related incidents.
"The Livestock Emergency Response Planning program trains first responders across the state of Georgia to safely and humanely work through the rare occurrence of a roadway incident involving livestock," Duggin said.
Benefiting students through applied research and UGA Extension
Graduate students routinely assist in research across all UGA Beef Team program areas, however, undergraduate animal and dairy science students reap the benefits as well ­– especially from Fontes' beef production course.
The hands-on class uses experiences from experts across the state to show the challenges — and opportunities — of beef production in Georgia. Fontes routinely brings in other beef team experts as invited lecturers to round out education on the multifaceted cattle industry.
"It's relevant to present students with information from Georgia, which we can do because of our Extension background and ongoing programs in collaboration with industry," he said.
At Double Bridges Farm, a CAES facility east of Athens, students gain hands-on experience with herds, ranging from collecting DNA samples for genomics data in breeding operations to estimating forage quality and developing nutritional programs for commercial herds. By having UGA Extension specialists help in the classroom, students become familiar with the most current practices in beef producer operations, gaining valuable knowledge and preparing them to meet the needs of the industry once they graduate.
"Every time we get an Extension specialist in front of a group of students, it's really valuable," Fontes said. "Students gain an exposure to the 'real-world' challenges facing the beef industry and develop an appreciation for how industry practices are developed in universities and applied in the field."
Learn more about UGA Beef Team programs, publications and experts at beef.caes.uga.edu.