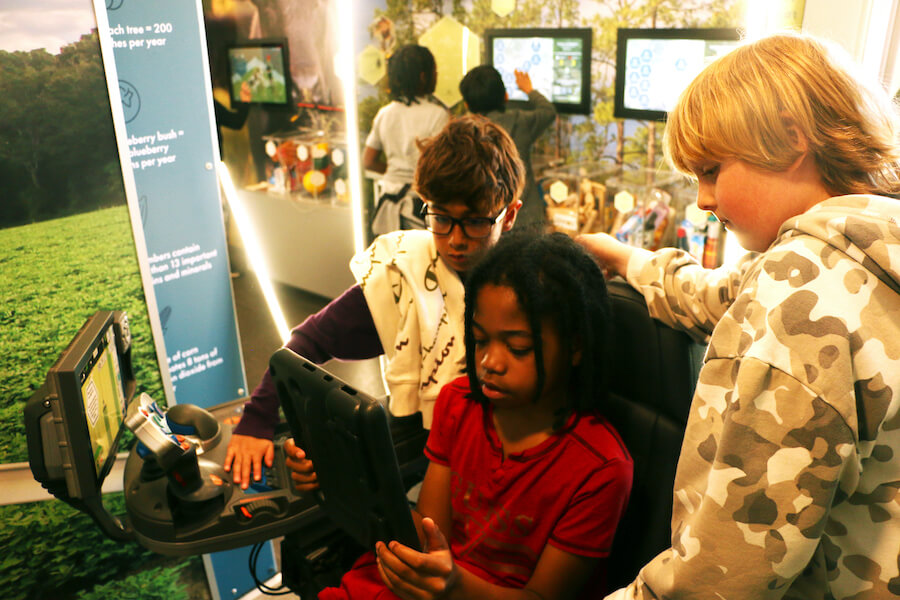 Across Georgia, the fall school term is in full swing. While most conform to the traditional classroom setup – rows of desks, bulletin board and pencil sharpener – at least one classroom in the state looks very different from the rest.
The Georgia Ag Experience is a 36-foot mobile classroom that showcases Georgia agriculture on the road. Technology and digital learning enable students to take a deep dive into several Georgia agricultural commodities. The experience is geared for students in third through fifth grade in Georgia elementary schools and for community organizations. In 2021, the Georgia Ag Experience tracked 31,5178 miles across the state. This summer, the mobile classroom spent time at camp with Georgia 4-H youth.
"4-H summer camp is about fun, friendships and finding new paths to explore," said Mandy Marable, University of Georgia Cooperative Extension associate state 4-H leader. "The Georgia Ag Experience is the perfect complement to our summer camp classes and recreation, allowing youth to choose to explore commodities and careers experientially. By incorporating the Ag Experience into a 4-H summer camp week, hundreds of youth gain in their understanding of agriculture's connection to their daily lives."
Real-world curriculum building experience for CAES students
Fueled by support from the Georgia Foundation for Agriculture, the Georgia Ag Experience is based on a curriculum created by UGA agricultural education students and evaluation created by Jason Peake, professor in the UGA College of Agricultural and Environmental Sciences (CAES).
"There are six lessons associated with the Georgia Ag Experience," said Peake, faculty in the Department of Agricultural Leadership, Education and Communication (ALEC). "The 2020-21 senior ALEC students wrote the lesson plans and I did the final revisions and approval. We plan to continue to engage the ALEC seniors in updating the lesson plans every three years."
Lessons cover agricultural career paths and several Georgia commodities: beef and dairy, poultry, cotton, forestry, horticulture, fruits, vegetables, and peanuts and pecans.
Peake also designed a pre-test and post-test for all elementary student participants along with evaluation surveys for teachers and principals. The data is used to make revisions to the curriculum based on student and stakeholder feedback and to inform the annual evaluation of the Georgia Ag Experience.
Inspiring the next generation of agricultural leaders
In Henry County, a fourth-grade class files into the parking lot, stopping in front of the large tow trailer emblazoned with colorful images. The 9- and 10-year-olds struggle to sit still as they are guided through the pre-tour details — they just want to get inside.
Once the first group climbs the steel ramp and enters the trailer, packed with facts and activities related to Georgia agriculture, eyes grow wide as students decide where to go first.
Some focus on a touch screen to explore the differences in beef and dairy cattle while others use a grocery store-style UPC checkout system to scan labels, through which they learn about fruits and vegetables produced in Georgia. The augmented-reality tractor simulator, where students learn about peanut planting, harvesting and post-harvest production, proved to be a popular station and always had a crowd around whichever student was in the tractor seat.
This, Peake says, is what the curriculum is all about.
"Elementary students benefit by being exposed to Georgia agriculture at an earlier age and are more aware of where their food originates," Peake said. "The UGA agricultural education majors benefit from real-world experience of developing curriculum that reaches a large audience. It is a win-win relationship."
To learn more about the Georgia Ag Experience, visit georgiaagexperience.org. To explore majors and opportunities in the CAES Department of Agricultural Leadership, Education and Communication, visit alec.caes.uga.edu.