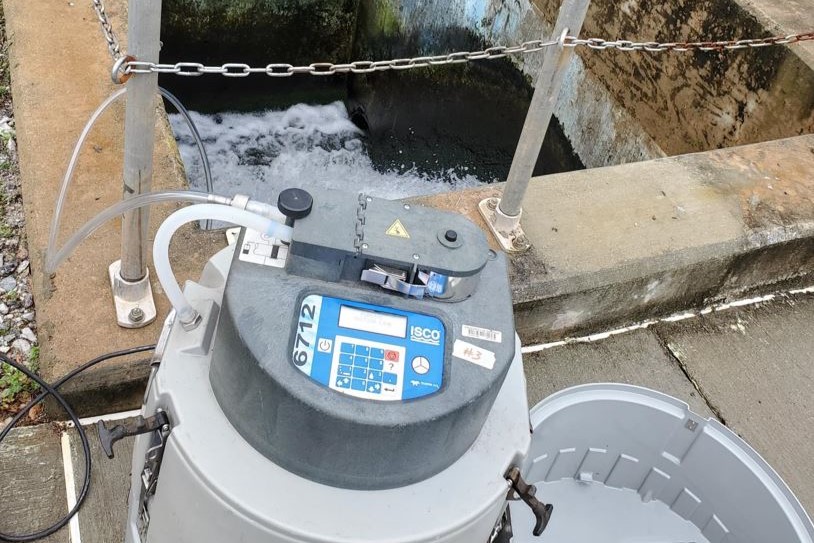 University of Georgia researchers in the College of Agricultural and Environmental Sciences and the College of Engineering are wrapping up the final year of a study to develop improved, cost-effective treatment systems with advanced technologies for removing polyfluoroalkyl and perfluoroalkyl substances (PFAS) from water, wastewater and biosolids.
Dubbed "forever chemicals," PFAS are a group of manufactured chemicals developed in the late 1930s that have been widely used in industry and consumer products due to their fire-resistant properties and ability to repel oil and water. The team was awarded nearly $1.6 million through a congressionally mandated grant from the Environmental Protection Agency (EPA) to mitigate PFAS, which take a long time to break down and can build up in people, animals, water and soil over time. PFAS are commonly found in paper food packaging, stain-resistant and waterproof clothing and furniture, fire-repellants, and nonstick cookware.
"From a purely scientific perspective, I found these chemicals to be fascinating — they are the most long-lasting manmade chemicals in existence," said Qingguo (Jack) Huang, a crop and soil sciences professor on the UGA Griffin campus and primary investigator on the grant. "My work as a water quality chemist and environmental engineer is solutions-driven, so figuring out how to degrade these persistent compounds presents an interesting challenge that I'm committed to answering."
In collaboration with researchers from Georgia Tech, the team has increased monitoring efforts throughout the nation by collecting samples from wastewater treatment facilities, which act as the "sink" of a community — receiving and processing a slew of contaminants — making them an obvious place to look for these ubiquitous compounds, Huang explained.
Removing PFAS from water
PFAS treatment technologies fall into two categories: physical methods that separate the compounds and chemical methods that destroy them. A comparison of eight treatment technologies was conducted on various water samples to assess overall performance. The ultimate goal, said Huang, will be to combine technologies in what is called a "treatment train," where each car of the train represents a different treatment method for various applications.
One of the more promising technologies the team is investigating is a destruction-type treatment called electrochemical oxidation (EO). Using this method, an electric charge is sent through contaminated water to degrade PFAS compounds. Huang developed the UGA-patented technology in 2016, and because it has since garnered a lot of attention, he is now working with a prominent industrial partner to commercialize the method.
Gary Hawkins, water resource management and policy specialist for UGA Cooperative Extension in the Department of Crop and Soil Sciences, said many new technologies are complicated, energy-intensive and expensive. Standard wastewater treatment processes have limited capability for removing PFAS from contaminated water.
Hawkins explained that PFAS first accumulates in the human gut as we are exposed to the compounds. Our bodies shed some of those compounds through human waste, which ultimately collects at treatment facilities. Through a complex, multi-stage process of clarification, treated water eventually makes its way to streams and rivers or land-application systems. These surface waters often become the source of another city's drinking water, making it critical for facilities to understand how to best manage PFAS in the wastewater they process.
Part of the project is dedicated to outreach efforts throughout the state. Hawkins and a project collaborator from Georgia Tech work directly with stakeholders, including government officials and private consultants, to better understand if and how PFAS are being removed through current treatment systems. Their efforts focus on educating stakeholders on the various methods being studied that could be incorporated into current facilities to improve removal rates.
"Larger wastewater treatment facilities tend to have budgets that allow them to utilize some of the PFAS removal technologies, whereas smaller, rural communities don't always have the financial capacity to put these in place. That's why we are trying to find the best treatment technologies to help these facilities," explained Hawkins.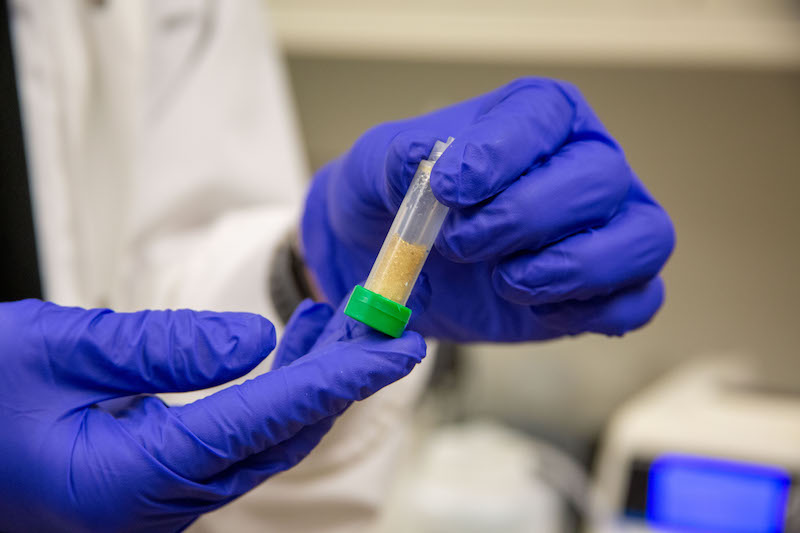 In recognition of financial limitations, Ke (Luke) Li in the UGA College of Engineering is developing mathematical models to help determine the cost-effectiveness of different treatment trains to help facilities choose the best option for their budget.
Cities will soon receive a boost in financial support as lawmakers across the aisle recognize the growing importance of providing clean, safe drinking water for all residents. This spring, the EPA granted $54 million to clean up contaminated drinking water in Georgia, and recently proposed new guidelines for drinking water limits that will hopefully cut down on PFAS-related illnesses. The funding is in addition to the Federal Drinking Water State Revolving Fund, which allocated $20 million to the state to address the removal of PFAS from drinking water.
Soil treatment technologies
While most of the grant is focused on water treatment, another important aspect is building on biological solutions for removing PFAS from the soil, Huang explained. For more than 10 years, he has partnered with the Department of Defense's Strategic Environmental Research and Development Program (SERDP) to explore methods for removing PFAS from the soil on military and air force bases where firefighter training regularly takes place. As PFAS are one of the main components in flame-resistant clothing and extinguishers, these sites are a priority for clean-up efforts after decades of exposure to the compounds.
Nearly a decade ago, Huang was one of the first researchers to explore a biological solution for removing PFAS from soil — a novel enzyme-based technology. After years of improvements in this technology, the team continues investigating enzymes as well as several fungal strains that essentially devour PFAS compounds. They hope these biological solutions will facilitate faster breakdown of PFAS in soil and reduce the concentrations over time.
"Because this is such a widespread and tough problem to deal with, it's going to take some time to thoroughly address," he said. "There still isn't a great replacement technology to use in many everyday products that we rely on, and while manufacturers have phased out some types of PFAS, decades of use have led to a buildup of these persistent compounds in the environment."
Huang is grateful to work with a talented team on the project, "and we are especially proud that our research will provide some cost-effective solutions to combat PFAS water contamination, particularly for rural areas."
Long-term, he plans to address combining technologies with a focus on reducing contamination of recycled water in agricultural settings. "As researchers, it's important to keep pushing the boundary. To drive forward, you have to have the vision of what is needed," he said of the next challenge.