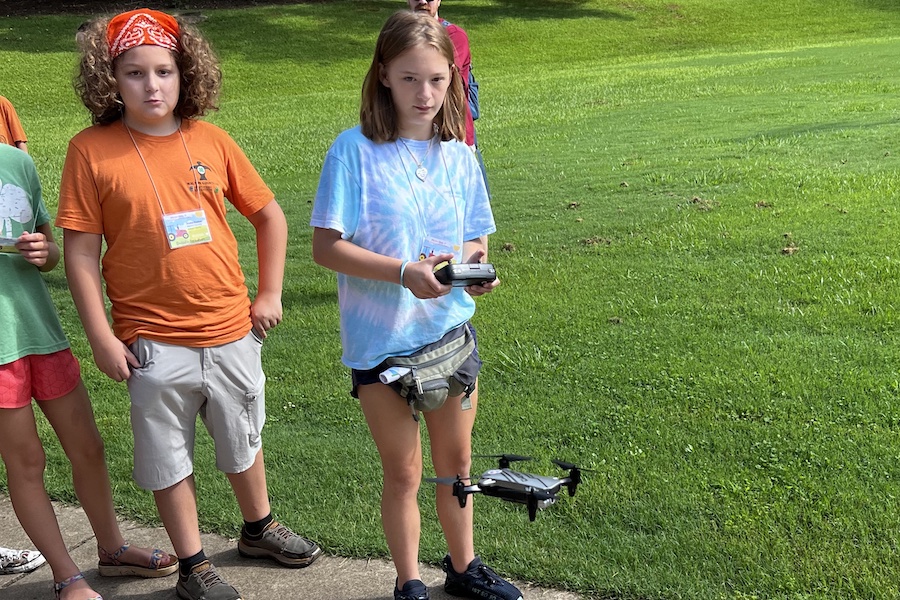 The Georgia 4-H STEM initiative hosted 152 middle school 4-H'ers for Mission Make-It, an immersive learning experience at Rock Eagle 4-H Center focused on agricultural engineering.
The annual event, which took place on Aug. 20, offered hands-on engineering experience with the theme "Rooted in Agriculture."
The event teaches students about the engineering design process and allows them to build functional examples of the concepts they learn.
High school 4-H'ers, known as Teen Leaders, guided their younger peers through interactive workshops centered on wheelbarrows and windmills, two inventions that have impacted agricultural operations around the world for centuries.
Small groups worked together to build the engineering projects, fostering teamwork, planning and communication skills. Teen Leaders were chosen to lead through an application process, and each created activities for an exhibit fair and art show during the event.
"Engineers plan, create and improve new products and processes daily. During the Mission Make-It event, middle school 4-H youth replicate these same steps during the engineering challenges," said Kasey Bozeman, 4-H Extension specialist for STEM programs. "Older 4-H'ers gain leadership experience through preparation and teaching, and they always learn something new themselves."
The full-day experience kicked off with a drone demonstration led by Teen Leaders, connecting classic engineering models with innovative technology being used by Georgia's farmers. Students learned the operation basics and then tested out their knowledge by flying drones on the Sutton Hall Lawn at Rock Eagle.
Mission Make-It was created to introduce youth to careers in engineering and expose them to the ways that engineering impacts their lives. Jay Moon, county executive director of the U.S. Department of Agriculture's Farm Service Agency in Putnam County, spoke to attendees about farm loans and career possibilities. Moon also brought a calf from his local dairy farm as a special guest for his presentation.
Agriculture and STEM programs are one of three Georgia 4-H focus areas that use hands-on activities to develop problem-solving and critical thinking skills in young students. Other 4-H focus areas include civic engagement and healthy living.
Georgia 4-H empowers youth to become true leaders by developing necessary life skills, positive relationships and community awareness. As the largest youth leadership organization in the state, 4-H reaches more than 225,000 people annually through UGA Cooperative Extension offices and 4-H facilities.
For more information about Georgia 4-H, contact your local UGA Extension office or visit georgia4h.org.