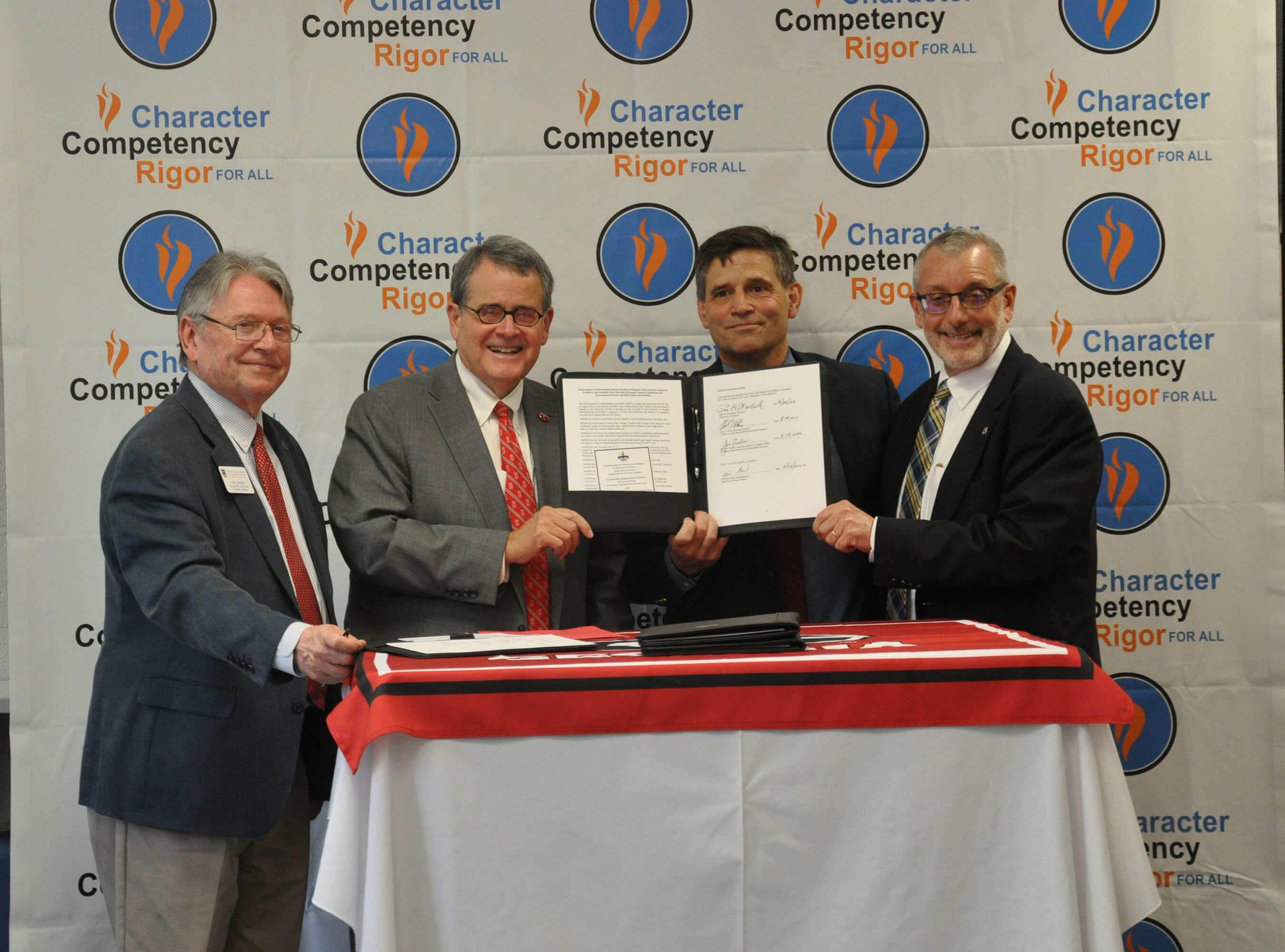 A new partnership between the University of Georgia and Hall County Schools opens courses in UGA's College of Agricultural and Environmental Sciences (CAES) to qualified high school students from the North Georgia district.
Through the CAES-Ivester Rising Scholars Program (CAES-IRSP), Hall County high school students attending the Howard E. Ivester Early College (IEC), a dual enrollment campus in Gainesville, Georgia, are attending classes at UGA's Athens campus for both high school and college credits. High school students in the Hall County School District must apply and be accepted to IEC and meet admission requirements for UGA to participate.
"As a land-grant institution, the University of Georgia is always looking for ways to strengthen our state's agriculture industry," said President Jere W. Morehead. "I am grateful to the Melvin Douglas and Victoria Kay Ivester Foundation for supporting the CAES-Ivester Rising Scholars Program, which encourages more young people to study subjects that will benefit this vital sector of Georgia's economy."
Both the Howard E. Ivester Early College and CAES-Ivester Rising Scholars Program have received support from the Melvin Douglas and Victoria Kay Ivester Foundation.
Doug Ivester, a former executive of the Coca-Cola Company and 1969 UGA business graduate, is a native of Hall County and director of the foundation, which donated $2.4 million in 2019 to name the Hall County School District's early college program for his father, the late Howard E. Ivester.
"I couldn't be prouder of any program. We've got a lot of things going on in Hall County, and as far as I'm concerned, this is the star," Ivester said.
Ivester recently presented Hall County Superintendent Will Schofield with an additional $100,000 to support Ivester Early College and $50,000 to promote the CAES-Ivester Rising Scholars Program.
Emphasizing the increasing role of technology in agricultural and environmental sciences, CAES Dean and Director Nick T. Place has encouraged the IEC students selected for the inaugural CAES-IRSP cohort to serve as ambassadors to their fellow students.
"We believe that true learning is the kind that transforms industry and makes a meaningful difference for the world, and that happens when students have the opportunity to apply their knowledge to the world," said Place. "In the CAES-Ivester Rising Scholars Program, our goal is to not only make an impact on the lives of the students who are part of this, but also to increase the interest and involvement of young people in agriculture."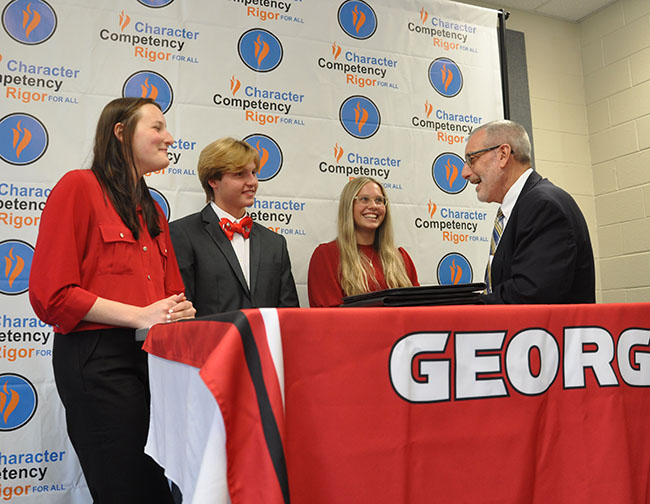 The first three students in the CAES-Ivester Rising Scholars Program — Cherokee Bluff High School senior Ayden Place, Flowery Branch High School senior Chloe Mootz and East Hall High School senior Walker Barrett — are currently enrolled in "Introductory Regenerative Bioscience" for the fall semester and will take "Animals in Society" in the spring semester, both 2000-level courses in the animal and dairy science department at CAES.
"When I learned about the new program with UGA, I knew I was interested. I have done a lot of work with animals, including volunteering at an animal hospital, where I saw surgeries performed, and through biology classes at IEC. I know I want to work with animals, and this gives me the opportunity to figure out future options for myself," said Mootz.
Students receive transportation from Hall County to the UGA Athens campus for classes and also attend classes at IEC, where they receive study support and participate in workshops on college admissions, financial aid and strategies for college success.
UGA is the newest partner of IEC, which has also partnered with the University of North Georgia, Brenau University and Lanier Technical College since the early college program was founded in Hall County six years ago.
"When we started, we had 187 students in the inaugural class of the early college program, and last year we had almost 1,000," Schofield said. "Half of the students who matriculate at Ivester Early College are first-generation college students — hundreds of students who never thought, dreamed or imagined postsecondary education was in their future."
Place believes the CAES-Ivester Rising Scholars Program will serve as a pilot for additional programs CAES may develop with Hall County Schools and Ivester Early College. "We hope to introduce students to higher education in a way that really empowers them and enables them to find success," Place said. "It's critical that we invest in young people, invest in the next generation of leaders in the agricultural and environmental sectors, and in society overall."