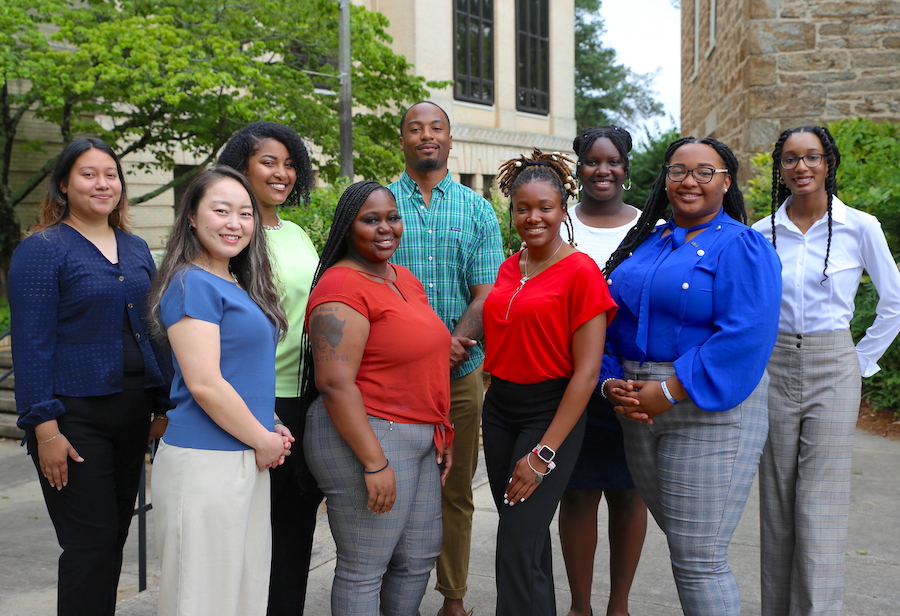 In a lab on the bottom floor of the Miller Plant Sciences building, Dakota Walker pulled a sample of plant tissue to further examine gene expression under the microscope — an experience she never foresaw having at the University of Georgia, having originally applied to Fort Valley State University (FVSU) as a marketing major.
A rising junior at FVSU studying plant science with an emphasis in biotechnology, Walker is one of ten students in the inaugural class of Rising Scholars interns in UGA's College of Agricultural and Environmental Sciences (CAES). The internship is a nine-week program allowing FVSU students the opportunity to conduct research with CAES scientists and reside on UGA's Athens campus.
This program highlights the long-lasting partnership between Georgia's two land-grant universities and furthers the research and teaching tenets of both institutions.
"I ended up in agriculture by accident," Walker said. "I sent an email to the wrong professor at Fort Valley and he still invited me to work in his lab, saying he had funding for me to work there."
As soon as Walker began working in the lab, she discovered a passion and a knack for conducting tissue cultures, driving her to pursue a new interest in plant science. When the opportunity came along to further her research and broaden her professional network through the Rising Scholars Internship, applying for the opportunity was a no-brainer.
"It's an introduction to what you would expect in any graduate studies," she said. "For someone like myself, who plans to pursue a master's after graduating, it's the perfect opportunity. I really feel like it's preparing me to come to UGA for grad school."
Nadia Ford, another member of the inaugural class of Rising Scholars, described the personal growth she experienced through the research opportunity with CAES.
"I was always interested in research," Ford said. "This internship has given me a lot of insight about what it takes to commit to research as a future career. I wanted to get more experience to see if it led me to a decision about pursuing grad school or entering my career field, and that's one reason I chose to apply for the Rising Scholars Internship."
An animal science student at FVSU, Ford is working in the Regenerative Bioscience Center, where she is studying how gene targeting could help slow the progression of amyotrophic lateral sclerosis (ALS) in humans. Originally from Fort Valley, Georgia, she admits that this experience has challenged her to move outside the comfort zone of her hometown to a new city, an adjustment that has increased her confidence in her abilities and opened new doors for potential career paths.
"It's been very interesting to see how my knowledge from the classroom can be applied in a field through this internship. It connects dots from the classroom and gives you a better and deeper understanding of what's going on," she said. "It's interesting because this internship has opened my eyes to the possibilities of working in the medical field by studying human diseases from an animal science angle."
In addition to research funding, campus housing and meal plans, the interns also receive a stipend at the end of each month for their work. Both Walker and Ford acknowledge that they have grown close with their fellow interns and have built new relationships that they will take back to Fort Valley.
"This year's program has been an overwhelming success and we are thankful for such a close working relationship with Fort Valley State," said Lakecia Pettway, CAES director of diversity affairs. "We've been very impressed with these students over the past nine weeks and know they are being mentored this summer by some of the best and brightest research mentors at CAES."
The Rising Scholars Internship illustrates the valuable partnership between Georgia's two premier land-grant institutions and the work that both do to foster the future minds of agricultural and environmental sciences in the state.
To learn more, visit caes.uga.edu/students.