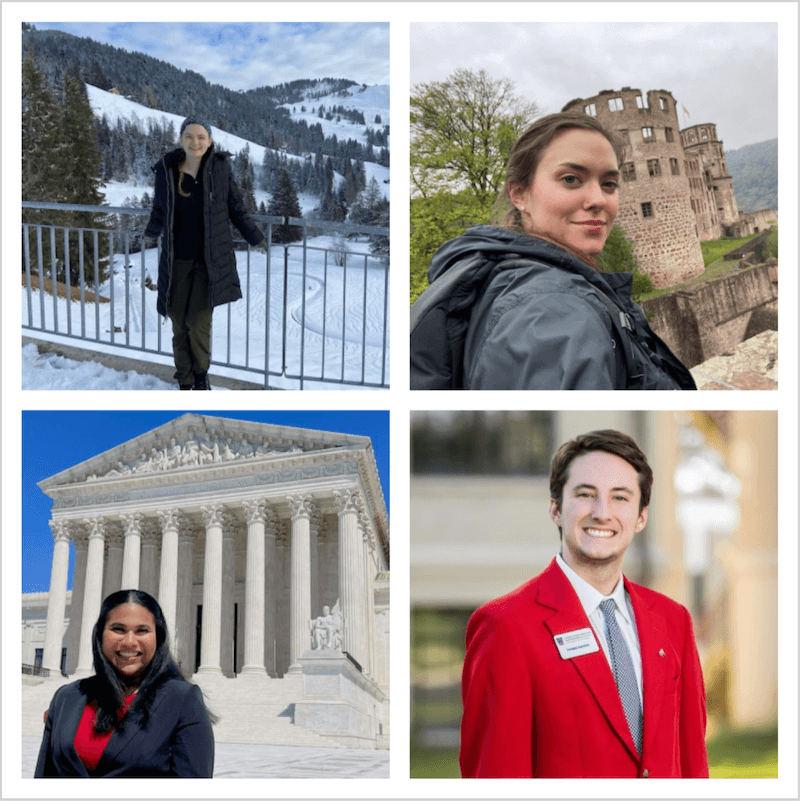 In a world filled with screens and devices, the world is virtually at our fingertips each second of every day. It is easy to look at pictures and videos of places you would like to visit, watch live streaming of events happening around the globe, connect with other cultures or perspectives in a chat box, or even learn a new skill by simply donning a pair of virtual reality goggles.
Even with as many opportunities as these technologies afford, one method of learning remains unmatched in educational quality — hands-on, experiential learning.
Experiential learning is a hallmark of student education at the University of Georgia's College of Agricultural and Environmental Sciences (CAES) and has been since the college's inception. Studying abroad, undergraduate research, service-learning projects and entrepreneurial opportunities enrich students' understanding far beyond the pages of a textbook or the walls of a classroom. These immersive experiences connect dots, create a lasting imprint of knowledge and inspire curiosity, leading to further idea development and innovation.
The Ratcliffe Scholars Program at CAES is dedicated to further supporting the college's experiential learning initiative. Established by a generous endowment by the David and Tom Ratcliffe families in honor of Thomas Jackson Ratcliffe Jr., the Ratcliffe Scholars Program provides funding for forward-thinking students to engage in formative, out-of-classroom opportunities to enrich their college education. Four CAES students — Therese "Tess" Thompson, Lydia Griffin, Kirsten Flinn and James "Thomas" Maddox — were selected as Ratcliffe Scholars in 2021-22, and each has participated in life-changing immersive learning experiences.
Tess Thompson, a third-year water and soil resources and environmental resource science double major, participated in a semester-long exchange program in Switzerland at ETH Zürich. She took classes and worked with professors to learn more about her intended career helping farmers build and enrich soil composition.
"I have had the most intense period of growth in my life," Thompson said. "My view on the world has completely changed and this experience has completely changed my life. I have been able to see things unlike anything I have ever seen, such as the beautiful Swiss Alps, and experience a culture so different from my own."
Lydia Griffin, a fourth-year agricultural communication major with an interest in sustainable agriculture and global food security, also chose to pursue a semester abroad, attending the University of Hohenheim in Stuttgart, Germany. There she conducted soil fertility research while studying landscapes in central Europe, as well as different cultures and languages.
"This scholarship program helped me make lifelong connections that I can continue to grow and collaborate with in the future," Griffin said. "This kind of opportunity inspires me and others to give back to future students. I hope to one day do what the generous donors did for me, and aid students in pursuing their dreams and stepping out of their comfort zones."
Third-year environmental economics and management major Kirsten Flinn participated in the Washington Semester Program working in the U.S. Department of Justice with the Environmental and Natural Resource Division through support from the Ratcliffe Scholars Program.
"The experience working with the Department of Justice was formative to confirming my interest in environmental law, as well as cementing the fact that I want to work in some capacity within the government to protect and conserve our natural resources," said Flinn. "I was able to work closely with attorneys within the department and within other agencies such as the (Environmental Protection Agency) and (the U.S. Department of the Interior) to enforce environmental laws and regulations throughout the nation. Being able to pursue a niche opportunity, such as the internship that I completed, that aligns so closely with my career aspirations and educational interests is exactly what I hoped to achieve during my time with CAES."
Thomas Maddox, a fourth-year agricultural education major on the UGA Tifton campus, chose an experience close to his heart and a bit closer to home on his path to becoming an agriculture teacher and FFA advisor. Through the program, Maddox was able to maximize his student teaching experience at Lanier County High School.
"The Ratcliffe Scholars Program has continued my growth so I can take my next leadership step toward becoming an agricultural educator," he said. "My experiences have provided me with not only the knowledge I've obtained in the classroom, but micro-teaching, field experience, classroom observations and volunteer opportunities. The most important thing I have learned is to never stop learning and never stop improving."
Whether it is a chance to engage locally or halfway around the world, CAES and the Ratcliffe Scholars Program are committed to providing students with learning experiences that will leave a lasting impression.
The Ratcliffe Scholarship Program honors Thomas Jackson Ratcliffe Jr., who attended the University of Georgia and earned bachelor's and master's degrees in plant physiology. Following graduation, Ratcliffe served as the UGA Cooperative Extension agent in Lanier County, where he met and married Mary Frances Moore of Lanier County, Georgia. The two moved to Tifton, Georgia, in 1945, and he went to work at the Georgia Department of Entomology, which later became part of the Georgia Department of Agriculture. To learn more about the Ratcliffe Scholars Program, visit caes.uga.edu/students.