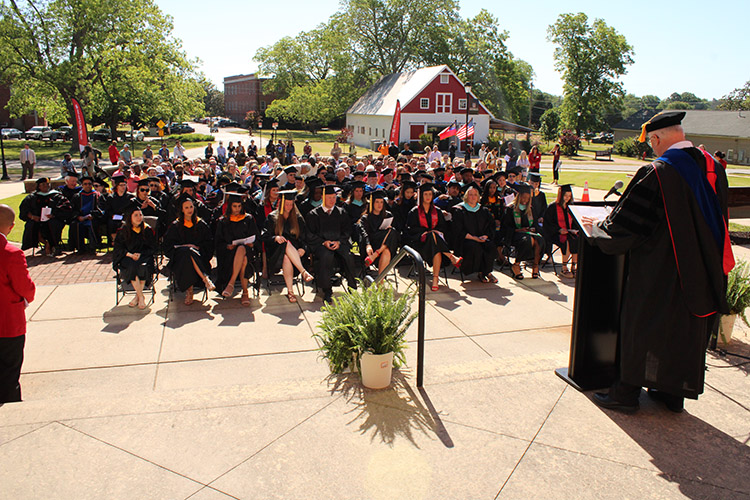 The University of Georgia Griffin campus held its Spring Graduation Celebration and Brick Ceremony for 29 members of the Class of 2022 on May 12, representing all five colleges that offer degrees at UGA-Griffin.
Each student graduating from UGA-Griffin is honored with a lasting mark on campus — a brick featuring their name and class year is installed in the walkways around the Student Learning Center. In previous years, graduates' bricks were placed at the Naomi Chapman Woodroof Pavilion.
David Buntin, interim assistant provost and campus director of UGA-Griffin, told the graduates that the bricks will mark their time at UGA for generations to come, expressing hope that the bricks of future graduates will cover the walkways of the campus in the future.
Terry College of Business graduate Lindsey Decker was selected by faculty as the student speaker for the graduation event, speaking to her classmates about what her time on the Griffin campus means to her.
"Dr. (Marianne) Fortuna taught me that although good things don't come easy, with hard work, integrity and passion, they will show up at your door," said Decker. "For my psychology students, Dr. Buff (Perry Buffington) would say that success is calling. And that the question is, 'Will you answer?' This drive and dedication, a never-ending strive for success and honor, without fear, is what it means to a Dawg."
Nick Place, dean and director of UGA's College of Agricultural and Environmental Sciences, gave the keynote address, congratulating the graduates on their accomplishments and contributions during their time at the university.
"You should be proud of the work that you've done during your college career," said Place, "and you should be confident in what is coming after today — opportunities to use the knowledge you've gained and the skills you've learned to make a meaningful and significant impact in the world."
Place emphasized the importance of taking risks, challenging graduates to see their graduation as an opportunity to be not only dreamers but doers.
"You, as graduates of UGA, are uniquely equipped to answer the difficult questions the world is asking today. … You are clearly dreamers with big goals, but you are also doers with the kind of drive it takes to achieve those goals," said Place. "But here is the great part about being both a dreamer and a doer who also happens to have answers to the complicated questions the world is asking: You have the opportunity to shape what that looks like for you and in your life."
In closing, Place assured graduates that they are ready for this next chapter in life.
"My hope is that each of you actively seeks opportunities to make the world a better place, no matter what that looks like in your own life and career," said Place. "All of us at the University of Georgia are honored to have been part of your college career and to have had a role in shaping you as future leaders."
Following the ceremony, students and their families attended a reception in their honor.
Chrystal McDowell, assistant director of student affairs for UGA-Griffin, wished the graduates well and congratulated them on their accomplishments.
"You made it. Job very well done," said McDowell. "Congratulations from all of us and as always, go Dawgs!"
The following are the 2022 UGA-Griffin graduates and their degrees:
College of Agricultural and Environmental Sciences
Darian Adams, Bachelor of Science in Agriculture
Samuel Cody Adams, Bachelor of Science in Agriculture
Desirae Dixon, Bachelor of Science in Agriculture
Sukhir Kaur, Master of Science
Emma Moore, Master of Science
Rawane Radd, Master of Science
Taija Stoner-Harris, Master of Science
Somerville Rowe, Master of Plant Protection and Pest Management
Bikash Ghimire, Doctor of Philosophy
Yaye Wang, Doctor of Philosophy
College of Family and Consumer Sciences
Laura Geiger, Bachelor of Science in Family and Consumer Sciences
Franklin College of Arts and Sciences
Sarah Smoak, Bachelor of Arts
Mary Frances Early College of Education
Kimberly Brady Gilkey, Bachelor of Education
Ashleigh Post Rivera, Bachelor of Science in Education
Amanda Hollar, Master of Arts in Teaching
Imani Akpuchukwu, Master of Education
Jennifer Griffin, Master of Education
Mariah Hedman, Master of Education
Anja Swinson, Master of Education
Callie Cole, Doctor of Education
Donald Coleman, Doctor of Education
Amber Lesicko, Doctor of Education
Heather McIntosh, Doctor of Education
Alicia Myrick, Doctor of Education
Marian Ashby Sadowski, Master of Education
Des'mon Taylor, Doctor of Education
Laci Weeden, Doctor of Education
Terry College of Business
Lindsey Decker, Bachelor of Business Administration
Payton Trickel, Bachelor of Business Administration
To learn more about the UGA Griffin campus, visit griffin.uga.edu.