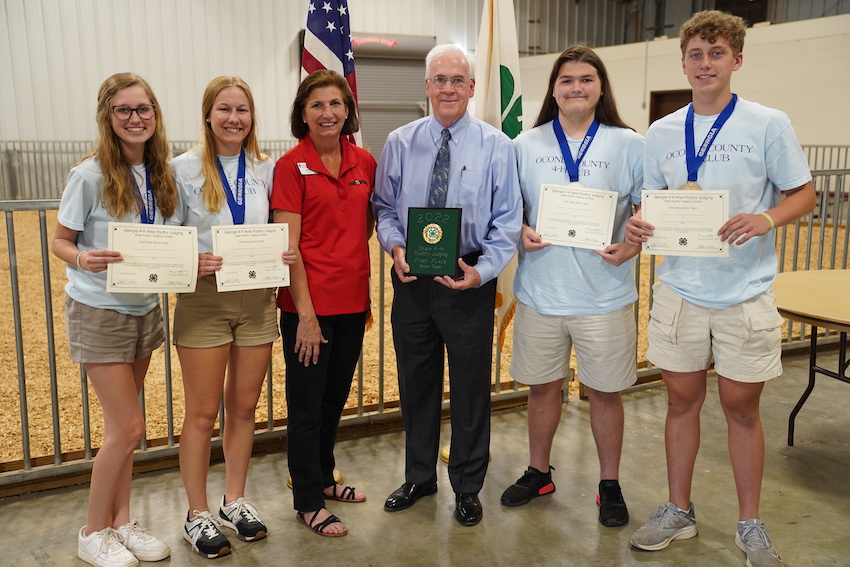 Oconee County 4-H captured first place at the Georgia 4-H State Poultry Judging contest held May 6 at the Oglethorpe County Livestock Facility. Team members Blakely Stewart, Lexi Pritchard, Connor Watson and Thomas Stewart earned 3,979 of an overall 4,200 points and became the newest Master 4-H'ers in Georgia.
Poultry judging is the largest judging event in the Georgia 4-H program, with 560 students participating across the state this year. Fifty-three 4-H'ers qualified to compete in the state contest, advancing from five area-level contests.
Participants judge both live chickens and market poultry during the event, identifying parts of birds already prepared for market and evaluating eggs for quality and readiness for sale. Following the evaluation of a live production class, participants must justify their placing decisions through oral reasoning.
To prepare for poultry judging contests, students learn standards used in poultry and egg production and marketing and apply those standards in decision-making situations that call for critical evaluation. Beyond the contest, 4-H'ers apply the skills they learn as poultry consumers in grocery stores and restaurants.
Oconee County will represent Georgia at the 2022 National 4-H Poultry and Egg Conference in Louisville, Kentucky, November 16-17. The students will continue to expand their knowledge of the poultry industry and what it means for Georgia consumers throughout the year.
Georgia 4-H partners with specialists at the University of Georgia for all its livestock programs. The UGA Department of Poultry Science has a vital and long-standing relationship with 4-H, with poultry science faculty preparing the area-level and state contests, taking care to provide consistent and accurate classes for every 4-H'er.
"Poultry judging reinforces the importance of agriculture to hundreds of students every year," said Heather Shultz, Georgia 4-H Extension specialist for livestock programs. "Every 4-H'er who participates in poultry judging through their county UGA Cooperative Extension office gains an appreciation for how our poultry supply is produced and how safety and quality are maintained. We appreciate the UGA poultry science department for supporting this important initiative for youth."
Winning teams in the contest include the second-place team from Ben Hill County with team members Lauren Wixson, Allie Braddy, Amelia Lee and Jay Lee; and the third-place team from Gordon County with team members Breana Manning, Joshua Carr, Sophia Westbrook and Rebekah McElrath. Additional winners include first place high individual Lexi Pritchard from Oconee County, second high individual Lauren Wixson from Ben Hill County, and third high individual Avery Pruett from Coweta County.
Georgia 4-H empowers youth to become true leaders by developing necessary life skills, positive relationships and community awareness. As the largest youth leadership organization in the state, 4-H reaches more than 225,000 people annually through UGA Extension offices and 4-H facilities.
For more information about how to get involved with Poultry Judging and Georgia 4-H, contact your local UGA Extension office or visit georgia4h.org.