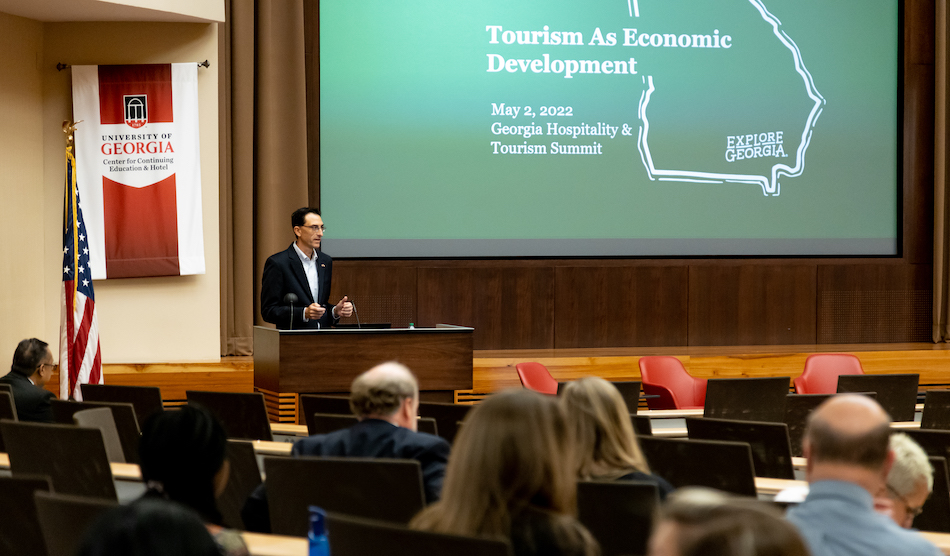 More than 100 University of Georgia faculty, staff, students and external stakeholders involved in the hospitality and tourism industry gathered May 2 for the inaugural Georgia Hospitality and Tourism Summit organized by the UGA HOST Research Initiative.
The summit was designed to address the challenges faced in hospitality and tourism industries, foster collaboration among university personnel working on hospitality and tourism research support, and to enhance and enrich ongoing community public engagement efforts around tourism in Georgia.
"Because our industry is not a widget industry, you can often overlook the business or economic impact side of travel," said Mark Jaronski, deputy commissioner for tourism with the Georgia Department of Economic Development (GDED), in a morning keynote to participants. "The travel industry represents one of the largest employers of any industry in our state, with one of the largest workforces at 484,000 jobs in the state. No matter where you sit in your views on capitalism and the private-public sector, there is no doubt that the travel industry is important from a business and social standpoint and touches many people throughout the state."
Jaronski emphasized that research by government agencies and educational institutions like UGA are important to creating "the vision for Georgia tourism — and the roadmap to get there."
Generating a $69 billion impact in Georgia
In 2019, Georgia welcomed 150.9 million domestic visitors and 1.4 million international visitors who collectively spent $38.9 billion in the state, generating $3.5 billion in state and local tax revenues and a total impact of approximately $69 billion in the state, according to GDED figures.
While the COVID-19 pandemic severely affected the industry — visitor spending fell by $12 billion, travel-generated state and local tax revenues dropped by $640 million, and the industry lost 82,400 jobs in 2020 over 2019 figures — numbers are beginning to rebound, although they are not expected to fully return to pre-pandemic levels until 2024 or later.
Georgia's natural assets will be part of that recovery, but work being done by the GDED and by industry experts at UGA will be essential to rejuvenating the state's tourism industry.
"Georgia occupies a unique space with great seasonality and great natural assets, and during the pandemic we saw that state leadership is open to a business approach to recovery, something that gave us a competitive advantage in our industry in the state," Jaronski said, adding that Georgia increased its market share from No. 8 in 2018 to No. 7 in 2020 for domestic day trip volume among the 50 states and Washington, D.C., and from No. 7 in 2019 to No. 5 in 2020 for domestic overnight trip volume.
"From a tourism standpoint, we started to hold our own and increased our market share as a state. That gave us the mindset, perspective, confidence and reason to believe that we can compete nationally on the tourism stage. We can view our competitive set not as Alabama, Tennessee and the Carolinas, but rather states like Florida and California," he explained.
Supporting the state's small businesses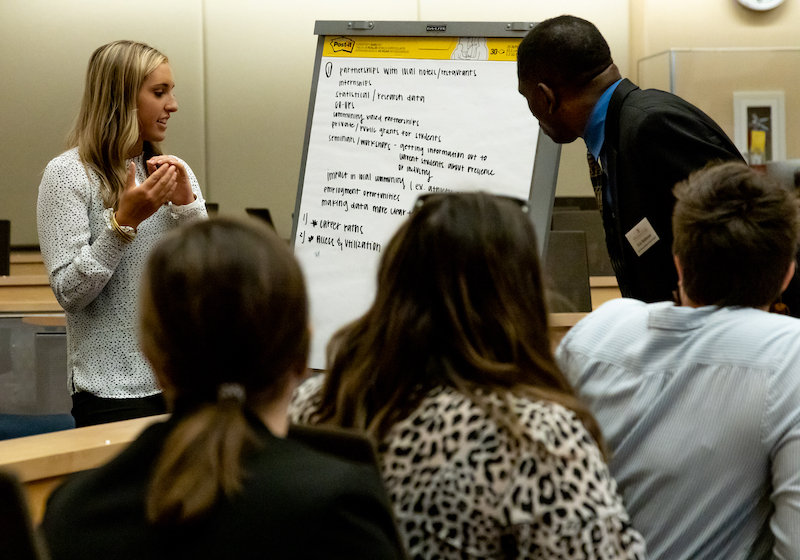 Following Jaronski's talk, Jason Bitar, a business consultant in the Gwinnett office of the UGA Small Business Development Center (SBDC) — there are 18 UGA SBDC offices around the state, seven of which are housed at other universities — discussed the business of hospitality, including the potential and pitfalls of restaurant ownership.
Bitar, who spent more than a decade in the restaurant business, outlined some resources available to help prospective entrepreneurs in creating a strong business plan, including the SBDC, SCORE and government agencies like the U.S. Small Business Administration.
"We basically work to enhance the economic well-being of Georgians who are small business owners and aspiring entrepreneurs," Bitar said. "We offer three basic services: consulting, research and education. We don't write the business plan for a client, we guide them. When I meet my clients, I tell them they have to write the business plan because it is their education in their own business."
A panel discussion of hospitality and tourism projects at UGA featured a presentation from Sharon Kane, agribusiness and community development economist with the Center for Agribusiness and Economic Development (CAED) in the College of Agricultural and Environmental Sciences (CAES) on the tools available to Georgia businesses that operate at the intersection of agriculture and tourism, including the Hospitality and Travel Economic Snapshots for Georgia Counties.
Introducing the HOST Research Initiative
The HOST Research Initiative marshals faculty and staff researchers from the Department of Agricultural and Applied Economics (AAEC) and the Hospitality and Food Industry Management (HFIM) program at CAES; the PRTM program; the Landscape Architecture program in the College of Environment and Design; UGA Marine Extension and Georgia Sea Grant; and UGA Public Service and Outreach to collaborate and prioritize research efforts to support the hospitality and tourism industry through UGA Cooperative Extension, UGA Public Service and Outreach, and CAED.
Other event speakers included Bynum Boley, associate professor in the Parks, Recreation, and Tourism Management (PRTM) program in the Warnell School of Forestry; Danny Bivens, manager of the Georgia Downtown Renaissance Partnership with UGA's Carl Vinson Institute of Government; Bryan Fluech, associate director for UGA's Marine Extension and Georgia Sea Grant Program; and Rosanna Cruiz-Bibb with the Archway Partnership in Hart County.
"I'm extremely pleased that UGA faculty, researchers and public service agents were able to gather in one place to talk about their varied projects and how those projects impact the Georgia hospitality and tourism economy," said John Salazar, coordinator of the Hospitality and Food Industry Management program at CAES and a principal organizer of the event. "Since the summit, I've been receiving many emails from across campus and Georgia from UGA units looking to develop collaborative efforts for classroom projects and research. The enthusiasm for this event and a future event has been overwhelmingly positive."