2022 Student Employee of the Year
Christian Albritton, a third-year avian biology and biological science double major from Butler, Georgia, was selected as the 2022 Student Employee of the Year thanks to his work with Georgia 4-H.
"There have been more times than I can count when I start a sentence with 'What about if we …' and Christian answers 'that's already been done,'" wrote Kasey Bozeman, UGA Cooperative Extension 4-H specialist for science programs, in her nomination. "His willingness to learn new information, develop his skills, listen to critical feedback and respect diversity among our organization makes him the ideal student employee."
Albritton played a critical role in many Georgia 4-H activities throughout the year, especially its STEM offerings. He created nearly two dozen digital science activities to complement existing resources, equipping more than 200 4-H faculty and staff across the state with tools to lead over 110,000 children in 4-H programs.
Albritton also leveraged connections in his area of study, recruiting a faculty member from the College of Agricultural and Environmental Sciences' poultry science department to be a guest speaker for Georgia 4-H's virtual "Zoom into Science" program. Albritton went on to help provide captions for and publish the recording of the program.
"We would not have been able to publish the videos without Christian's leadership," wrote Bozeman. "He helped over 1,000 youth experience virtual science programs."
He also is responsible for a monthly e-newsletter sent to nearly 100 4-H high school volunteers who administer science-related programs in communities across Georgia. Albritton has published 30 editions of the e-newsletter, providing valuable resources and information to these volunteers.
2022 Student Employee Team Award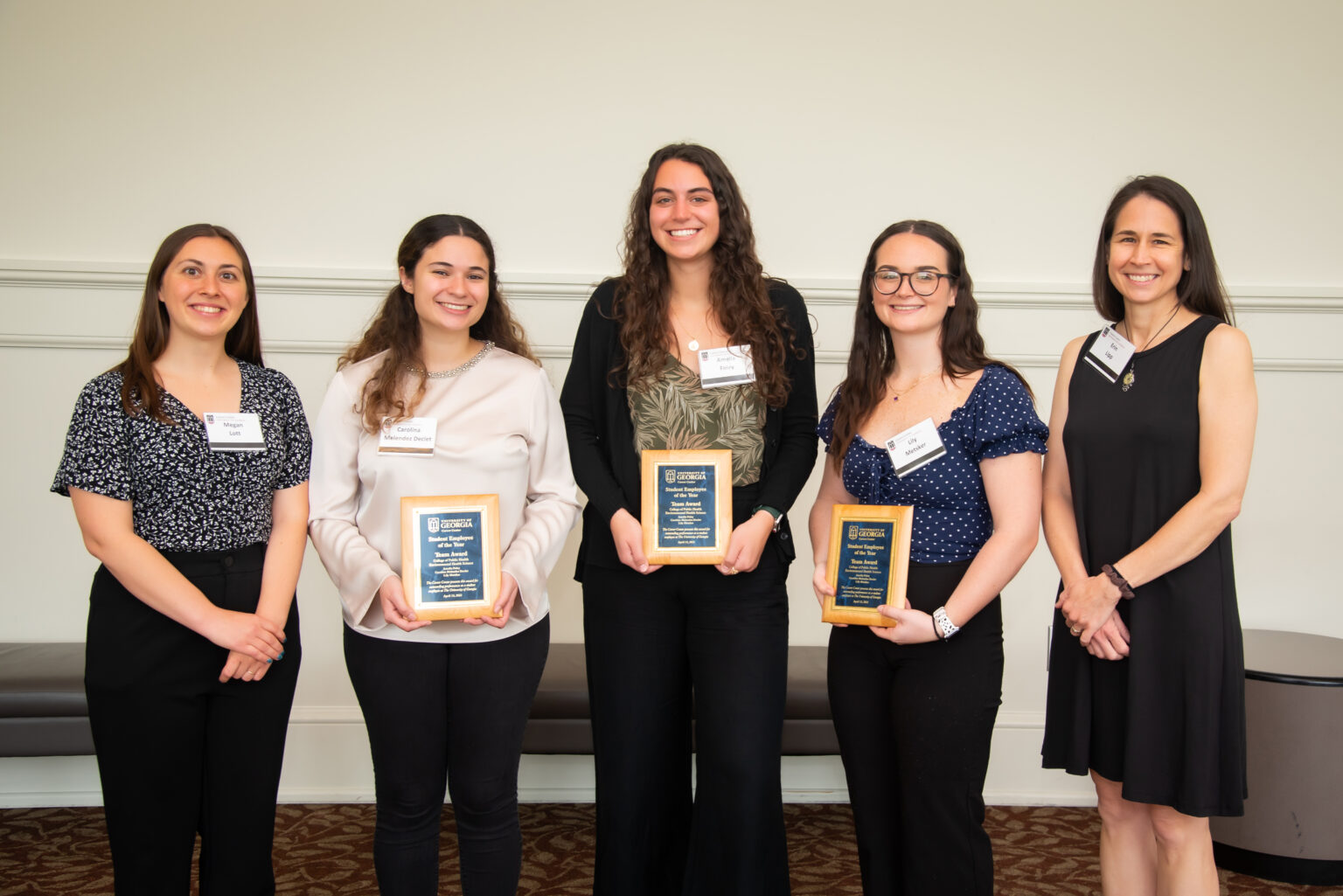 A team of three student workers from the UGA wastewater surveillance program received the 2022 Student Employee of the Year Team Award: Amelia Foley, Carolina Melendez-Declet and Lily Metsker. The team was recognized for its role in monitoring sewage in Athens-Clarke County for the coronavirus.
"These undergraduate employees are an essential component of our wastewater surveillance program, they make an exceptional and successful team, and they are excellent colleagues among their group and with the lab members broadly," wrote Erin Lipp, associate dean for academic affairs at the UGA College of Public Health, and Megan Lott, Ph.D. candidate in environmental health science, in their nomination of the team.
Foley and Metsker are fourth-year environmental health science majors from Hiram, Georgia, and Tyrone, Georgia, respectively. Melendez-Declet is a fourth-year marine biology major from Bayamon, Puerto Rico.
The trio is responsible for the twice-weekly collection, processing and analysis of wastewater samples for SARS-CoV-2 viral RNA, the coronavirus strain discovered in 2019 that is responsible for the COVID-19 pandemic. The team collects these samples from wastewater reclamation facilities and sewer lines throughout Athens-Clarke County. Since June 2020, they have processed, analyzed and produced results for over 600 wastewater samples.
"They are moved and driven by a larger purpose: a responsibility to their team members and to the community," wrote Lipp and Lott. "Upon their graduation, Amelia, Carolina and Lily will surely be an asset to the workforce and fantastic embodiments of the best that UGA has to offer."
Additional honorees
The first and second runners-up for Student Employee of the Year, Darden Braun, a bus operator and trainer of bus operators for UGA Transportation and Parking Services, and Kylie Zarecki, a public health nutrition intern with UGA Dining Services, were also honored at the luncheon.
Nomination letters for Braun and Zarecki, and the other award winners, can be found on the UGA Career Center website.
About the award
Student Employee of the Year is an annual award determined by a 10-member selection committee that features faculty, staff and student members from across the UGA campus. The committee considers each nominated student based on the National Association of Colleges and Employers competency criteria:
Critical Thinking/Problem Solving
Oral/Written Communications
Teamwork/Collaboration
Digital Technology
Leadership
Professionalism/Work Ethic
Career Management
Global/Intercultural Fluency
The Student Employee of the Year awards are a creation of the National Student Employment Association, and awards are given out on hundreds of campuses across the nation.
This story first appeared in Columns, the online newspaper for the UGA community.