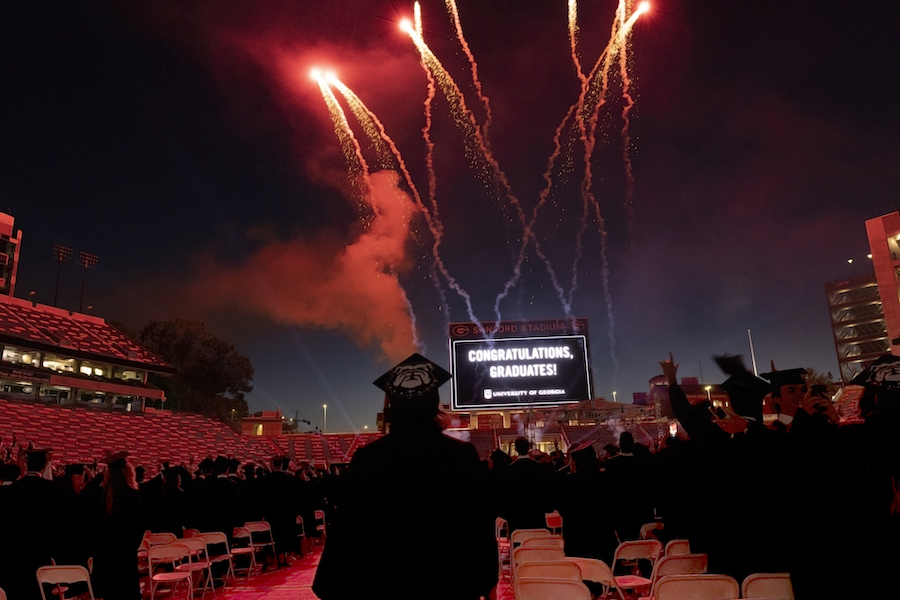 The University of Georgia College of Agricultural and Environmental Sciences (CAES) will celebrate its newest graduating class at a convocation ceremony at 6 p.m. Thursday, May 12, at The Classic Center in Athens.
Family and friends are invited to attend the ceremony, with doors opening at 5 p.m. Students are asked to arrive by 5:15 p.m. to check in and form the processional. Faculty should report no later than 5:30 p.m.
All students and faculty walking in the processional are required to wear academic regalia. Cap and gown, as well as invitations, rings and other commemorative items, can be purchased through the UGA Bookstore.
More information about the event is available at caes.uga.edu. Tickets are not required for CAES Convocation, although students must register to attend.
Remarks will be delivered by CAES Dean and Director Nick Place, 2011 alumnus Caroline Lewallen, and 2022 CAES Outstanding Senior Tate Hunda.
"CAES graduates are the future of agriculture and the environment," said Place. "During their time with us in Athens, Tifton and Griffin, they have been uniquely equipped with skills, abilities and competencies to approach the challenges that we face today in our industries."
Parking for a fee is available in The Classic Center Parking Deck and in several other parking facilities throughout downtown Athens.
UGA commencement
The UGA's spring 2022 commencement ceremonies will take place on Friday, May 13.
The graduate commencement ceremony will begin at 9:30 a.m. in Stegeman Coliseum, and the undergraduate commencement ceremony will begin at 7:30 p.m. in Sanford Stadium.
Tickets will not be required for either ceremony. Information on faculty participation, assembly and regalia is available on the commencement website.
Parking for attendees is available on campus at Hull Deck (W05), North Campus Deck (N04), South Campus Deck (S11) and the Performing Arts Center Deck (E20). Guests are asked to enter through Gates 2, 4, 6 or 9 and graduates should enter gate 10. Please check the Commencement website for updates.
This year's commencement speaker is Ed Bastian, CEO of Delta Air Lines. Bastian was named one of "The World's 50 Greatest Leaders" in 2018 by Fortune magazine and most recently ranked among the Top 10 CEOs of 2021 in Glassdoor's Employees' Choice Awards. Bastian places his leadership focus on caring for people and has prioritized this philosophy in his work with Delta.
Please contact the CAES Office of Academic Affairs at 706-542-1611 with any questions.