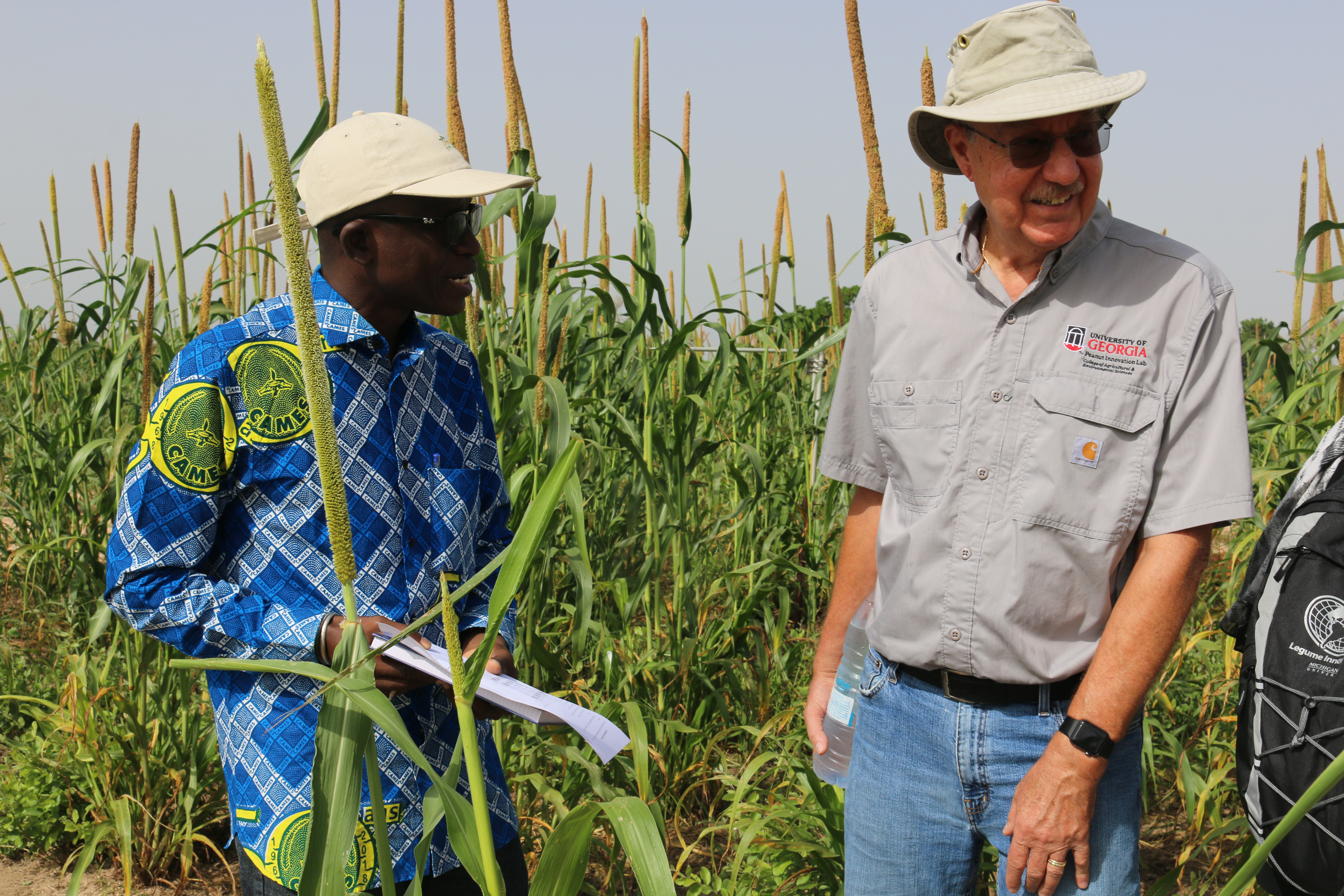 In the poorest part of Senegal in West Africa, 60% of households grow at least some peanuts, even as climate change creates hotter, drier weather that makes it harder to bring in a crop.
Across the continent, in Uganda, families give peanut seeds as a wedding present to help the couple get a good start, although farms there are hit hard by a fungal disease that can destroy a peanut crop.
And in the Southern Africa country of Malawi, which cultivated tobacco for generations, farmers are learning to grow more peanuts to replace the cash crop that is less in demand today.
These farms are tiny compared to U.S. operations — only an acre or two each — but they are key to feeding the world's growing population, keeping children healthy with nutritious food and lifting millions of people out of poverty.
The University of Georgia College of Agricultural and Environmental Sciences is helping them do it through a partnership with the U.S. Agency for International Development (USAID). The Peanut Innovation Lab — technically, the Feed the Future Innovation Lab for Peanut — is a five-year, $14 million program funded through an agreement between USAID and UGA.
"Peanut is an amazing plant that provides health benefits to consumers, agronomic benefits to the farm and economic benefits to producers," said Dave Hoisington, director of the Peanut Innovation Lab. "Tapping into those benefits to improve food security is important, and UGA's College of Agricultural and Environmental Sciences has spearheaded that work for years."
The program isn't a brick and mortar lab, but a portfolio of projects led by researchers across the U.S. and Africa to alleviate hunger by helping farmers in developing countries to grow more peanuts.
Since Georgia is the leader in peanut production in the U.S. – about half the domestic crop is grown in the state – it makes sense that one-quarter of the innovation lab scientists are at UGA. The others are at universities across the U.S. — including North Carolina State University, University of Florida, Virginia Tech, Washington University (in St. Louis), Texas Tech, UC Santa Barbara and Alcorn State — and in Africa.
It also makes sense that many of the scientists would be experts in peanut agronomy, but solving complex problems of food security requires experts of all kinds: entomologists, geneticists, food scientists, economists and sociologists.
For the past four years, Peanut Innovation Lab scientists have been working on 27 projects that dive into the plant's genes to create resilient varieties, uncover how consuming peanuts may help kids do better in school, address the challenges of women and young farmers to make them more successful and more.
Feeding a hungry world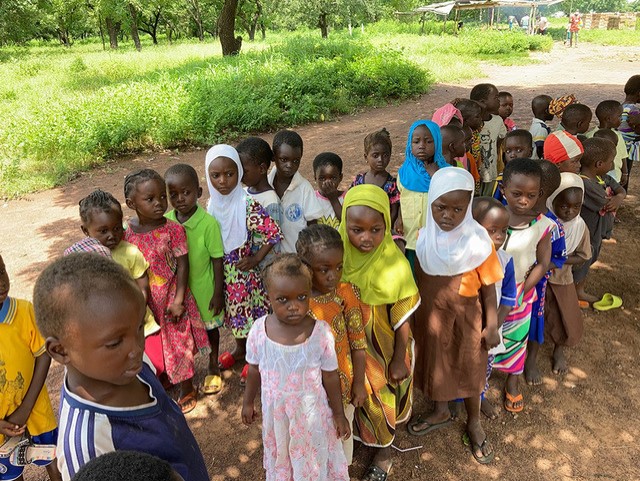 Farmers will need to feed a world population of nearly 10 billion by 2050 — 2 billion more than today — even as farmland is gobbled up by development or changing climate conditions. By producing enough nutritious, affordable food, the world's farmers create stability, help kids do better in school and lift people out of poverty.
Mark Manary, a pediatrician at Washington University in St. Louis, has worked with peanuts for decades, honing the formula for therapeutic food that helps malnourished kids recover. That food — RUTF, or Ready to Use Therapeutic Food — has saved the lives of countless children around the world.
Now, Manary is working with the Peanut Innovation Lab to give hundreds of school children in rural Ghana a daily meal of fortified peanut paste, which is intended to show whether peanut-based foods help children do better in school. Children throughout the developing world get sporadic or very starchy meals at school, but Manary's project will indicate whether a consistent diet of lean vegetable protein in peanuts help kids do better on cognitive tests. (Plus, the peanut-based food is quite popular with kids.)
Increasing yields to improve livelihoods
Cooperative Extension researchers from North Carolina State University, UGA, Virginia Tech, the University of Florida and elsewhere work with the Peanut Innovation Lab to help farmers understand how to get the best crop.
Peanut grows in some harsh conditions, requiring less water and fertilizer than many crops. As a legume that fixes nitrogen in the soil, it's an important part in crop rotations in many places, allowing grain like corn or sorghum to be planted the following year.
As farmers in Malawi look for new crops to replace their traditional cash crop — tobacco — the Peanut Innovation Lab is working with a diversification project to help get improved varieties and proven production techniques into farmers hands. Working with partners in Malawi, Peanut Innovation Lab scientist have helped to create new varieties and train farmers in production practices. For example, as climate change shortens the rainy season, farmers who plant a fast -maturing variety on-time are much more likely to have improved yield.
Mapping peanut's genes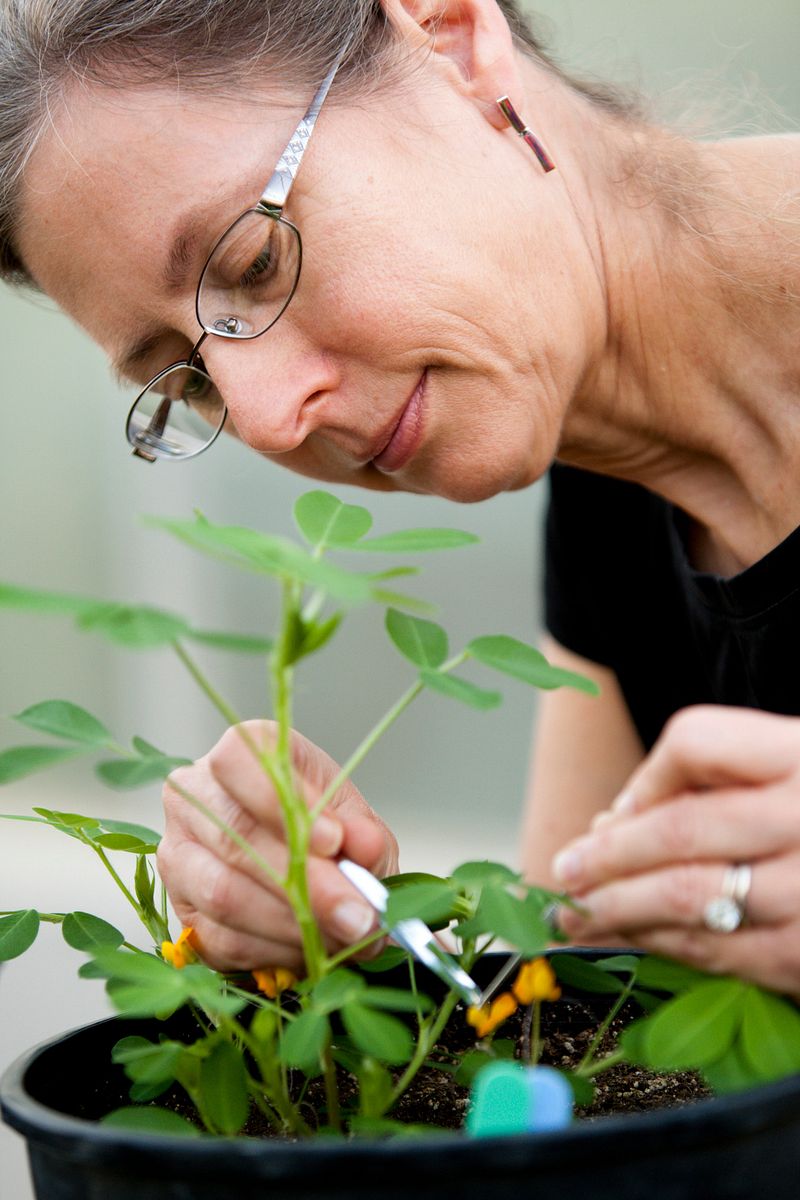 Years of investment into mapping the peanut genome is paying off, as scientists have a better understanding of the strengths of certain peanut lines and can check for certain traits.
Peggy Ozias-Akins' work with peanuts has been recognized for years. A UGA professor of horticulture, she was an integral member of the International Peanut Genome Initiative that sequenced the genes of commercial peanut. Working with the Peanut Innovation Lab, her lab in Tifton has been the hub of a project to understand what genetic resources lie in peanuts grown across Africa.
Four years ago, peanut breeders from across the continent sent Ozias-Akins DNA samples of over 1000 peanut lines that are grown in their area. Working with Daniel Fonceka in Senegal and Josh Clevenger at Hudson Alpha in Huntsville, Ala., the team analyzed the lines from Africa and found which ones are significantly different in order to make a core set of diverse lines from the continent. Breeders across Africa now are using those lines to identify new sources of resistance and to create new varieties that withstand disease and are resilient to climate change.
"Understanding genetic diversity using genome sequence and its association with traits of interest allows breeders to efficiently fill gaps in their breeding programs," Ozias-Akins said.
In 2018, she did similar work to genotype another 2500 lines of African origin that are held in the USDA's germplasm collection. Thirty-six African countries of origin are represented among those lines.
Understanding GRD
One of the most troubling problems in peanut fields in Africa is a viral disease called groundnut rosette disease or GRD. The disease is spread by aphids and can destroy crops throughout sub-Saharan Africa.
Though GRD hasn't appeared in the U.S., agronomists know that it might land here one day; a disease called tomato spotted wilt virus (TSWV) traveled around the world before showing up in Southeastern peanut fields in the 1980s. Faced with a potentially devastating problem, peanut scientists fought back to defend the crop against TSWV, developing resistant varieties and finding production practices that discouraged TSWV. Today, the disease is under control.
The Peanut Innovation Lab has tackled the problem of GRD with the same multi-pronged approach. Through genetics, the lab has worked to identify the natural resistance – the first time the genes have been identified.
Other projects aim to reduce the prevalence of the disease in the field.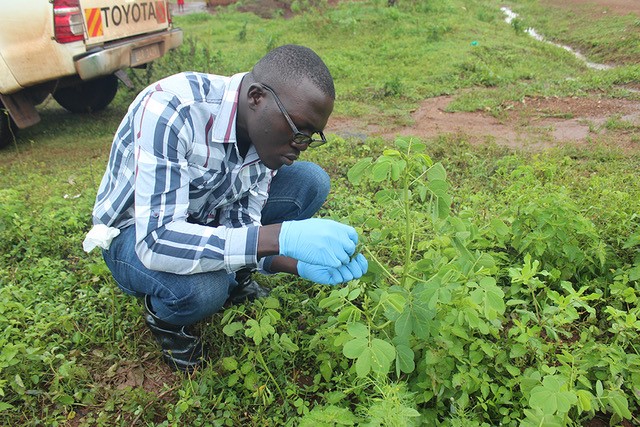 Mike Deom, a CAES virologist, has worked for years to undertand how the aphids and viruses that cause GRD survive over winter when peanuts are not in the field. Working with a grad student in Uganda, Deom's project has discovered the alternative hosts for these viruses — in other words, where they live when peanut isn't around. It's a little chilling that one of the alternative hosts is a weed (sicklepod) that grows in abundance in the Southeasten U.S.
Understanding farmer's lives
To create technology to help farmers, plant scientists first have to understand people — what motivates them, how circumstances limit them, and whether a particular innovation is even useful to them.
Agricultural economists and rural sociologists from Pennsylvania State University, the University of California-Santa Barbara, University of Tennessee and UGA work on different projects to understand the challenges that keep young people from farming or that limit the productivity of women's farms.
Genti Kostandini, in CAES Department of Agricultural and Applied Economics, works with UGA doctoral student Pierre Diatta and Virginia Tech's Brad Mills to explore why young people in Senegal's groundnut basin — where nearly every household grows at least some peanuts — leave the farm to seek opportunities in the city.
Nicholas Magnan, also in UGA's Department of Agricultural and Applied Economics, is working on one of the toughest questions in Ghana's peanut value chain: how to improve the quality and safety of peanut products made from local peanuts. The product his team is focusing on, "kuli-kuli," is made by women in the local market who press peanut cake by hand and fry it. The result can have inconsistent quality or even be contaminated with aflatoxin. Magnan and team are attempting to provide education and training on some simple practices to improve the popular snack food.
"There is a lot of evidence that many of the worst quality groundnuts, and groundnuts most likely to be contaminated with aflatoxin, end up in kuli-kuli," Magnan said. "Our research investigates how providing both consumers and producers with better information can result in a better product without reducing profits."
Tapping into wild relatives
Perhaps the most novel aspect of the Peanut Innovation Lab's work involves research with the wild relatives of peanut, plants that hold genes that can help their domesticated cousins fight disease and withstand heat and drought brought on by climate change.
David Bertioli and Soraya Leal-Bertioli run the Wild Peanut Lab at UGA and work with the Peanut Innovation Lab on a pair of projects in Africa, creating lines of peanut that contain genes from peanut's wild relatives and that can be bred with commercial lines to convey advantageous traits. David focuses on new lines in West Africa, while Soraya focuses on lines being developed in East and Southern Africa.
UGA's College of Agricultural and Environmental Sciences has spearheaded USAID-funded innovation in peanut since the 1980s. Originally called the PCRSP (Peanut Collaborative Research Support Program) and then PMIL (the Peanut and Mycotoxin Innovation Lab), the latest research program was started in 2018 as a five-year initiative called the Feed the Future Innovation Lab for Peanut.