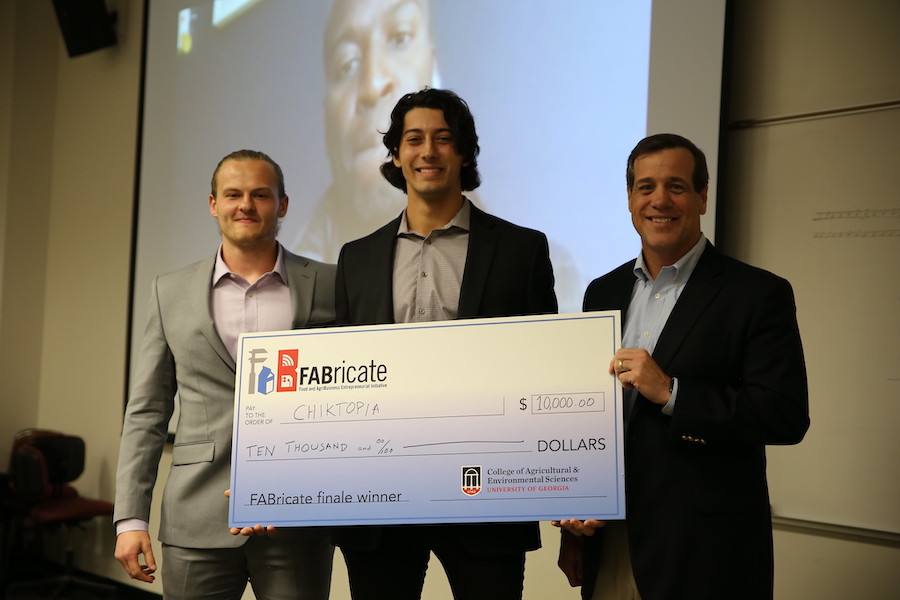 The winner of the University of Georgia's 2022 FABricate Entrepreneurial Initiative competition is a novel automated system designed to help pasture-raised egg producers increase their efficiency.
Conceptualized by a team led by poultry science undergraduate student Chris Ayers and biological engineering student Jeffery Whitmire, Chiktopia is an automated chicken tractor designed to move pasture-raised chickens easily and efficiently while preserving the land and saving labor costs.
A chicken tractor is an alternative form of poultry housing used by free-range and pasture-raised poultry producers to house and transport chickens around their pastures. Current chicken tractors on the market must be moved manually using heavy machinery and farm workers.
Sustainable mobility
The Chiktopia chicken tractor is a solar-powered, self-propelled housing system that can be programmed to autonomously move around the producer's pasture to preserve land quality, said Ayers, who helps run his family's poultry farm in Ball Ground, Georgia. He developed the idea based on his own experiences as a producer.
"Four years ago, I started farming chickens … and I was using rudimentary chicken tractors when I first got started. That got me to thinking how I could make my life easier because my Dad was making me do all the work on the farm," Ayers said.
The system has automated feeding and watering systems, temperature and humidity control, and a hydraulic lifting system to prevent damage to the coops and the land. The tractor is also designed with a passive egg-collection system to reduce collection time and labor cost.
Ayers and Whitmire have produced four iterations of their prototype and are working on a fifth. Ayers said the $10,000 FABricate grand prize will enable Chiktopia to complete the prototyping phase of their chicken tractor design so that they can take it to market.
"There are a lot of alternatives to be tested and considered when finalizing a ready-for-market product, and this funding will enable the Chiktopia team to finalize the development of our chicken tractor," Ayers said.
Ramping up the competition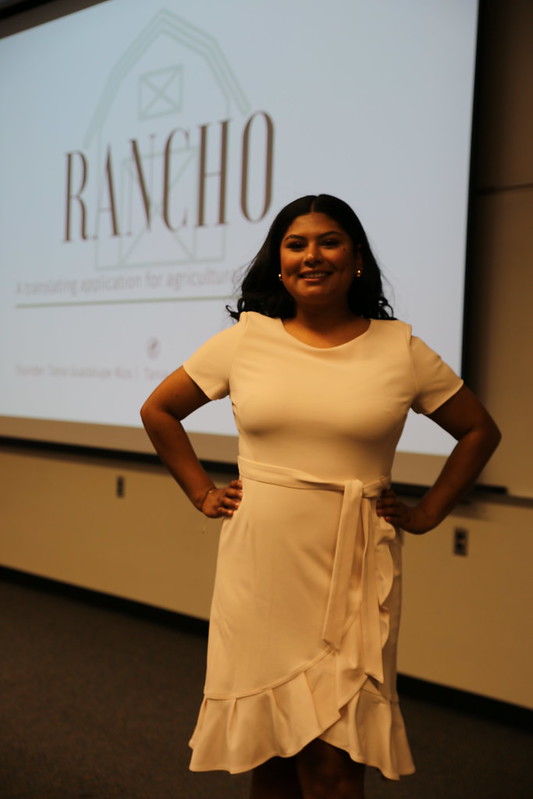 Chris Rhodes, director of industry partnerships and project-based learning for UGA's College of Agricultural and Environmental Sciences (CAES), said the quantity and quality of contestants and presentations has improved every year since the competition was opened to the entire UGA student community in 2020. Originally hosted for CAES students, the competition has been held annually since 2017 and has been co-sponsored by the UGA Entrepreneurship Program since 2020.
"FABricate had the most contestants in its history this year at 20, with the highest average quality of pitches as well. For sure, all six finalists could have won in past years, and probably all 11 semifinalists could have on the right day," said Rhodes.
In addition to Chiktopia, the 2022 FABricate finalists were:
"I just can't say enough good things about the quality of the work the teams put in over the last few months, and I'll be surprised if we don't see at least five of these companies in successful operation five years from now. It's really a tribute to the creativity, smarts and hard work of the students that they did so well, and it also reflects the community of entrepreneurs that is building up at UGA," Rhodes added.
Judges for the competition included Keith Kelly, 1980 CAES graduate and president of Kelly Products Inc.; Stefan Caspari, senior vice president at AGCO; and Francis Ebong of X (formerly Google X), The Moonshot Factory.
"I may be the only person who has seen every FABricate final, and I can verify that this group was the best prepared overall of any I have seen so far," said Kelly, a founding sponsor of the FABricate competition. "It's really great to see how the students have taken to this type of work and are getting better every year."
About FABricate
FABricate is an annual entrepreneurial pitch contest where students develop their idea for a new food product, new agricultural technology, new food or agriculture-related business, or new environmental or sustainability business.
To learn more, visit caes.uga.edu/fabricate.