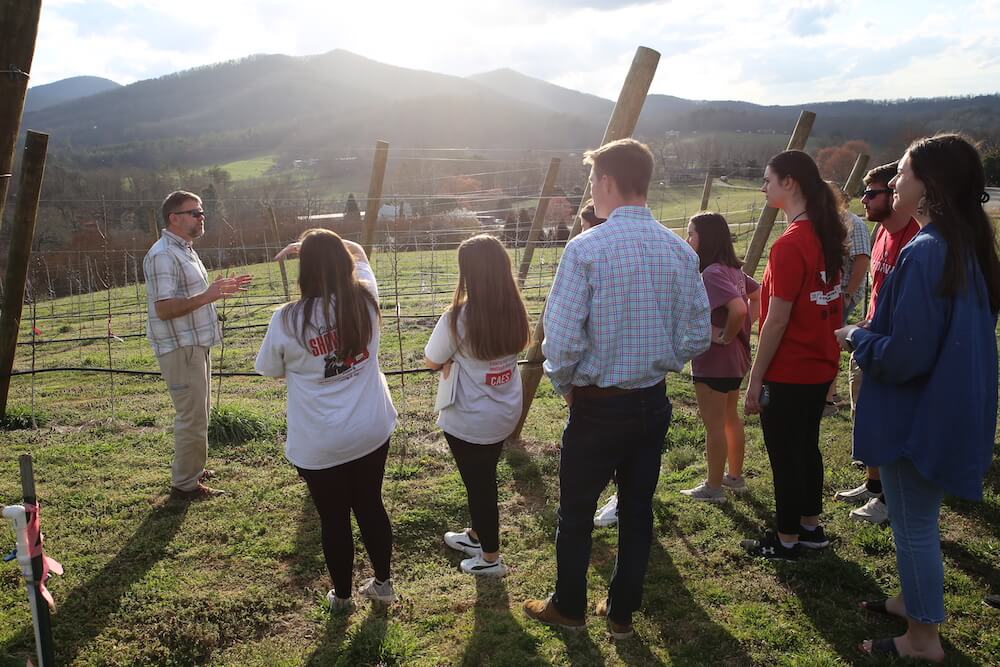 Red barns, green pastures and the sound of roosters crowing at the crack of dawn.
These are the images that come to mind when agriculture comes up, but ask the students who climbed aboard the charter bus for the 2022 Spring Break Tour through Georgia Agriculture, and what they say will broaden your perspective.
Each year, students in the University of Georgia's College of Agricultural and Environmental Sciences explore the state's largest industry in a way that many will never experience.
Starting in the northern hills and trailing through the Piedmont region all the way to the sandy Coastal Plain, students tour a diverse range of agricultural operations and organizations and meet the people behind the scenes. This year, 13 students visited 24 different farms and organizations, getting an intimate look at all aspects of the industry, from research and engineering to marketing and education.
"As someone who does not come from an agriculture background, it was eye-opening for me," Siara Zedonek, a senior biological science major, said of the trip. "I was able to encounter new things I've never been exposed to. I had wonderful instructors to help me understand unfamiliar terms and answer questions and had conversations that led me to want to learn more about agriculture in general. Visiting the different farms and businesses inspired me to be more aware and familiarize myself with the world of agriculture."
One of the first stops on the week-long odyssey through Georgia agriculture was a tour at Mercier Orchards in Blairsville. As David Lillard discussed the intricacies of helping operate a family-run business, students learned the value of diversification and innovation in agriculture through the story of how the business has expanded from a simple apple orchard to a thriving agritourism destination. Among the enterprises they've developed are a small market selling local and Georgia-grown goods, a bakery, a café, a candy kitchen and a winery offering wines and hard cider grown, pressed, fermented and bottled on site.
"The largest takeaway from Mercier was the importance of the ability to diversify your company," said Sage Barlow, a sophomore poultry science major. "By diversifying the business, Mercier is now a third-generation farm and has fifth-generation families working for them. The decision to go from strictly apples to other products allows the company to stay open all year long."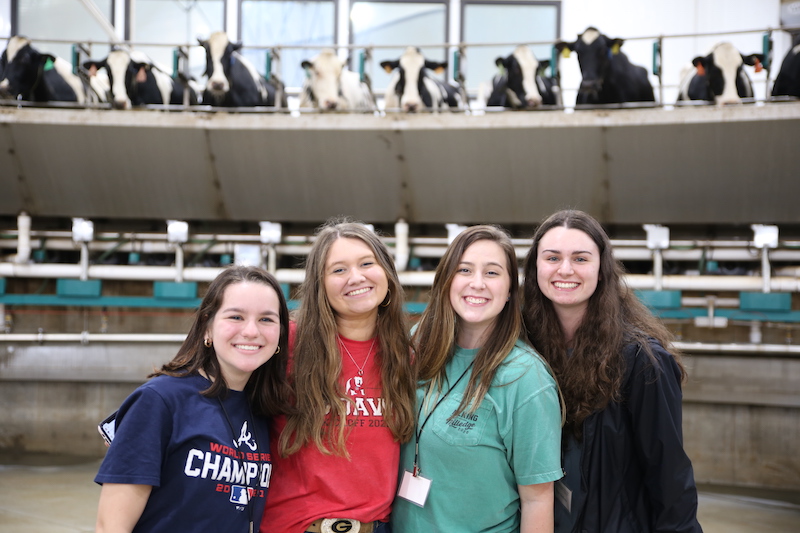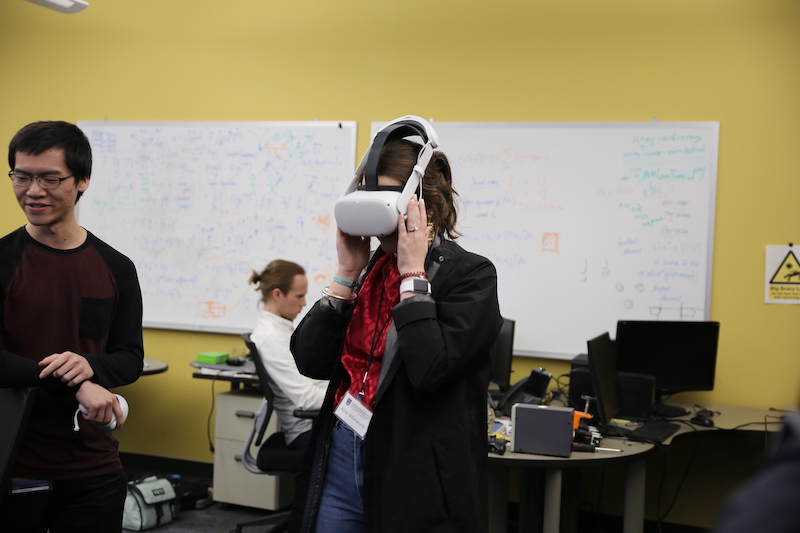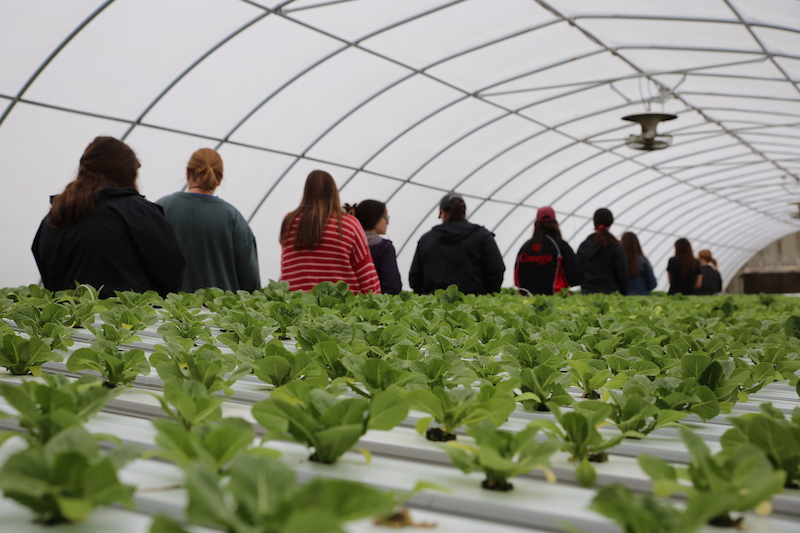 Throughout the week, students experienced innovation in agricultural technology, research and practices firsthand. A visit to the Agricultural Technology Research Program (ATRP) at Georgia Tech highlighted the collaborative work between UGA and its sister institution on poultry processing advancement such as virtual reality technology that is poised to change the landscape of poultry processing and address labor challenges within the industry.
In Peachtree City, a visit to Alō Farms opened their eyes to the possibilities of urban agriculture as they learned about aquaponics use in food production systems for leafy greens and toured the 20,000-square-foot controlled environment facility, where they harvest 4,320 heads of lettuce, 1,200 heads of curly kale, 75 pounds of arugula, 50 pounds of basil and up to 300 pounds of microgreens each week.
"This farming operation made a lasting impact on my vision of agriculture. I believe that urban farming methods like this operation are going to be essential to feeding and sustaining our world's ever-growing population," said Bailey Rayfield, a junior studying agriscience and environmental systems. "As a young person who has grown up in rural agriculture-based communities, this farming enterprise exemplified how we can maximize land use and facilities that are located in more urban areas."
At Thrush Ag Aviation in Albany, the CAES agritourists experienced the manufacturing side of the industry while observing the assembly of crop-dusting planes. At Lewis Taylor Farms in Tifton and A&M Farms in Lyons, the group learned about increasing efficiency in the packing sheds.
Each time the voyagers climbed back on the bus for the next leg, they shared the impact of what they witnessed and drew connections to what they had learned in their classrooms on campus. And the wheels kept rolling, bringing new perspectives and inspiration to the bright minds who will soon lead the state's largest industry.