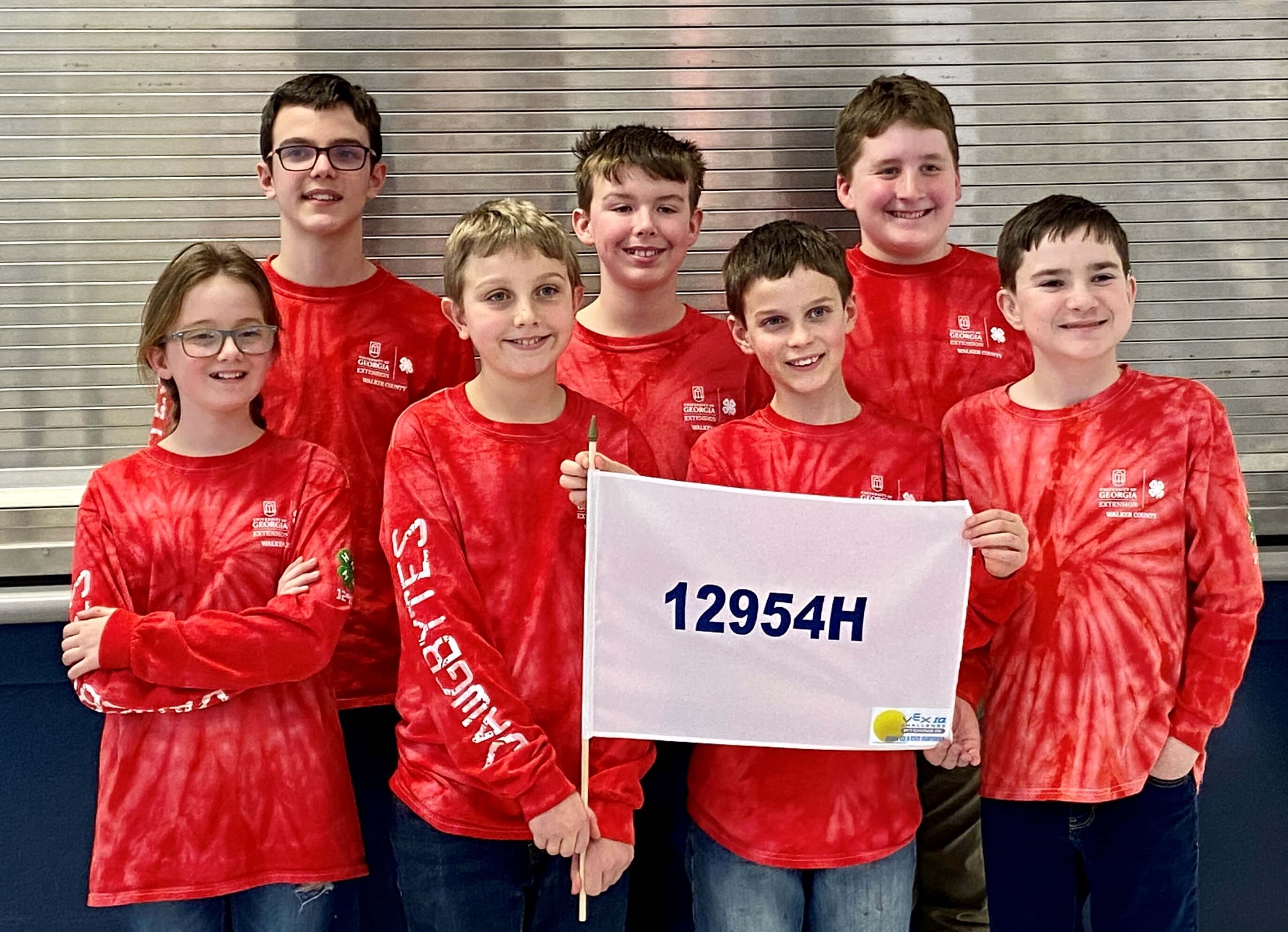 Seven Georgia 4-H'ers earned a shot at the 2022 VEX Robotics World Championship after competing at the Georgia VEX IQ Challenge Robotics competition. The Walker County 4-H Robotics Team earned the final Georgia spot at the world championship event this May in Dallas, Texas.
The VEX IQ division of robotics competition involves building and operating a robot that competes in the "Pitching In" challenge. Pitching in requires the robots to earn points by moving or throwing balls in an obstacle course. The challenges incorporate pre-coded movement, joystick driving and team strategy. Teams earn points based on how well their robots move or throw balls within the robotics grid.
Four middle school 4-H'ers and three elementary school 4-H'ers make up the Walker County team known as the "DawgBytes." Team members include Sam Brown, Mike Hardinger, Gregory Hobbs, Liam Logan, Chyanne Martin, Brendan Matteson and Grant Matteson. These students span six different schools in Walker County. The DawgBytes are guided by adult volunteers who offer support as students lead the charge. Volunteer coaches include Jason Hobbs, Joe Matteson and Wendy Matteson.
Walker County 4-H DawgBytes are a unique team in that they are not school-based. Weekly practices help the team prepare for competition, and students work independently on specific aspects of the design outside of practice. Working together, team members held individual leadership positions including designer, builder, programmer, notebook recorder, tester, driver and leader.
Named for the beloved UGA running back James Cook, "Cook" is the latest robot designed by the DawgBytes. Cook is a push bot design with a slide mechanism to allow the robot to hang.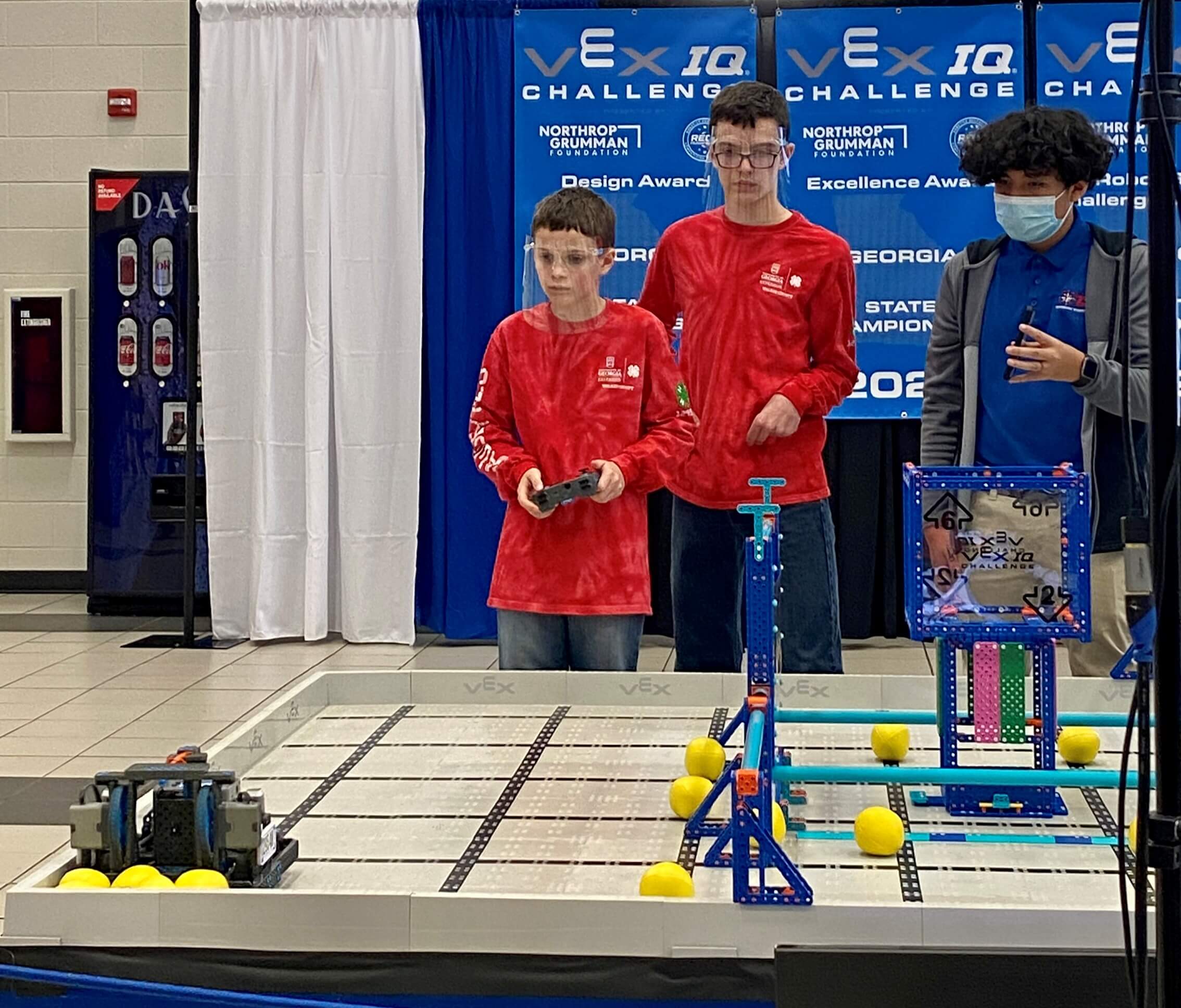 Previous robots from the season include "Stetson" and "JT," as the team attempted both flywheel and catapult designs to throw the balls. In addition to physical robots, the Walker County team created an engineering notebook that received a design award earlier in the year.
Casey Hobbs, Walker County 4-H agent, is excited that the DawgBytes are the first Georgia VEX IQ team to qualify for the world championship. "Kids are transformed when they participate in 4-H robotics," Hobbs reflects. "It opens their eyes to careers in STEM, it validates their intelligence, provides self-confidence, and it empowers them to create. Our goal is to make engineering and robotics accessible to all the youth we serve." Walker County 4-H plans to expand its robotics program to include a robotics camp and greater coding and building capacity to increase opportunities for students of all ages.
Walker County competed in two regional matches before qualifying for state and then the world championship.
The 2022 VEX Robotics World Championship is presented by Northrop Grumman Foundation, uniting the robotics community to compete and celebrate STEM excellence. Student-led teams ranging from the elementary to university levels will showcase their game strategy, design and teamwork skills to be crowned champions at this world-class global event.
Georgia 4-H empowers youth to become true leaders by developing necessary life skills, positive relationships and community awareness. As the largest youth leadership organization in the state, 4-H reaches more than 240,000 people annually through UGA Cooperative Extension offices and 4-H facilities.
For more information about STEM and robotics in Georgia 4-H, visit georgia4h.org or contact your local Extension office.