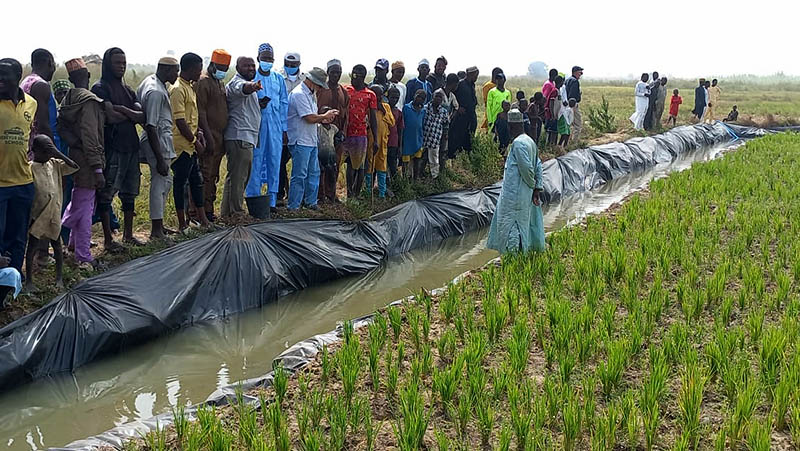 A program led by University of Georgia agriculture researchers is helping Nigerian rice farmers diversify food production through aquaculture systems that integrate raising native catfish in rice fields.
The project's primary objectives are to develop integrated rice-fish production technology, develop management practices among farmers and stakeholders, and determine productivity, profitability margins and willingness for producers to adopt this new technology. The researchers are also measuring consumers' willingness to consume fish and rice produced from an integrated farming system.
"The program is helping to diversify the farming systems that they have in place so rural smallholder farmers have the opportunity to increase their productivity and the diversity of foods that they grow, improving their income as well as their nutrition outcomes," said Amrit Bart, a professor in the Department of Animal and Dairy Science (ADS) in UGA's College of Agricultural and Environmental Sciences (CAES) and an internationally recognized expert in aquaculture.
Supporting communities
The program aims to address "the double burden of undernutrition and undernourishment prevalent in most Nigerian states due to food and nutrition insecurity, unemployment and underemployment, and inefficient market systems that lead to food losses," according to the project funding proposal.
The project involves farmers in the northwestern state of Kebbi and the southeastern state of Ebonyi in Nigeria who previously grew rice as a monoculture — or single crop — system, either for local consumption or for sale in regional markets.
"In these areas, diet is fairly limited in terms of diversity, so one of our concerns has been that children and lactating mothers don't get enough nutritious food. These nutritional deficiencies are often transferred from mothers to the babies," said Bart, adding that nutritional deficiencies can inhibit growth and normal development, both physically and cognitively, in children. "The goal is to provide opportunities for small-scale rural farmers to do better and, in combination, provide a source of protein and a more balanced diet to communities in the area."
Launched in September 2019, Bart and other project leaders met with local farmers, community leaders, extension agents and partners with the University of Ibadan in Lagos. The team gathered data on the program's progress and provided additional training for producers on incorporating aquaculture into their rice fields.
"We met with the farmers and talked with them about the benefits of an integrated system such as this, and addressed some of the technical and logistical challenges the farmers are facing in maintaining the systems," Bart said.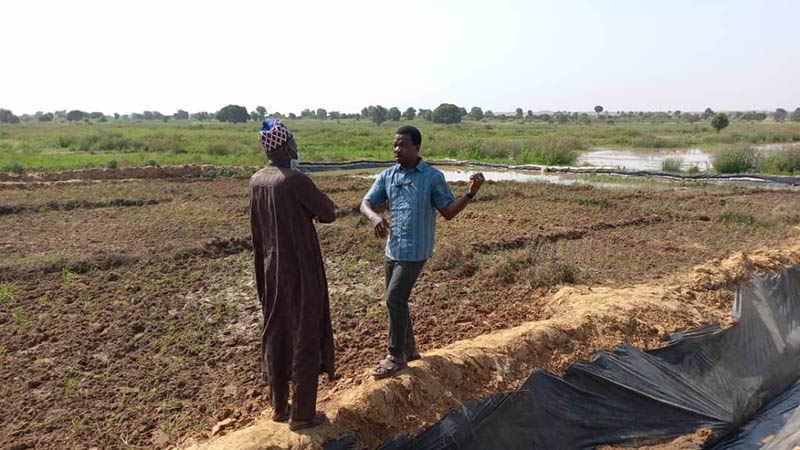 Building infrastructure
The program funded the construction of the pilot systems at six farms, providing designs, materials, fish stocks and fish feed, as well as training and connections to local resources to help them sustain the aquaculture systems.
"We formulated feed from locally available ingredients that provides a complete diet for the fish and is readily available. We stocked the fields with local catfish that they have familiarity with," Bart said.
Combining aquaculture in rice fields is a common practice in parts of Asia, and Bart helped develop techniques for the practice when he was director of the Asian Institute of Technology in Thailand and Vietnam. He learned that stocking fish or shrimp in rice fields both added an additional crop and increased rice productivity without using additional land or water.
His team used some of those same concepts in the Nigeria project.
"This is not a new practice, but it is not something that is practiced in Africa," said Bart, adding that climate and geography differences at the sites in northern and southern Nigeria required adjustments to the systems. "We first had to introduce the concept to farmers in Nigeria to recruit participants, then we provided resources and technical inputs on how to restructure their rice fields to accommodate fish, how many and what size fish to stock, and how to provide supplementary feed."
Depending on the needs of each producer, researchers helped customize the systems for each site.
"We're allowing local solutions for these problems for the purpose of sustainability. When the project ends, we want these producers to be able to continue to run these farms without project assistance, so we are being bold in helping them look for solutions that work for them."
Calculating impact
Once the farms begin the cropping cycle, student researchers from the University of Ibadan will monitor water quality, rice and fish growth rates, need for weeding or pesticide application, and final harvest.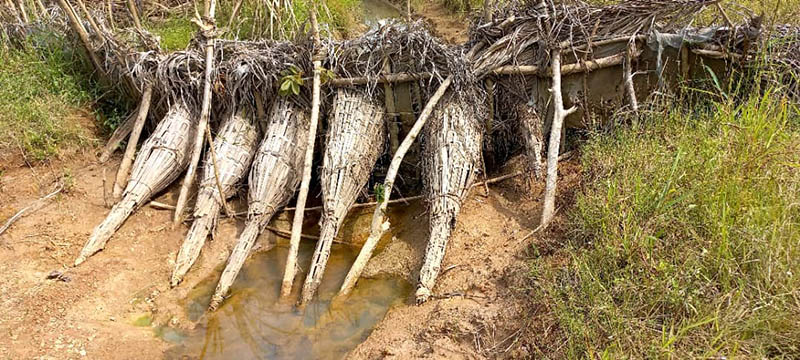 "Our students will also monitor what the farmers will do with the fish and additional income," said Bart, referring to whether they use the fish to feed their family, share with the community or sell at the market. University students will also collect data to determine the socioeconomic benefits of the integrated systems.
To determine nutritional benefit, participating farmers were surveyed on food habits, eating patterns, and diet quantity and quality. After the project is complete, participants will be surveyed again to determine how their nutritional habits have changed.
"Fish is something you can catch one or two at a time and bring into the home to cook every day or every week, as opposed to goats or other larger animals that, once harvested, must be consumed quickly because of lack electricity for refrigeration. Access to and availability of fish is a sustainable solution to those with nutritional needs," Bart said.
Staying power
Once farmers begin harvesting fish and realize the benefits to themselves and their communities, project participants expect that the demand for this practice will increase. The local researchers and extension agents the UGA team is working with will continue to help source inputs, including seed and feed.
Project partners are currently discussing the potential next phases of the project, including developing local hatcheries to produce high-quality fish seed and working with local small-scale animal feed producers to help scale up and expand beyond pilot sites.
The project is funded by the U.S. Agency for International Development (USAID) Feed the Future Innovation Lab for Fish led by Mississippi State University in partnership with the Food and Agriculture Organization (FAO) of the United Nations, the University of Ibadan and UGA.