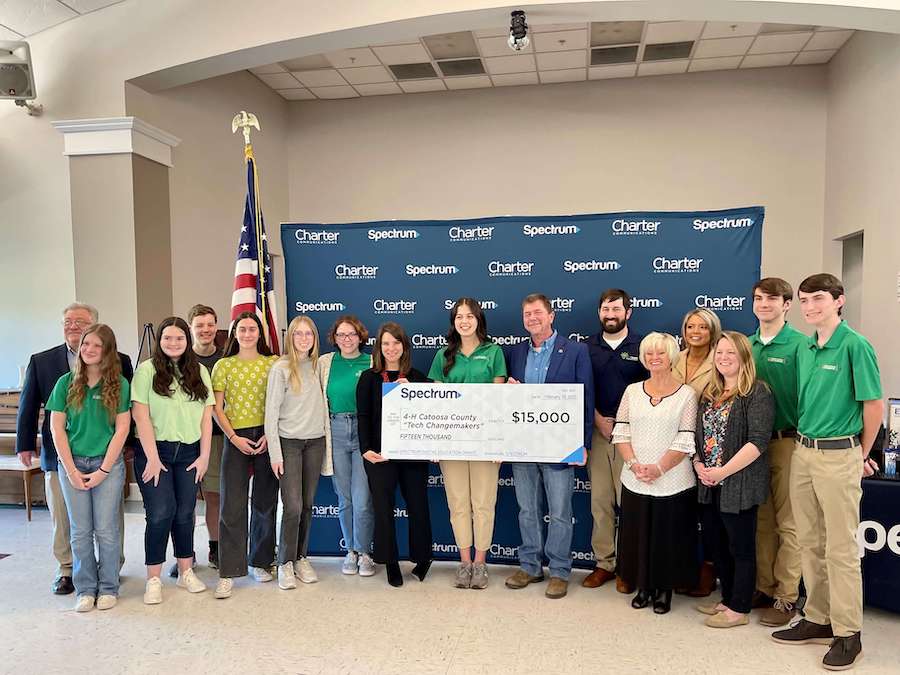 Catoosa County 4-H received a $15,000 Digital Education Grant from Spectrum that will support the work of the Georgia 4-H Tech Changemakers program. This grant is part of a multimillion-dollar commitment by Spectrum to provide digital education to communities nationwide.
The 4-H Tech Changemakers program connects 4-H youth with adults to teach essential skills in using technology safely and effectively. Students across Georgia participate in this initiative and provide hands-on learning for adults in areas such as resume building, online shopping safety, phishing awareness and email etiquette.
Funding from the Spectrum grant will enable the 4-H Tech Changemakers to outfit the Catoosa County Senior Center with a technology lab that will be used to equip older adults with comprehensive digital literacy skills. The lab will include computers and other digital equipment, as well as a space for guided learning opportunities.
"Due to the generous funding from the Spectrum Digital Education grant, we can provide new and needed technologies to the Catoosa County Senior Center," said Johnathan Barrett, executive director of the Georgia 4-H Foundation, which received the grant on behalf of Catoosa County 4-H. "Our 4-H youth are seen as technology experts in this project, teaching the center's patrons practical digital skills. Being able to replace old, outdated equipment allows the seniors to continue to receive high-quality educational experiences led by our 4-H Tech Changemakers."
It is the first time Spectrum has awarded a grant of this type in Georgia.
"We applaud the Georgia 4-H Foundation for their broadband education initiatives and for helping us support efforts that promote digital literacy in the Catoosa County and Ringgold communities," said Rahman Khan, vice president of community impact for Charter Communications Inc., which operates the Spectrum brand of broadband connectivity products. "Through this partnership, the Spectrum Digital Education program is able to bring essential resources to those in need, and we look forward to working with them on this transformative project."
This cross-generational approach to technology is unique to the Georgia 4-H Tech Changemakers program. Kasey Bozeman, Extension 4-H specialist for STEM initiatives, is excited about the expanded opportunities this grant will provide.
"Making online purchases, paying bills electronically, connecting with family and friends, and accessing new information are some of the many things we do daily with the internet and our devices," Bozeman said. "Time and time again we've seen many people who lack digital literacy skills run into problems because they have weak passwords, fall for phishing attempts, or share false information they've found online. Programs like 4-H Tech Changemakers allow digital-native 4-H youth to teach adults valuable knowledge and skills. This intergenerational project allows youth to contribute to their community in a meaningful and much-needed way."
Charter Communications is a leading broadband connectivity company and cable operator serving more than 32 million customers in 41 states through its Spectrum brand. Over an advanced communications network, the company offers a full range of state-of-the-art residential and business services including Spectrum Internet®, TV, mobile and voice.
Georgia 4-H empowers youth to become true leaders by developing necessary life skills, positive relationships and community awareness. As the largest youth leadership organization in the state, 4-H reaches more than 240,000 people annually through UGA Cooperative Extension offices and 4-H facilities.
For more information about 4-H Tech Changemakers, visit georgia4h.org or contact your local UGA Extension office.