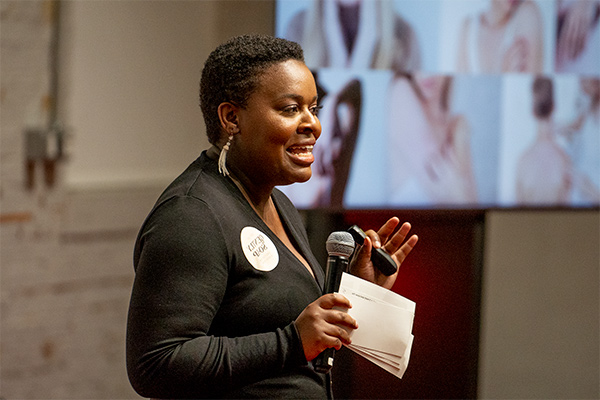 When Kristen Dunning participated in her first UGA Entrepreneurship Idea Accelerator Program, she was a woman with sensitive skin, a knack for plants and a dream of selling soap to the masses.
Sixteen months and 2,100 soap orders later, Dunning has workshopped her idea, perfected the graceful pivot and is on her way to mass marketing her product, Gently Soap.
"If 70% of people say they have sensitive skin, why do I feel like I'm playing Russian roulette every time I walk down the personal care aisle?" Dunning told judges at the inaugural UGA Venture Prize Competition sponsored by Floor and Décor. "It's from that question that Gently Soap was born."
From making soap in her kitchen to contracting with a third-party manufacturer, Dunning will start selling her wares on Amazon and in a major department store later this year. Her persistence and record of pounding the pavement to make sales impressed judges during the pitch competition at Studio 225 on Feb. 24.
Dunning, a master's degree candidate in the College of Agricultural and Environmental Sciences, teared up as she accepted the top prize and a giant $10,000 novelty check from Hairy Dawg, the night's honorary emcee.
"Entrepreneurship is as much about having persistence and the willingness to refine an idea as it is about having that one breakthrough concept," said Bob Pinckney, the Milton Anthony (Tony) Green Director of Entrepreneurship. "Each of these teams has come so far in that process. We are amazed at what these teams have accomplished, and we can't wait to see what each of these companies will become."
Atlanta-based hard flooring retail chain Floor and Décor sponsors the competition, featuring one of the biggest prizes in the UGA pitch contest ecosystem. Several experienced student entrepreneurs competed this year, as six of the 10 teams are in business with plans to use the prize money for expansion. The others had ideas firmly in place but needed money to build and test prototypes.

Thryft Ship, an online platform making shipping easier for Instagram merchants, took second place and a $5,000 prize. Valeria Brenner, majoring in marketing and international business at the Terry College of Business, launched Thryft Ship after participating in the UGA Entrepreneurship Program's Idea Accelerator and Built/Test Accelerator programs.
With her winnings, she plans to upgrade her service website with a subscription model allowing Instagram merchants to offer customized shipping labels and package-tracking pages.
The third-place winner, Chiktopia, won $2,500. The Chiktopia team, comprised of poultry science student Chris Ayers, agricultural engineering student Guy Gober and biological engineering student Jeffery Whitmire, presented a video of an automated chicken tractor — a rolling chicken pen helping farmers increase the efficiency of pastured egg production.
Judges for the competition included Chuck Kinnebrew, retired vice president for diversity and inclusion at Floor and Décor; Debbie Butcher, brand entrepreneur and president of Sparkling Life Essentials; Simran Modi, senior associate at Peachtree Minority Venture Fund; Richard Stamper, founder and CEO of FineLine Technologies; and Steve Hasty, principal at Circadian Ventures.
The UGA Entrepreneurship Program is housed in the Terry College but serves all of UGA. The program's mission is to develop the mindset of future entrepreneurs and prepare students for business leadership roles. The UGA Entrepreneurship Certificate program is open to all UGA students. Most UGA Entrepreneurship Program accelerators are open to UGA students and Athens community members.