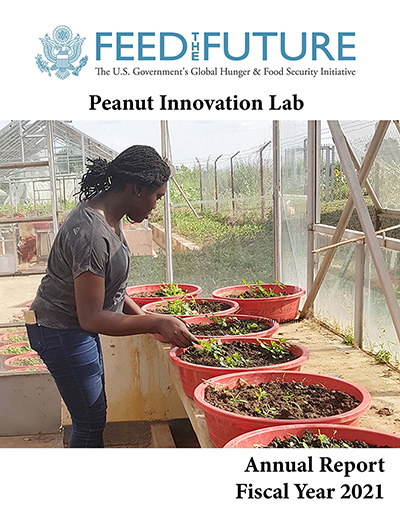 All Peanut Innovation Lab projects made significant advances during FY21, despite the many limitations imposed by the COVID-19 pandemic. Strong partnerships with national program partners kept research moving forward, and virtual communication tools meant everyone stayed in touch.
10 phenotyping trials were completed in 7 countries, assessing 300 diverse lines in the African core set.
-Several lines had advantages over local varieties, including better resistance to fungal and viral diseases, more tolerance to water stress, and desirable seed traits.
Genotyping 4000 accessions in the USDA collection found 50 lines that add missing diversity to the core set.
-Seed of these additional lines will be sent to the African programs to include in future field trials.
Over 300 lines containing wild species introgressions were tested in Senegal and Uganda.
-Lines with nematode and leaf spot resistance and better seed size are being advanced and crossed to local varieties.
More efficient high-throughput phenotyping tools were found to help breeders.
-Handheld RGB and infrared cameras were correlated with disease ratings and even plant vigor. UAV mounted cameras offer even quicker data acquisition – only 10 minutes per field as opposed to an hour with handheld devices.
An accession from the USDA genebank was found to be highly resistant to Aspergillus flavus, the fungus that produces aflatoxin, using the single-seed assay and two biochemicals identified to significantly inhibit A. flavus growth.
-Efforts are underway to introgress the resistance into African lines including high oleic varieties.
Better agronomic packages involving optimal plant density, better weed, pest and disease management, and optimal harvest are in their second or third year of field trials in Ghana and Malawi.
Farmers in Senegal were introduced to the use of indigenous shrubs interplanted in groundnut fields, a system that is showing promise in improved water availability and soil fertility after the first year of testing.
The second round of nearly 1100 household surveys in Senegal and almost 200 in Ghana have provided a better picture of the role of youth and gender in the ground value chain. In Senegal, researchers captured how youth out-migration is significant, but also how young people who return home provide much needed labor and financial resources.
-In Ghana, research showed that both genders deal with time poverty, but there are significant differences in the way men and women perceive each other's time use.
A time-use project in Senegal completed a pilot study in the USA to validate wrist-worn devices to monitor and record audio.
-Initial results suggest that this method is equal to or more accurate than traditional written instruments but may offer advantages of scaling and the ability to work with non-literate people.
Photos were captured by young people in two villages in Uganda.
-Discussion of the photos provides new insight into youth involvement along the groundnut value chain.
Trials of ready-to-use school food got underway in northern Ghana.
-Students were enrolled and their health surveyed. The trials will monitor students for improved health and cognitive learning as they consume peanut-based foods.
Read the full Peanut Innovation Lab Annual Report.