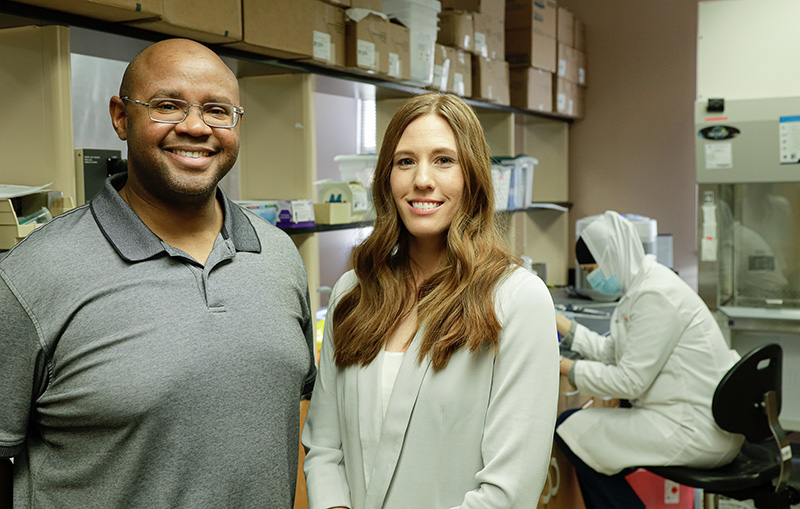 The Georgia Board of Regents approved a new regenerative bioscience undergraduate major in the University of Georgia Department of Animal and Dairy Science (ADS), which will begin enrolling students in fall 2022.
A rapidly growing field, regenerative bioscience combines expertise in biology, chemistry, engineering, genetics, human and veterinary medicine, imaging and other fields to "develop new ways to replace, repair, or regenerate human and animal cells, tissues or organs" damaged by injury or disease, including heart disease, stroke, Parkinson's and Alzheimer's disease.
Development of the new program curriculum was led by College of Agricultural and Environmental Sciences (CAES) ADS faculty members Franklin West, associate professor, and Holly Kinder, lecturer, both with the Regenerative Bioscience Center (RBC).
"One of the strengths in the department is our regenerative bioscience expertise, and we developed this new major to address the needs in the industry and in Georgia, which is expanding in the bioscience sector and health industry," West said. "The idea was to prepare students for those existing jobs and create a curriculum with an eye towards the future of the industry in the state. There is a growing interest in regenerative medicine. We think this is the future and we want to be one step ahead of the curve in preparing students for the fields of human medicine, dentistry, veterinary medicine and related career paths."
In 2019, there were more than 987 regenerative medicine companies worldwide, with 534 companies located in North America. Georgia has more than 570 bioscience facilities, many having a strong regenerative bioscience focus, and the state is ranked among the top 15 for overall bio-related occupational employment. Georgia was ranked sixth among the fastest-growing states in bio-related employment, according to data gathered in support of the new major.
Coursework for the degree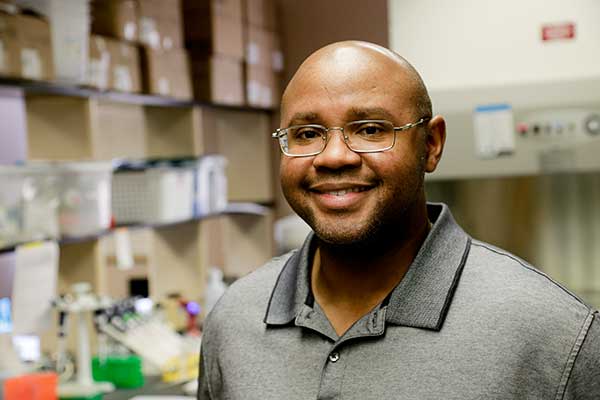 In addition to foundational classes in math, biology and chemistry, course work for the major will include anatomy and physiology, biochemistry and genetics, developmental and cell biology, and disease and pathology.
Five additional required classes specific to the major will include "Introductory Regenerative Bioscience," "Animal Biotechnology," "Therapies for Tissue Repair and Regeneration," "Engineering Living Organisms" and a senior capstone course in regenerative bioscience.
"We are adding in new coursework where students will gain a deeper understanding of cell signaling and dynamic changes in cellular and tissue function that can lead to tissue regeneration. This will cover everything from nanoparticles and bioscaffolds to stem cells that promote tissue regeneration," said West, adding that the major will also include medical imaging modalities and engineering principles. "We're leveraging the world-renowned expertise that the Regenerative Bioscience Center is already known for throughout the country."
Kinder, who earned her bachelor's degree in animal science in 2012 and her doctorate in neuroscience at UGA in 2017, believes the new major and coursework will open new avenues of study to students interested in human and animal health. It was her own experience as an undergraduate that led her to pursue an advanced degree in the field.
"I remember when I was in college, I knew very little about research. I had no idea about all the amazing research opportunities that are available on campus, so that spurred me to develop an introductory regenerative bioscience class where I expose students to what the field is, and I tie it into ongoing research here at UGA," she said.
Originally a pre-veterinary student who then planned to teach science, Kinder credits West for "completely changing my life."
"It's funny how one class can change everything. I took his class and it was at that moment I realized that there was this entire field I didn't even really know about, but that was exactly what I was interested in," Kinder said.
Multiple career paths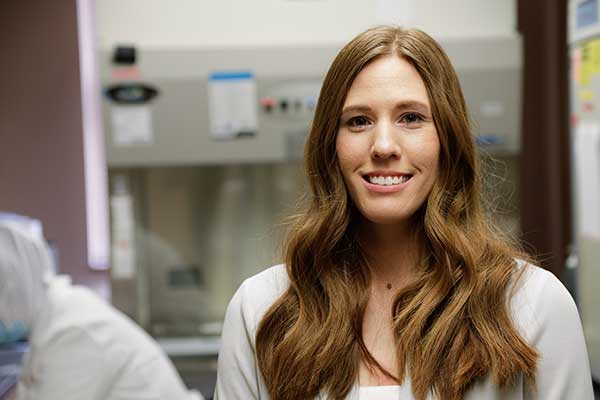 The major will supplement coursework with seminars and industry panels with leading experts in the field to demonstrate the range of careers the major can prepare students for.
"Last semester I brought in a recent graduate from Dr. West's lab who works in medical science communication to talk about her job. She takes complex hard-science concepts and boils it down into information that is easier to disseminate to the non-scientific audience. I had a student come up to me after class to say, 'I think I just figured out my dream career.' It is those moments that are so inspiring," Kinder said.
Samantha Garcia, a first-year student from Cumming, Georgia, was fairly certain she wanted to take a course of study that would prepare her for veterinary or medical school, but she didn't want to be locked into a schedule of classes that wouldn't serve her purposes should her path change.
"I talked to the advisor when I came in as pre-vet because I came in with doubts about vet school. I wanted options that would not tie me to vet school or medical school because I wanted to see what both fields offered," Garcia said.
She signed up for the "Introductory Regenerative Bioscience" course taught by Kinder in fall 2021 and was immediately excited by the options the field presented that she wasn't aware of before.
"Dr. Kinder presented the class in an exciting way that immediately struck my interest in the field. She started listing all of these undergraduate research opportunities that I would never have expected," Garcia said, adding that it is easy to get caught up in the litany of chemistry and biology classes required for pre-medicine and pre-veterinary students. "This course sparked my interest in a whole new world and a field of medicine I'd never seen before. It gave my major some purpose and real experiences that were outside where I am learning and that were happening in my own backyard."
Garcia said she jumped at the opportunity to do undergraduate research as a first-year student and is eager to switch to the new regenerative bioscience major in the fall.
"Doing undergraduate research and seeing what I was studying come to life was so cool. To bring my education and my outlook together in one makes me feel so much more secure in my passions and for my future career," Garcia added. "Many students who want to pursue a career in medicine think there is only one pathway, but there are many other options and paths you can take. That is something I would not have known had I not taken that course."
For information on the new regenerative bioscience major, contact the Department of Animal and Dairy Science.