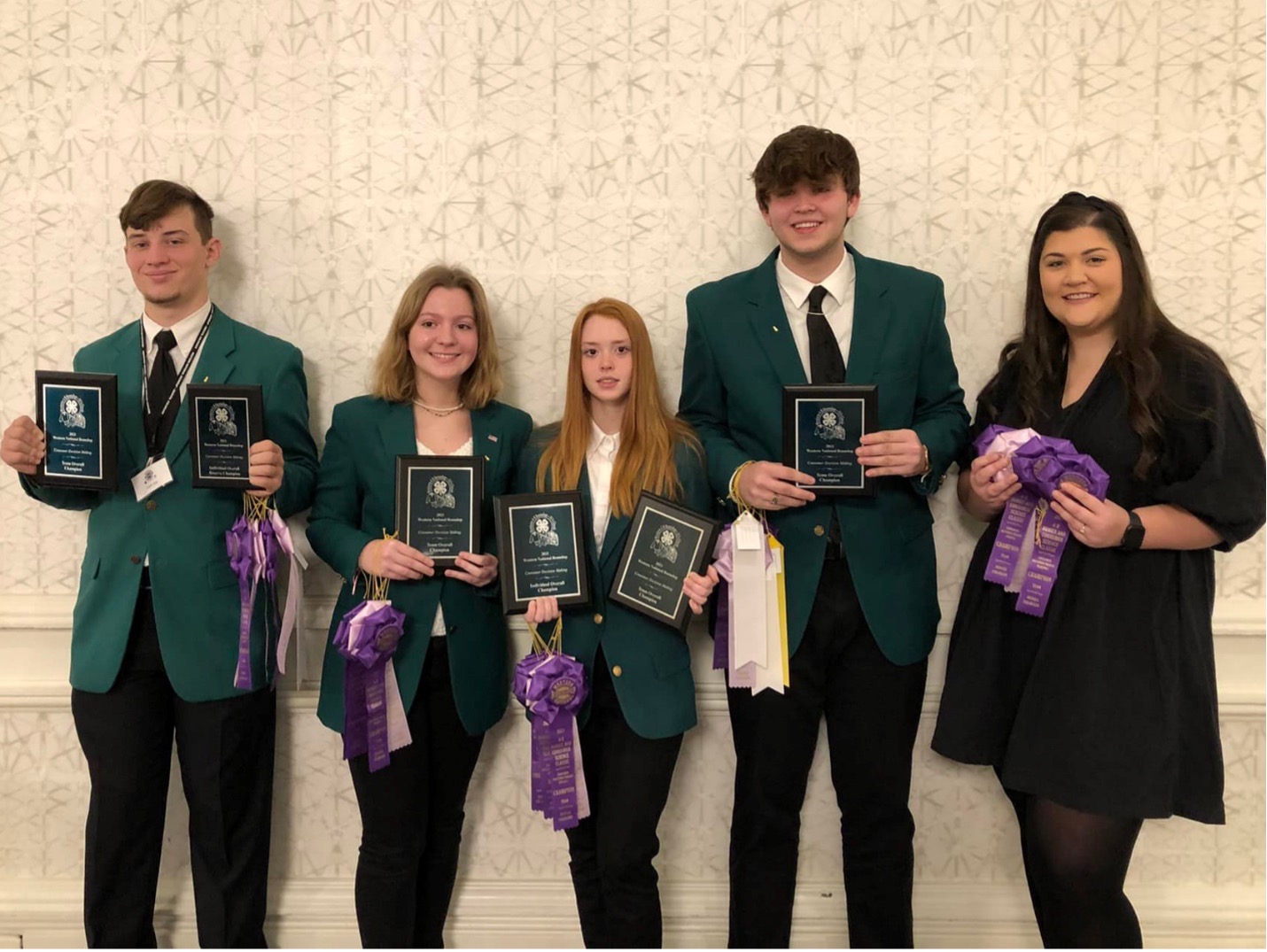 Ben Hill County 4-H'ers Liam Jay, Ashley Braddy, Lauren Wixson and Timothy Lord returned as national champions from the Consumer Decision Making Contest in Denver, Colorado, on Jan. 9. The Ben Hill County team won first place in the overall contest and Lauren Wixson earned the title of High Individual. The team was coached to victory by Laura Lee Williams, University of Georgia Cooperative Extension 4-H agent for Ben Hill County.
The Consumer Decision Making Contest is part of the Western National Roundup and correlates with Georgia 4-H's Consumer Judging contests. At the national level, this event includes three elements — situational product placement classes, verbal reason delivery and "Group Think" scenarios. In consumer situations, students are presented with products and options related to a hypothetical consumer and contestants rank products based on the given needs. Verbal reasoning calls for competitors to prepare and deliver a short presentation that outlines their choices and the logic behind their decisions.
Participants gain important consumer decision-making skills and economic awareness. They also learn to view the world from perspectives that are different from their own. At the county, district, state and national level, youth involved with Consumer Judging gain long-term benefits from the important consumer training they receive. The contest features relevant products such as clothing, food, electronics and financial services.
The Ben Hill County team earned numerous individual awards during the national contest. Lauren Wixson received High Individual Placing, High Individual Reasons and High Overall Individual; Liam Jay received third High Individual Placing, second High Individual Reasons and second High Individual Overall; and Timothy Lord received fifth High Individual Placing, third High Individual Reasons and third High Individual Overall. Laura Lee Williams received ribbons in recognition for coaching High Overall Team Placing, High Overall Team Reasons, second Group Think team and High Team Overall.

Ben Hill County won first place at the Georgia 4-H State Cotton Boll and Consumer Judging contest in December 2020 and spent 2021 preparing to compete at the national level.
The team will receive recognition in the Georgia General Assembly during 4-H Day at the Capitol on Feb. 9.
The Western National Roundup also includes livestock judging, hippology, public speaking, parliamentary procedure, fashion revue and various related quiz bowls. Georgia 4-H's Oglethorpe County earned fourth place overall in the Horse Bowl contest and Morgan County received seventh place overall in the Hippology contest. Haley Kendrick from Turner County received sixth place in Fashion Revue.
Georgia 4-H empowers youth to become true leaders by developing necessary life skills, positive relationships and community awareness. As the largest youth leadership organization in the state, 4-H reaches more than 225,000 people annually through UGA Extension offices and 4-H facilities.
For more information about how to get involved with Consumer Judging and Georgia 4-H, contact your local UGA Extension office or visit georgia4h.org.