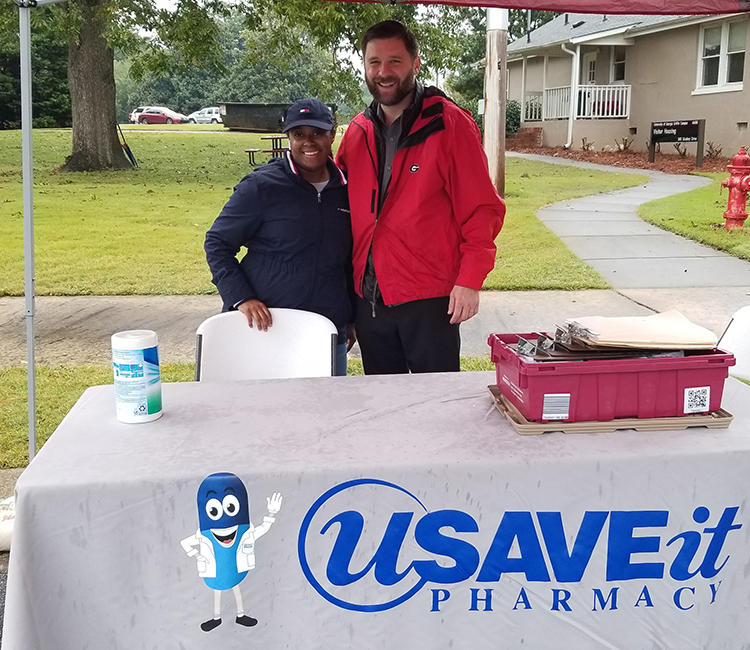 A drive-thru clinic to administer COVID-19 and flu vaccines held at the University of Georgia Griffin campus in late October was successful, with 91 members of the Griffin-Spalding community receiving vaccinations through the partnership between UGA-Griffin, UGA Cooperative Extension, the UGA College of Pharmacy and the local U-Save-It Pharmacy.
Participants were able to receive first, second or booster doses of the COVID-19 Pfizer vaccine as well as the flu vaccine. Participants had the opportunity to win two tickets to the Nov. 20 UGA football game against Charleston Southern in Athens. Tim Keohone was the lucky winner of the tickets provided by UGA Extension.
The clinic was made possible with the help of local pharmacist Nicholas Bland, a 2007 graduate of UGA's College of Pharmacy. He and his team from U-Save-It, which included his wife, Loren Bland, and colleague Ashlin Spenser, were eager to help.
"This event was great and had a great turnout," said Bland. "I was grateful to be a part of it, and I appreciated the help from all of the staff and students."
Of total vaccinations administered, 60 were for COVID-19 and 31 were for the flu vaccine. The UGA-Griffin clinic was one of the largest vaccination clinics held at any of UGA's extended campuses, said Laura Perry Johnson, associate dean for Extension in the College of Agricultural and Environmental Sciences. Previous clinics have been held in Tifton, Savannah and Moultrie.
Lori Bledsoe, 4-H program development coordinator for UGA Extension's Northwest District, was pleased to have so many people take part in the clinic.
"I thought this was a great service to the community — not only the COVID-19 vaccination, but also for the booster and flu shots," she said. "I appreciate the pharmacist and staff who gave of their time to help out."
Volunteers for the event included staff and UGA-Griffin Student Ambassadors.
"This was certainly a team effort," said Be-Atrice Cunningham, project manager at UGA-Griffin. "We are thankful to have provided this critical service to our UGA-Griffin family and the local community."
Plans are underway for another clinic at UGA-Griffin. More information will be released as plans are finalized.