Two University of Georgia faculty members in the College of Agricultural and Environmental Sciences were honored with national teaching awards recognizing their outstanding teaching and student engagement from the Association of Public and Land-grant Universities (APLU) and the U.S. Department of Agriculture (USDA) National Institute of Food and Agriculture (NIFA).
Nick Fuhrman, a professor in the Department of Agricultural Leadership, Education and Communication (ALEC), received the USDA Excellence in College and University Teaching Award for Food and Agricultural Science, and James C. Anderson II, an associate professor in ALEC, was awarded a National Teaching and Student Engagement Award.
Teaching with animals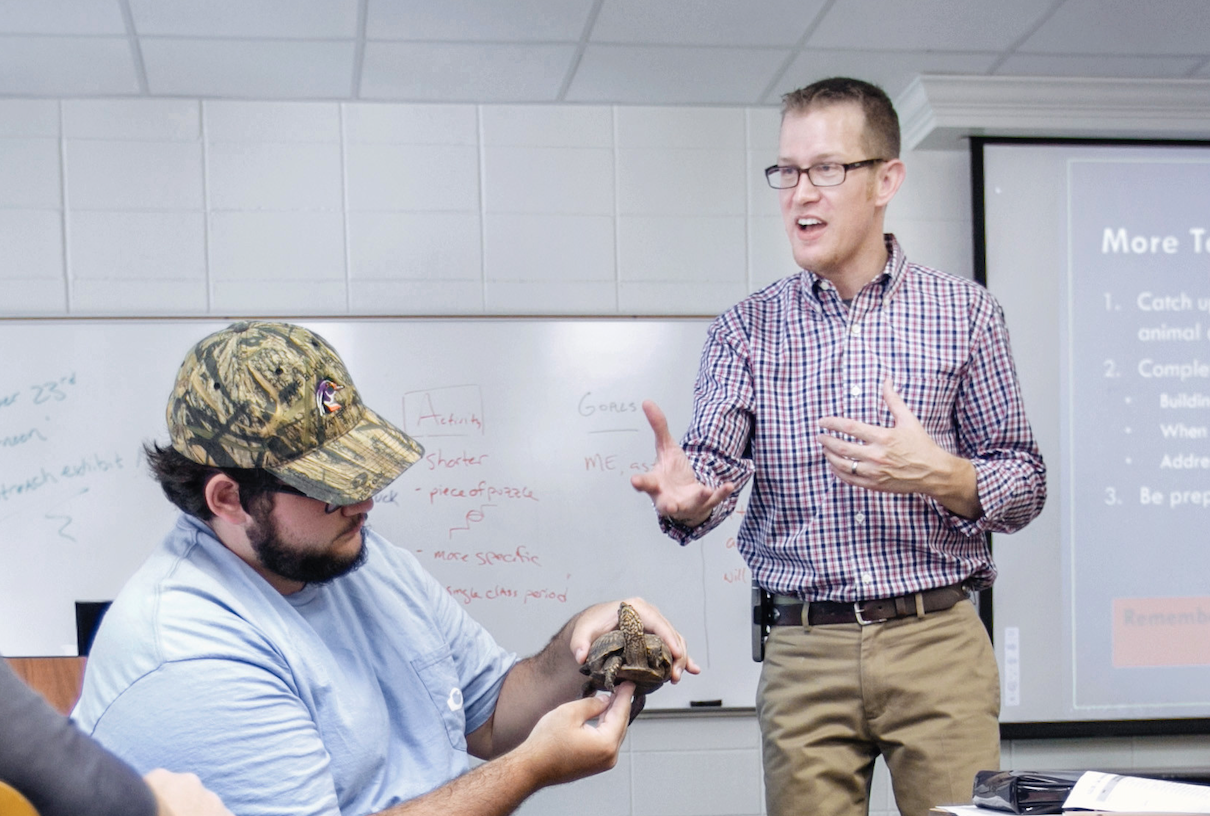 Fuhrman — who hosts a recurring "Ranger Nick" segment for the monthly Georgia Farm Monitor television show — is one of only two recipients of the national award, a celebration of innovative, engaging teaching efforts at land-grant universities.
Since joining the UGA faculty in 2008, Fuhrman has focused his research on the use of animals as ambassadors in environmental education. He uses that research to inform his classroom practices and train the next generation of agricultural and environmental educators.
"This is all I've wanted to do — from the time I was 7 years old in Maryland, I've always been interested in the way that environmental educators can use animals to convey their messages to the public," Fuhrman said. "Teaching, both inside my classroom and in the community, is the best part of my job."
Fuhrman teaches a number of undergraduate and graduate courses, with the most popular being his "Teaching with Animals" course. In this class, future agricultural and environmental science educators learn how to use animals as an avenue to teach their own students and their communities about environmental issues. During the course, students practice their teaching skills within the local Athens community through visits to Extra Special People (ESP), a nonprofit educational organization offering enrichment for students of all abilities.
"My hope is that my students get to see that there is a difference between just presenting and really teaching," he said. "I want them to walk out of my classroom not only equipped with new teaching practices, but also with increased confidence, speaking skills and the desire to impact their communities."
Leadership in agriculture
Anderson's award recognizes extraordinary efforts to increase engagement inside the classroom.
As a high school student in Chicago, Anderson became interested in agricultural education, which led him to become a high school agriculture teacher in the beginning of his career. Upon receiving his doctorate, he began teaching future agriculture educators and researching the best ways to create an engaging learning environment for students, both at the postsecondary and university levels.
"I would often hear from my students about the challenges they were experiencing in teaching students from different backgrounds, particularly students who did not have an agriculture background," Anderson said. "Because of this, I shifted my practice to teach leadership skills and refocused my research on leadership in diverse settings."
Anderson joined the UGA faculty in 2017 and teaches courses including "Leading Team and Organizational Development," "Leadership in a Global Society, and "I Lead: Transforming the Way You Think about Yourself and Others in the Era of Self-Gratification." He has also developed a study abroad course called "Agriculture, Organizational and Community Development in Morocco."
Anderson believes that his work to increase classroom leadership and engagement directly impacts the learning of both the teacher candidates inside his classroom and the students that will one day sit in their own classrooms.
"If a student does not feel connected to the instructor, it is hard to connect with the content, which makes it more difficult to engage in class and thus retain the content," Anderson said.
To learn more about ALEC faculty and student opportunities in the department, visit alec.caes.uga.edu.