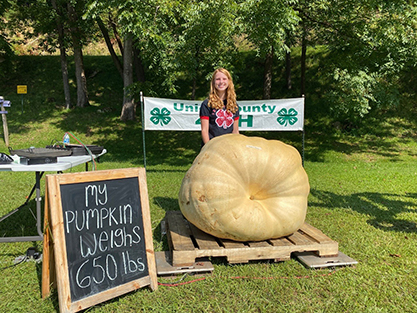 More than 30 4-H'ers from across Georgia competed in the 2021 Georgia 4-H Pumpkin Growing Contest, with the winning pumpkin weighing in at 650 pounds. The Pumpkin Growing Contest offers students the opportunity to learn and utilize knowledge of agricultural and environmental sciences to produce prize-winning fruit.
The Georgia Fruit and Vegetable Growers Association generously sponsors this important contest that cultivates an appreciation for proper fruit and vegetable growing techniques in young people. In addition to the basics of caring for pumpkins, contestants incorporate mathematical knowledge of space, depth and irrigation needs for their plants. They also develop problem-solving skills for common agricultural challenges such as insect control.
Magdalena "Maggie" Payne, an 11th grade 4-H'er from Union County, earned the top honor in the 2021 contest with a 650-pound pumpkin. Second place went to Angelo King-Rallo with a 598-pound pumpkin. King-Rallo is a ninth-grade 4-H'er from Union County. Ava Sharp, a Union County 10th-grade 4-H'er, earned third place with her 529-pound pumpkin. These students received cash prizes and ribbons to recognize the impressive entries.
Union County enjoyed great success in the contest this year.
"We are incredibly proud of our 4-H'ers and the way that they have represented Union County," said Jacob Williams, Agriculture and Natural Resources agent for University of Georgia Cooperative Extension in Union County. "This season presented unique challenges, as every season does, but they persevered. We hope that next year we will be able to keep building on the success that we have had." Williams serves as the leader of the Union County Pumpkin Club.
All Georgia 4-H'ers are invited to participate in the Pumpkin Growing Contest and pumpkin weights are verified by local county Extension offices. State winners were celebrated in conjunction with National Pumpkin Day on Oct. 26.
Georgia 4-H empowers youth to become true leaders by developing necessary life skills, positive relationships and community awareness. As the largest youth leadership organization in the state, 4-H reaches more than 175,000 people annually through UGA Extension offices and 4-H facilities.
For more information about the Georgia 4-H Pumpkin Growing Contest, visit georgia4h.org/pumpkin or contact your local Extension office.