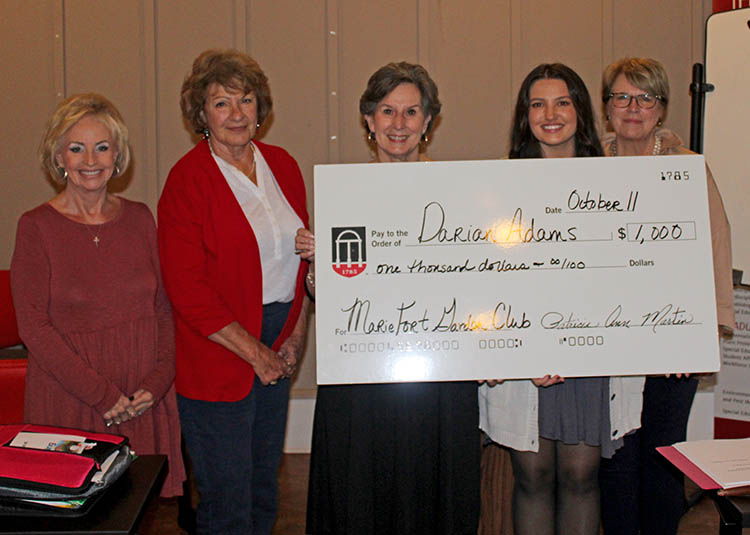 University of Georgia Griffin campus agribusiness major Darian Adams was named the recipient of the 2021 Marie Fort Garden Club Scholarship, awarded by the Griffin-based club to a UGA-Griffin undergraduate student in the College of Agricultural and Environmental Sciences (CAES).
"This scholarship will help me reach my career goals by helping fund my tuition and books. Getting a degree is my top priority and this scholarship will help tremendously," said Adams, a Griffin native.
A transfer student, Adams enrolled at UGA-Griffin in fall 2020 with plans to graduate in May 2022. She chose to study agribusiness because she felt it would open many opportunities for careers in the agriculture industry, and she is currently interested in digital marketing.
She hopes to one day work for The Dairy Alliance, an Atlanta nonprofit organization that works with dairy farmers to promote dairy foods and knowledge about the dairy industry.
Chrystal McDowell, assistant director of student affairs at UGA-Griffin, praised Adams as this year's scholarship recipient.
"Darian is a hard-working student who is not only dedicated to her studies, but also to the campus community as a member of the UGA-Griffin Ambassadors," said McDowell. "We are so excited to have her selected as the Marie Fort Garden Club Scholarship recipient."
McDowell is grateful for the garden club's continued support of UGA-Griffin and its students.
"The Marie Fort Garden Club has been a constant supporter of our students at UGA Griffin," McDowell said. "Under the leadership of Diane Lamb, the club has increased the amount of the scholarship award, which directly supports students. We and our students appreciate this continued and great support to help our students reach their educational and career goals."
To learn more about scholarships available to CAES students, visit caes.uga.edu. To learn more about studying at UGA-Griffin, visit griffin.uga.edu.