When Joseph Gomis finished a bachelor's degree at Université Cheikh Anta Diop in Dakar, Senegal, he wasn't sure whether his studies would lead him to work with plants or animals. With a degree in natural science, he just wanted to make an impact.
"I like to help people," Gomis said. Holding onto two ambitions – medicine or agriculture – he found himself studying plants. "If I can help to feed people, I want to do that. So, I chose agriculture."
Similarly, he didn't predict how important peanuts would become in his life until he was offered an internship to work with Daniel Fonceka, a research scientist with CIRAD and the Centre d'étude régional pour l'amélioration de l'adaptation à la sécheresse (CERAAS).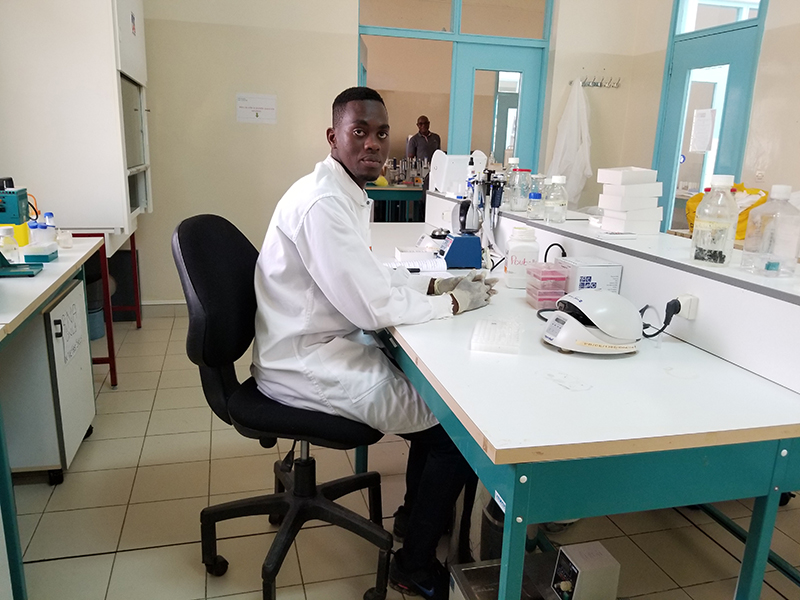 "Growing up in Dakar, I never practiced agriculture," he said. When he first started, he confessed to Fonceka that he'd never planted peanuts. He learned to love them, first working with the plant in the greenhouse and more recently on the farm.
Today, he's working toward a PhD in molecular genetics and contributing to a Peanut Innovation Lab project, New wild alleles to improve peanut in West Africa, with his mentor, Fonceka.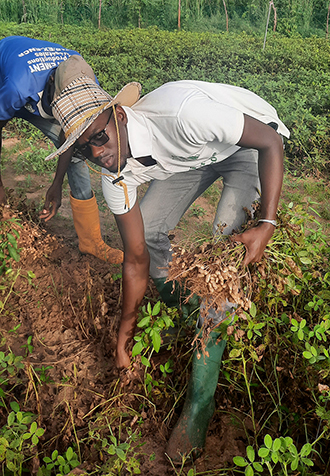 The project is led by David Bertioli, the director of the Wild Peanut Lab at the University of Georgia, and is tapping into the genes of peanut's wild relatives to find resistance to diseases that plague modern peanut crops.
Specifically, Gomis is studying plants that are a cross between cultivated peanut and wild relatives, mapping what part of the plant's genome conveys resistance to leaf spot. By showing where resistance traits lie, geneticists can help plant breeders to select offspring quicker and more precisely. Instead of waiting for a generation of plants to grow out and show a trait, a breeder can be sure that the plants have a certain gene.
Leaf spot is a problem in central Senegal, a region known as le bassin de l'arachide or the Groundnut Basin, because peanut is such an important crop there.
"Several studies have shown that wild species have genetic resources to resist leaf spot. If we find these genetic resources we can hope to transfer these traits into other varieties," Gomis said.
His work fits into a much larger global effort by David Bertioli, Daniel Fonceka and others to tap into the genetic resources of the wild species to solve problems in farmers' fields. While communicating with scientists in both English and French (in addition to speaking Manjak and Wolof) is a challenge, Gomis enjoys learning.
"It's a big job to translate, but I don't hate it. It helps me in my job to know what others are doing and how I can place my study in the big wall of science," he said.