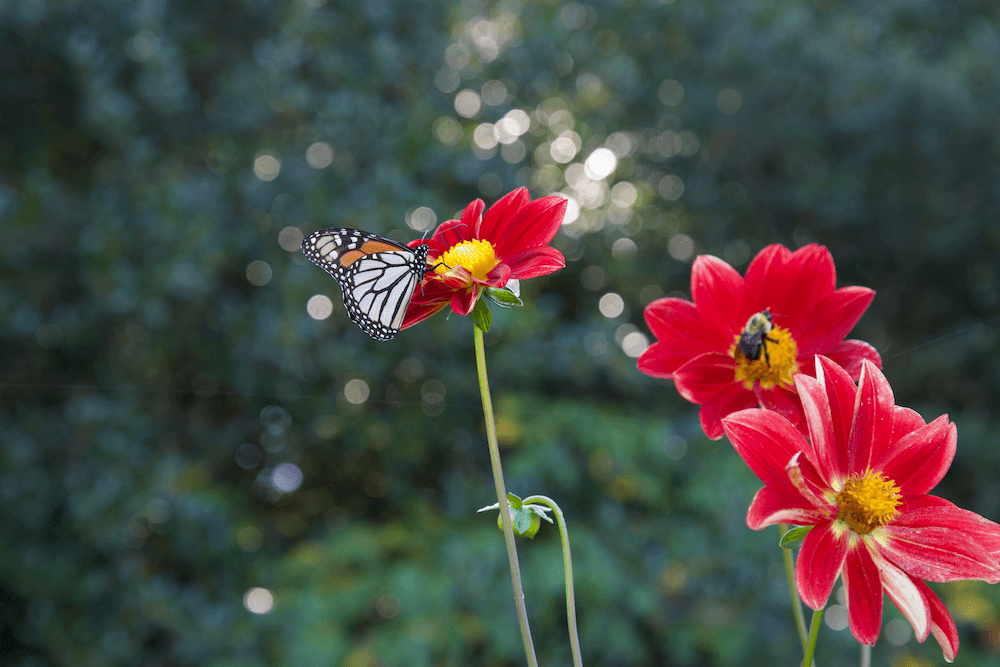 Principles before profit has been 3 Porch Farm's business model from the beginning.
When the farm was just a dream, Steve and Mandy O'Shea — owners and operators of 3 Porch Farm — knew that they wanted to use their business to do as much good as possible. And now, with more than 10 years of farming under their belts, the couple's commitment to sustainability is evident in everything they do on the farm.
The pair first met in 2003 — Mandy O'Shea is a graduate of the University of Georgia's College of Agricultural and Environmental Sciences and Steve O'Shea has an extensive background in environmental sustainability and renewable fuels. They fused her horticultural education and love of growing things with his passion for sustainable living to create 3 Porch Farm, a nine-acre flower farm on the outskirts of Comer, Georgia, with a culture of sustainability.
Eco-friendly ethos
Their first major investment towards making the farm sustainable was installing the use of solar panels — energy — an obvious choice for a flower farm in Georgia, where sunshine is plentiful year-round.
"I knew that if we didn't make that priority No. 1, then odds were high that we would not have the funds to do so for years to come, and it was not something we were willing to compromise on," said Steve O'Shea, who researched and installed all of 3 Porch Farm's solar panels himself. Every few years, they add more panels as the farm's energy demands expand. To date, there are 150 panels around the farm, which provide more than enough energy for everyday farm operations and bring the farm as close to carbon neutral as possible.
All of the farm's vehicles are modified to run on vegetable oil. The couple partners with local restaurants to get their used oil, which they then heat and filter to turn it into a useable fuel source on-site. Converting their vehicles, processing the used oil and general maintenance are all extremely time and labor intensive, but the couple views this as a necessary commitment to the farm's sustainability.
"We can't save the world, but we can maintain integrity by doing what we can to minimize our negative impact on the world," Steve O'Shea said.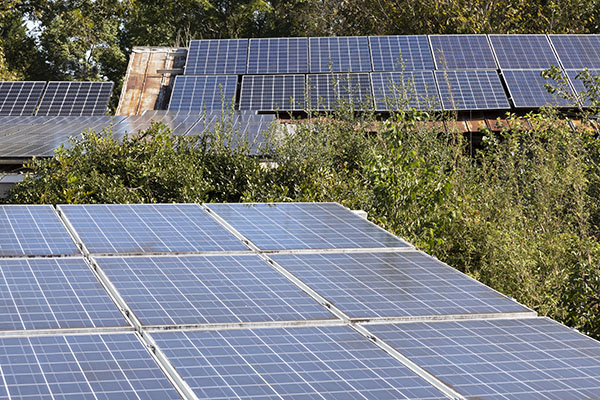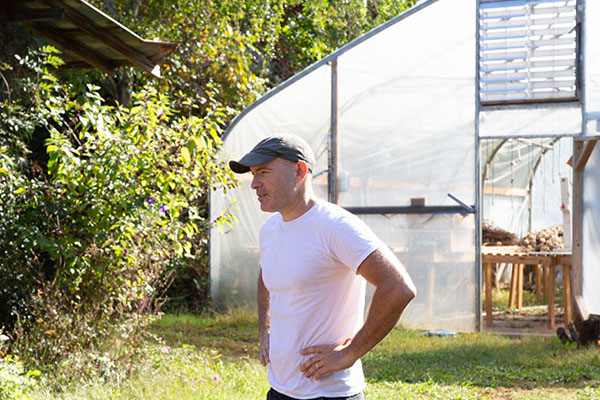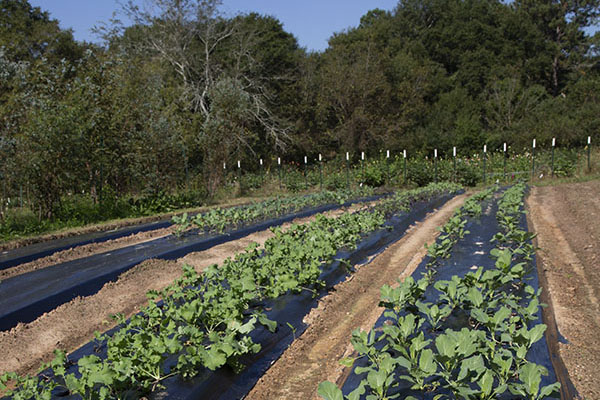 Supporting the workforce
Their sustainability efforts extend to the farm's employees as well. The couple invested in their employees from the start — giving them living wages, paid days off and bonuses. They are also constantly incorporating their employees' knowledge and skills into the inner workings of the farm. As a result, employees describe being happy and engaged at work and turnover is low.
The couple is extending that practice of sustainability to themselves as well. In the beginning they were working around the clock, then they realized that taking breaks is vital for their well-being as well as the success of the farm.
"It took us years to realize the importance of taking a break from the farm," Mandy O'Shea said. "We would often fear that, if we left for a few days, the farm would fall apart. However, as time went on, we realized that we were the ones that were going to fall apart if we didn't take the break."
These much-needed breaks often serve as a source of inspiration for the farm.
"Anytime we leave the farm, we come back inspired by places we have visited and that gives us ideas on how we can do things differently or better than we were doing," Mandy O'Shea said.
Embracing change during COVID
When the world turned upside-down with the onset of COVID-19, the O'Sheas quickly changed their business model to keep the farm running and their employees safe.
Prior to the pandemic, most of their flowers were sold locally at farmers markets. When everything shut down, they began shipping their flowers nationwide, something they'd avoided because it is difficult to ship flowers sustainably and cost-effectively.
The flower market in the U.S. has a heavy ecological footprint, but the couple worked tirelessly to make their little corner of the industry as sustainable as possible.
They use 100% compostable shipping materials — everything from the boxes to the tape to the labels is plant-based. They also track every mile that each flower package travels, purchasing credits to offset the carbon produced by their packages.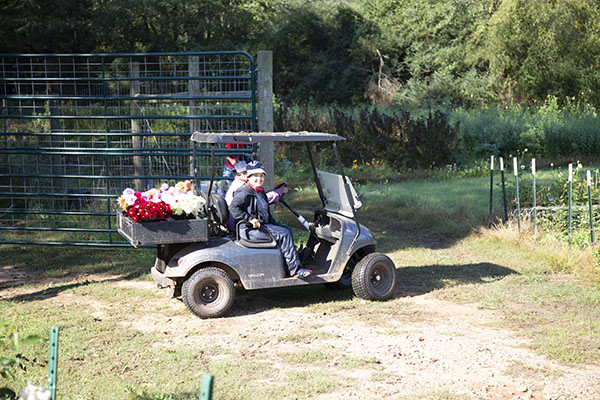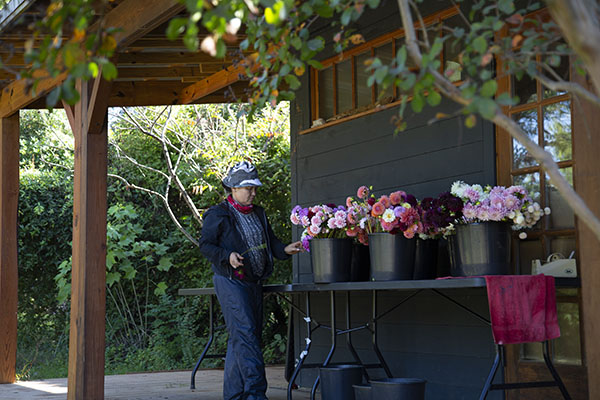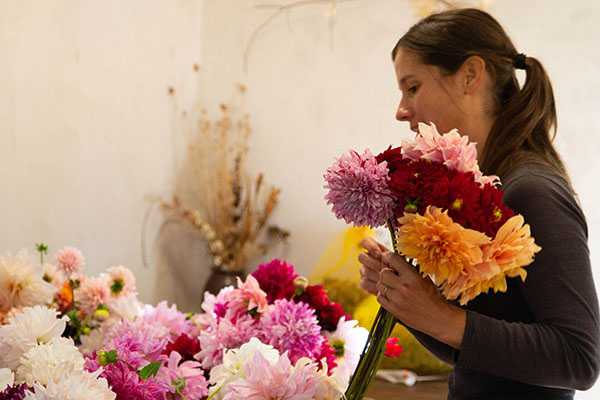 They also opened a self-serve farm store and packed it full of flowers; handmade goods from Mandy O'Shea's parents, Linda and Tony Rovolis; and other mostly woman-owned small businesses. Local customers can place an order online and pick up bouquets and other goods at a set time for a socially distanced shopping experience.
"The farm store has given locals a reason to come out to Comer and shop at other businesses in the area. In a time when so many are struggling, it's nice to see our small community getting a bit more activity and some exuberant new customers," Mandy O'Shea said.
Organic evolution
Throughout the years, the O'Sheas have worked to blend old-school farming with more innovative methods to continuously improve 3 Porch farm's sustainability. The couple is constantly researching and experimenting to learn what sustainable systems work most effectively in the north Georgia area.
They shape their flower beds with a tractor, then put down a plant-based bioplastic to suppress weeds, retain water and minimize erosion. The tractor also helps them to move a large amount of waste plant material into their compost bins. This compost serves as food for the next generation of plants grown on the farm.
A 100% organic farm, they don't use synthetic pesticides or fungicides, so timing is key when it comes to pest management — they plant their flowers during periods when pests will do the least amount of damage. This is an art form, especially in Georgia where pests are a continual problem.
"Learning how to identify insects, as well as to detect disease and nutrient issues, is something I learned during my time at CAES in the horticulture department," Mandy O'Shea said.
The couple takes advantage of beneficial insects as a secondary layer of protection against harmful pests, and only apply organic sprays as a last resort.
In fact, they made the decision to get rid of their fruit orchard a few years ago because the trees were so susceptible to pathogens in the humid Georgia climate — and organic control methods weren't working.
The silver lining behind that decision? More room for flowers.
For more information about the CAES Department of Horticulture, visit hort.caes.uga.edu. To learn more about the O'Sheas' flower farm, visit the 3 Porch Farm website.