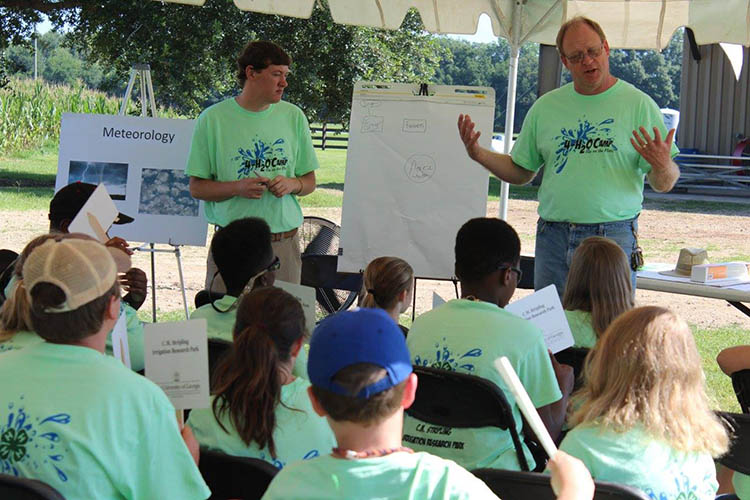 The University of Georgia Cooperative Extension 4-H program in Mitchell County was recognized as a Clean Water Hero by the Georgia Water Coalition's 2021 Clean 13 Report. The annual Clean 13 Report highlights exceptional efforts to protect Georgia's water resources.
Mitchell County 4-H is the only youth-serving organization to receive the honor in the five years since the report was established.
Mitchell County Extension created a 4-H2O Camp in 2008 as a collaboration between UGA's C.M. Stripling Irrigation Research Park and Mitchell County 4-H. The camp provides an innovative way to educate children and adults about the importance of Georgia's water resources and water conservation.
Learning about water conservation education is particularly important in southwest Georgia, where the essential resource has a significant impact on the extensive farming community. In recent years, this region has also experienced extended droughts, ongoing political battles with neighboring states over water use, and a devastating hurricane.
Since its founding, hundreds of youth from Mitchell County, as well as surrounding counties in south Georgia and Alabama, have attended the annual, three-day 4-H2O Camp, where students learn from experts including irrigation specialists, solar energy specialists, meteorologists and wildlife biologists. Mitchell County 4-H agent Debra Cox coordinates the camp alongside Agriculture and Natural Resources agent Brian Hayes.
Cox emphasized that students learn while having fun as they use food, interactive models and other hands-on activities as educational tools, noting that several graduates of the 4-H2O Camp are now working in water conservation and related fields.
"Mitchell County 4-H has hosted the 4-H2O Camp for 14 years and this is the second award we have received. In 2019, Mitchell County 4-H and C.M. Stripling Irrigation Research Park received the Georgia Project WET Organization of the Year. 4-H2O Camp is a program that will continue to teach our youth to be good stewards of water in and around southwest Georgia," Cox said.
Hayes added, "It is a great honor to be the first youth organization to win the Clean 13 award and to be recognized among some great honorees."
The 4-H2O Camp is a partner with the Stripling Irrigation Research Park, a UGA research and education center in Camilla, Georgia, and 2018 Clean 13 awardee.
For more information on 4-H2O Camp, contact the Mitchell County Extension.